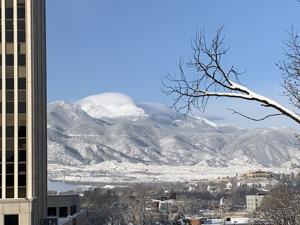 Snow is likely making its way to Colorado Springs on Monday, with a 60% chance that the city will see the white fluffy stuff before the day is out, albeit just a trace.
Snow showers are possible before noon and rain showers are possible between noon and 1 p.m., at which time rain and snow showers are likely. Less than a half inch of accumulation is expected. Skies will be cloudy, with a high just above 45. Rain and snow could continue overnight, with an additional half inch possible, according to the National Weather Service.
Snow may reappear on Wednesday.
Here's the forecast for the rest of the week from the National Weather Service:
Tuesday: Sunny, with high temperatures topping out at 45 degrees.
Wednesday: Yet again, a possibility of snow — this time a 30% chance after 11 a.m. Mostly cloudy, with a high just under 45. Snow could reappear in the overnight. Accumulations will be less than inch, Brad Carlberg, a meteorologist with the weather service in Pueblo, told The Gazette.
Thursday: Mainly sunny, with a high just above 40 degrees.
Friday: The most temperate day of the week, with a high near 50 and winds from the northwest around 10 mph.