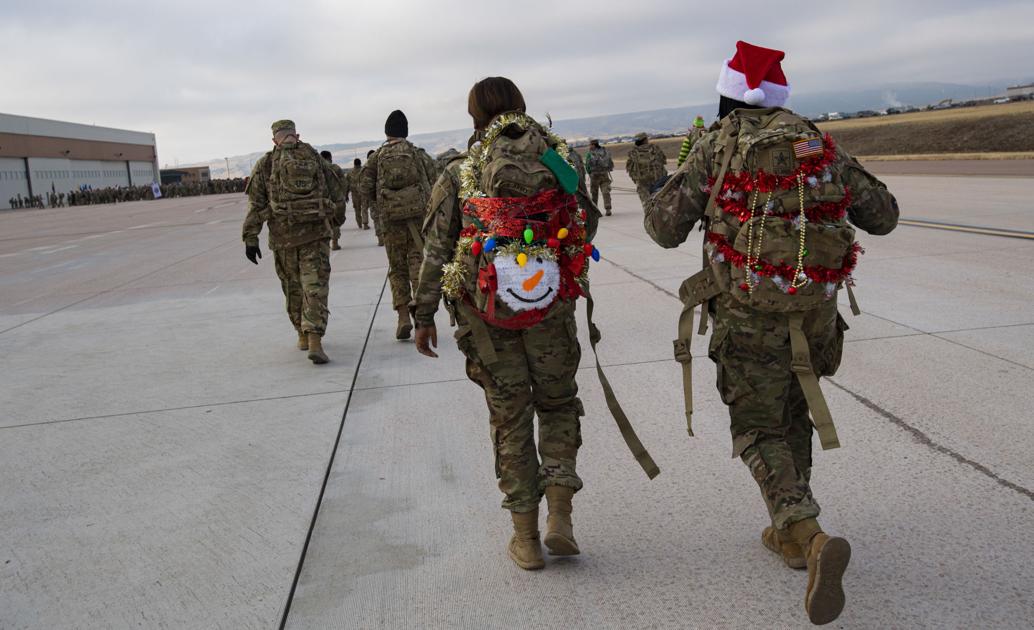 Six thousand pounds of toys for needy military children were transported with a distinctively Army flair Friday morning when soldiers with Fort Carson's 4th Combat Aviation Brigade loaded them into the bellies of two Chinooks.
After a five-minute flight from the brigade's airfield, the gigantic twin-rotor helicopters landed in formation at Pershing Field, mere yards from the doorstop of the post's Santa's Workshop.
The goodies, donated by the brigade's 2,500 soldiers, will bring holiday cheer to 1,500 children with a giveaway that starts Monday. Qualifying Fort Carson families experiencing financial hardship may choose two toys, a book and four stocking-stuffers to surprise each child Christmas morning.
The festively green helicopters make an ample replacement for Santa's sleigh.
"Any time you have something you want to go big on, the Chinook is one of the best aircraft in the Army," said Staff Sgt. Jeremy Ganz, all smiles as gigantic boxes of trinkets, toy trucks, art supplies and dolls were unloaded from the behemoth birds.
"It's always fun, a special program, a big deal."
For Master Sgt. Matthew Clubb, whose 4-year-old daughter, Savannah, hesitantly watched the noisy chopper blades kick up a whirlwind of debris, this year's offering was Paw Patrol toys, popular with the preschool set.
"It's what I know right now," the father of two — and one on the way — said with a grin.
His comrade, Staff Sgt. Joshua Nobles, enjoyed spreading some cheer amid his serious Army duties.
"It feels good to help out others, especially because life gets rough in the Army," said Nobles, a medic.
Nobles also donated a toy to the effort — a "nice remote-controlled car I liked," he said with a chuckle. "Guess they're my guilty pleasure."
For Ganz, the giveaway gave an opportunity to help a cause near to his heart.
Donating toys — Star Wars action figures this year — is an annual tradition for his family, which once was on the receiving end of the program.
The father of three fondly recalled participating earlier in his career at a different duty station — room after room, row after row of playthings, there for the taking for his kids.
Now, "every year, I try to do what I can," he said.