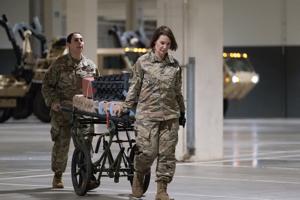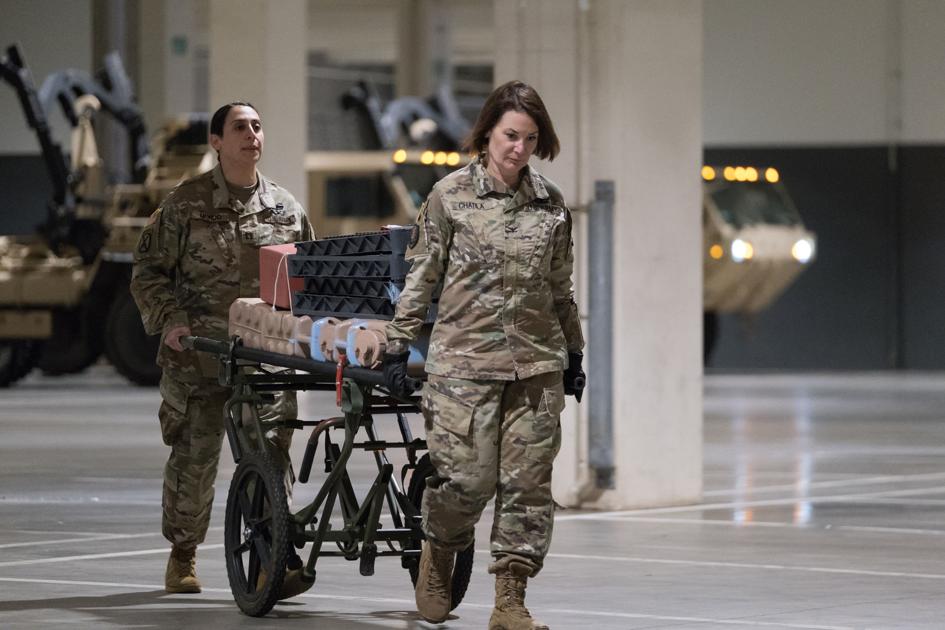 Fort Carson soldiers worked Thursday to convert a Seattle football stadium into a 250-bed hospital that will treat noncoronavirus patients so that civilian hospitals can focus on those with the deadly, flu-like disease.
The first coronavirus case in the United States was confirmed in Washington state in late January. The man had recently returned from Wuhan, China, where a pneumonia outbreak caused by the coronavirus started in December 2019.
Since then, more than 6,000 coronavirus cases have been confirmed in the state and 247 deaths have been attributed to the disease.
Seattle, where coronavirus has killed 165 people, is one of the nation's hardest-hit cities and the Colorado Springs troops were called up last week as part of a Pentagon effort to assist in halting the spread of the disease.
Fort Carson's 627th Hospital Center is setting up shop at CenturyLink Field, usually home to the Seattle Seahawks, and leaders hope to open wards to patients within days.
The hospital unit is partnering with troops from Joint Base Lewis-McChord south of Seattle to run the makeshift hospital. The Colorado Springs troops are staying in downtown Seattle hotels within walking distance of the stadium and eating catered meals.
They'll take patients referred by Western Washington hospitals, with a focus on trauma care that the Army has long experience in delivering after nearly two decades of war in Iraq and Afghanistan. The hospital will essentially care for everything but coronavirus cases.
"We exist to sustain lives worldwide," said Lt. Col. Jason Hughes, a Washington state native who leads the 627th's 10th Field Hospital. "We prepare for that every day."
Preparing Thursday meant hauling gear into a cavernous events center next to the football stadium where an emergency room, operating rooms, an intensive care unit and other patient wards are being built.
It may sound like a big job, but it's comparative luxury for the 627th, which trains on the dusty southern side of Fort Carson frequently to operate out of tents.
"We provide that care in austere conditions," Col. Hope Williamson-Younce, a 37-year Army veteran who leads the Fort Carson unit, explained.
The unit packs everything expected in a major city hospital— pharmacy, laboratory facilities, radiology and specialty clinics. When deployed to Seattle and elsewhere, the unit augments its Fort Carson troops with medical experts from Army units around the globe.
Williamson-Younce said a key job is keeping those more than 300 soldiers healthy.
"The uppermost thought in my mind as a commander and a leader is to keep our soldiers safe," she said.
The hospital is equipped with safety gear that civilian facilities don't possess, including full chemical warfare suits for troops if the need arises. Williamson-Younce said her troops brought along an ample supply of masks, gloves and gowns to keep the virus at bay.
But the best defense against coronavirus is color-coded badges worn by troops. The color key is used by medical staffers as a timing signal for checkups on the troops who are monitored for coronavirus symptoms and have their temperatures checked frequently for fever, an early warning sign of the respiratory disease.
In Seattle. the hospital falls under U.S. Northern Command at Peterson Air Force Base, which is overseeing military assistance to the Federal Emergency Management Agency and states.
So far, Northern Command has sent Navy hospital ships to Los Angeles and New York while sending Army hospital units to New York and Washington state.
While the Fort Carson hospital unit has regularly headed to war overseas, it's the first time its troops have been called up for a domestic crisis.
Hughes said because coronavirus is a threat in Colorado Springs, too, soldiers are facing home-front worries about spouses and families that may be more acute than if they were at war overseas.
The unit is setting up phone banks and computer terminals for video chats to keep troops connected to families in the Pikes Peak region.
While they miss being home, Williamson-Younce said her troops are excited to use their skills to care for American civilians.
"This is on behalf of the nation," she said.