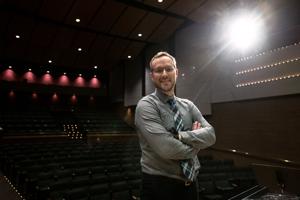 Fountain-Fort Carson High School could never build a successful band program, or so director of bands Joshua Race was told before taking the helm five years ago. The school's large population of transient military families left little room for stability, let alone growth.
Of course, those words did little to dissuade Race and his students, who have nearly tripled the instrumental music program under Race's leadership. And on Thursday, the high school will celebrate yet another musical milestone as it performs for the first time at the annual Colorado Musical Educator Association conference.
The prestigious opportunity places FFCHS students before an auditorium of music educators from all grade levels across the state, who will ponder what it is that sets bands like the wind ensemble apart from competition. FFCHS, one of only three high schools selected to perform, will take the stage at noon Thursday at the Broadmoor.
"We sit here today, before one of the most important audiences to which we will perform, honored and proud of where we have come, what we have endured through the recent pandemic, and what we have accomplished to move our program to new heights," junior Jazlyn Wilkinson, a tenor saxophonist, said in the event's program. "As (Race) likes to ask, 'Why be average when you can be amazing?'"
The concert is unlike any other: There won't be a panel of judges. There won't be pressure to achieve a certain score. In fact, there won't be any score at all. This freedom — the freedom to perform for the love of music alone — has allowed the wind ensemble to break band standards and experiment with new sounds.
Race searched for a lineup of music as diverse as Fountain-Fort Carson's student population. In one sense, that meant paying homage to the roughly two-thirds of performing students who come from military families. The wind ensemble will be joined by the FFCHS combined advanced choir for "Hymn to the Fallen," composed by John Williams and arranged by Paul Lavender for the war film "Saving Private Ryan."
However, Race also knew he didn't want to rely on "the same old white guys" who typify most sets, though he noted those classics have withstood the test of time for good reason. Instead, he found "Water Reflections" by Yukiko Nishimura, a female composer from Japan who describes her piece as "a pleasant and unique musical dialogue of delicate sounds and textures." Rather than an Americanized version of the "Pasodoble," he included a more traditional piece by Colombian composer Victoriano Valencia.
Finally, the six-song performance will end with "A Mother of a Revolution!" which composer Omar Thomas describes as a celebration of the bravery of trans women and the legacy of the Stonewall revolution, a pivotal moment in the LGBTQ+ liberation movement of the 20th century.
The individual pieces work together to represent the diversity among Fountain-Fort Carson High School's students, Race said.
"Some of those kids are those kids. Like, that's them," Race said. "I think that that was a big buy-in for them — is that they understood the 'why.'"
Students didn't initially understand how big of an honor the opportunity was, assistant band director Sydney Brown said. To many, it sounded like just another concert, of which they have many.
Far from "just another," however, Brown said the students have been practicing for months and are now ready to take on CMEA together, just as they've tackled every other concert and competition.
"The sense of family and community allows all of us to lift each other up and encourage one another," Wilkinson said. "We practice as one. We grow as one. We perform as one."
The Fountain-Fort Carson High School wind ensemble will perform at noon Thursday at the Broadmoor.