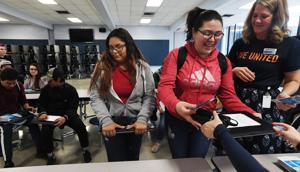 Without a computer at home, Mitchell High School senior Dylan Collins has been falling behind in school assignments, particularly business classes, where he receives college credit if he earns a B or better.
The situation deteriorates until he goes into "crunch mode" and tries to catch up in the middle of a class.
Life got easier for the 17-year-old Monday. He was one of 40 Mitchell High students to receive a free laptop computer during the fourth annual giveaway under a Pikes Peak United Way program, Colorado Springs Promise, which works to improve Mitchell's graduation rates.
Smiles and excitement spread as students accepted refurbished computers loaded with Windows 10 and Microsoft Office programs.
"These laptops are yours to keep forever," Elizabeth Quevedo, director of Colorado Springs Promise, told the kids.
The opportunity means a lot to sophomore Ivanya Valtier and her family, who are immigrants.
"We don't have that much money in our home to do more," she said, adding that she now will study and do assignments online at home. Her parents will use the computer, too.
Mitchell's graduation rates have improved by 4 percentage points since Colorado Springs Promise started in 2016, Quevedo said.
Colorado Springs Promise is expanding to include four other schools in Colorado Springs School District 11. Forty students at Coronado High received laptops last week. Qualifying students from Doherty High, Palmer High and the Roy J. Wasson Academic Campus are slated to get computers before winter break starts.
A $25,000 grant from an anonymous Wasson High School alum enabled the program to grow, said Cindy Aubrey, president and CEO of Pikes Peak United Way. The Denver-based nonprofit PCs for People rehabs donated computers, adds software and sells them for $125 to organizations such as Pikes Peak United Way.
The local United Way will distribute a total of 200 laptops to students this month, Quevedo said. Over the past three years, 300 computers have been distributed solely to Mitchell High students.
"This year, we recognized we need to reach all the high schools in D-11," said Quevedo. "We were fortunate enough to secure enough funding from a donor who cares deeply about student success in our community."
For the giveaway students who are struggling to complete online homework, who are not communicating via email or who have increased absences due to family circumstances are nominated by their teachers.
"We ask that they go to families that don't already have a computer at home," Quevedo said.
For some recipients, "There's the sense they're like every other kid," said Griselle Duval, Culturally and Linguistically Diverse Education community liaison at Mitchell.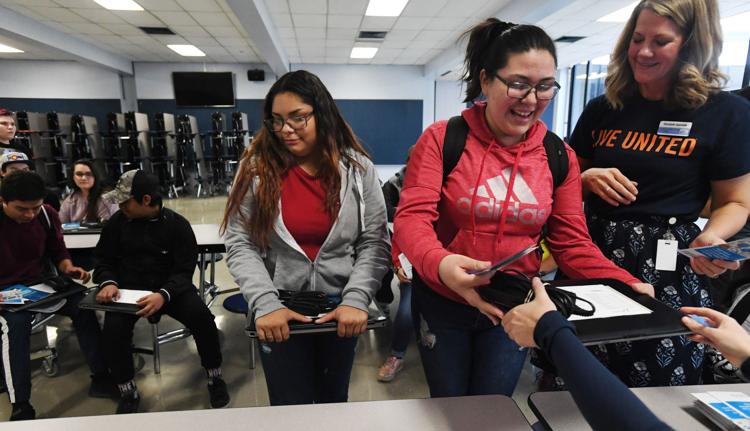 Students see their friends with computers and either have to use the library or their phone whenever they get a chance at school to do online homework, Duval said.
That's what 16-year-old Erika Nevarez has been doing.
"My phone wasn't working for school work," she said. "I try to find time to do homework here during the school day, but that's hard."
Sixteen-year-old Andrew Hughes was practically dancing in his seat.
"I haven't had a device such as this, like, ever," he said. He and his twin brother got on the list for laptops.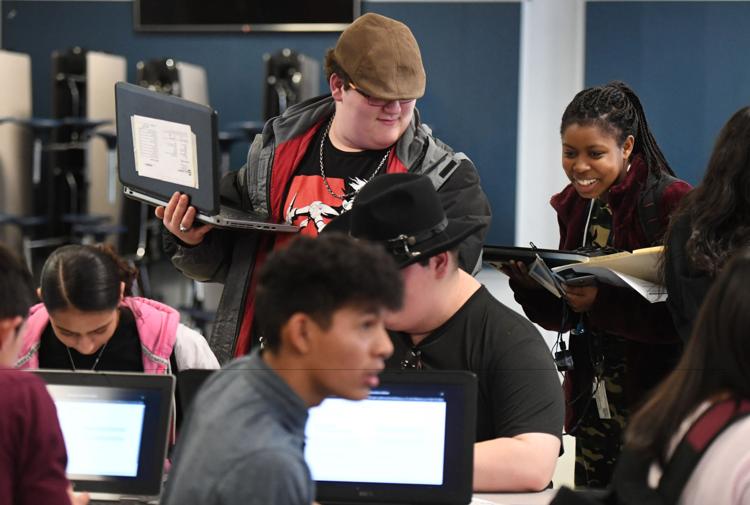 Andrew plans to use it "mostly for school work." And, "maybe some games here and there."
Mitchell has other basic-needs programs, including serving 1,200 families during food distributions over the last six weeks in partnership with Care and Share Food Bank for Southern Colorado, opening a community health center at Mitchell on Jan. 6 in conjunction with Peak Vista Community Health Centers, providing literacy tutoring in conjunction with Children's Literacy Center and in February, a new mentorship program on career fields will begin.
"By bringing community support and action into the educational system, we're able to help combat struggles with basic needs, so students can focus on academics and unlock the potential for success after high school," Quevedo said.
Contact the writer: 719-476-1656.