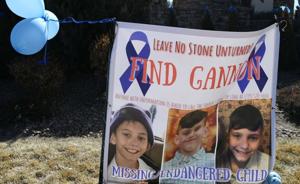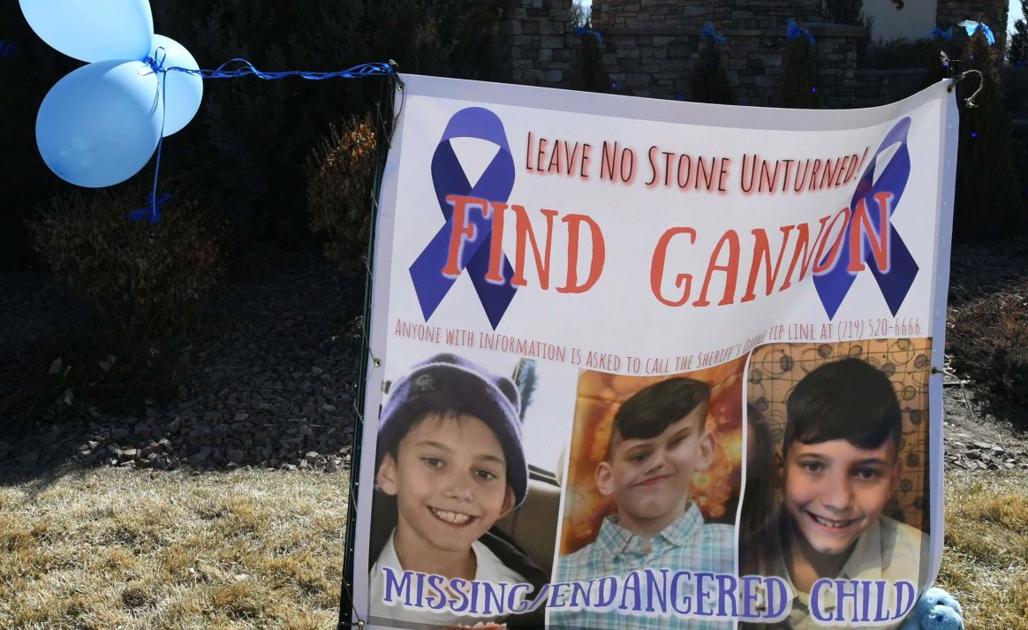 Letecia Stauch killed her 11-year-old stepson, Gannon in his bedroom, where investigators found blood that had seeped through a rug and carpet pad before staining the concrete below, and disposed of his body in Douglas County, according to an arrest affidavit.
The 32-page affidavit, which was released by court officials Friday after it was leaked online a day earlier, said investigators also found blood on the rear bumper of Stauch's black Volkswagen Tiguan.
Investigators believe Stauch, 36, killed Gannon sometime after 2 p.m. Jan. 27, while her husband and Gannon's father, Al Stauch, was deployed with the National Guard.
The affidavit provides the following on his disappearance, death and the investigation into his suspected murder:
Jan. 27
Gannon stayed home from school after a stomach illness the night before. Letecia Stauch called his school to report his absence and told work she would stay home because her stepdad was killed after being hit by a car.
Photos taken on Stauch's phone that morning show Gannon in his bed with his Nintendo Switch, a small gaming console.
Video surveillance from a neighbor's camera shows Stauch and a person, who investigators believe was Gannon, leave their Lorson Ranch home about 10:16 a.m. in her husband's Nissan Frontier. Investigators confirmed that she drove to a PetCo, 22 miles from her home, and made one purchase at 11:22 a.m. and a second at 1:22 p.m. Gannon is not seen in any surveillance footage and it is unknown where Stauch was during the two hours.
Stauch left her phone at her house, which investigators found suspicious "based on her history of extensive use of the phone," the affidavit states.
About 1:43 p.m., an internet search on Gannon's phone was completed for: "can my parent find my phone. if its off."
About 2:20 p.m., Stauch returned to her house and investigators believe Gannon did as well. ADT records show that there was motion upstairs and downstairs during a 25-minute period after their return.
About 3:15 p.m., Laina Stauch, Gannon's 8-year-old sister, arrived home and Letecia Stauch told her to go outside and play, the girl told detectives. Stauch's older daughter from a previous relationship, Harley Hunt, picked Laina up about 4:42 p.m.
Stauch texted Harley, 17, to pick up carpet cleaner, trash bags and baking soda.
Investigators confirmed that Harley — who has refused to talk to investigators — was working at the time they believe Gannon was killed.
Deputies with the El Paso County Sheriff's Office arrived at the house about 10:10 p.m., about three hours after Stauch called 911 to report her son missing, and found her car backed into the garage.
Jan. 28
Letecia Stauch picked up Al Stauch at the Colorado Springs Airport in the morning in a rental car, which investigators noted as suspicious since there was no evidence that her Volkswagen was not running properly. She told her husband she was concerned about putting mileage on the car, though it only had 71 miles. A parking receipt showed her Volkswagen was driven into the airport's short-term lot at 8:30 a.m. and left the lot about 7 p.m.
Investigators believe Stauch drove the Volkswagen to a rural area around Highway 105 and South Perry Park Road in Douglas County, where she dumped Gannon's body.
Jan. 29
The rental car was returned to the airport around 9 a.m.
Stauch had a scheduled interview with investigators at 10 a.m., after she said she did not want them to come to her house. When she arrived two hours late, her car was wet and appeared to be recently cleaned.
Investigators later found traces of blood on the rear of the car, the rear passenger seat, front passenger seat and an area near the glove box, though a DNA swab collected from the trunk of the car was negative for the presence of blood.
In the interview, she referred to several pieces of notebook paper with notes she had written down and asked detectives if she "could just read her notes," the affidavit stated.
Her statements "drastically departed" from her initial statements given to deputies, claiming that Gannon had gone missing after saying he was going to walk to a friend's house. In the interview, she said a man she knew as "Eguardo" held her at gunpoint and raped her before kidnapping Gannon.
She told investigators she met Eguardo while he was doing construction work on a house in her neighborhood and had asked if he could repair a carpet in her home that Gannon had damaged when he knocked over a candle.
She told investigators she cleaned up the area where the attack occurred and declined to be examined by a nurse at a hospital. Investigators reviewed camera footage from outside the home, but did not see a man enter the house the day Gannon was reported missing.
Near the end of the interview, Stauch said she wanted to leave. Investigators took her phone and detained her while they applied for a search warrant to collect DNA. She started stuffing tissues in her pants and said she was having chest pain and shortness of breath.
She was brought to a hospital in an ambulance and did not respond to the paramedics' questions. When she arrived at the hospital, she "seemed to have a miraculous recovery," the affidavit read.
The warrant to collect DNA was completed while she was at the hospital, but she left without telling investigators.
The investigation continues
Gannon's family lived in their home as investigators milled about the house, searching for evidence for several weeks.
Blood stains — overlooked by deputies during a Jan. 27 visit to the home when Gannon was reported missing — were found on the the boy's bedroom walls, the carpet and the concrete below. Deputies found different blankets and a different pillowcase on the boy's bed and believe that Stauch used them to clean up blood, though investigators did not find the bedding during the five-week search for the boy's body.
Blood was also found in the garage, where Stauch's Volkswagen was parked, and other areas of the house.
Investigators found several deleted Google searches on Stauch's phone that suggested she was unhappy in her marriage and in her role as a stepmother to Al Stauch's two children.
In one search, which investigators called suspicious, Letecia Stauch typed "can nintendo find my switch," referring to Gannon's gaming system that investigators found in the home.
After the Sheriff's Office impounded Stauch's Volkswagen, she rented a Nissan Altima and drove back to the area where investigators believe she left Gannon's body on Jan. 31. After obtaining a warrant, investigators installed a GPS tracker on the car and found a piece of particle board in the area with Gannon's blood on it.
Investigators believe she returned to the area, during the daytime, to ensure evidence was not visible from the road.
On Feb. 14, Stauch told her husband several stories to explain Gannon's disappearance, Al Stauch later told investigators. One story claimed that Quincy Brown, who was wanted in El Paso County, raped her and kidnapped Gannon.
She also claimed Gannon fell off his bike while they were in northern El Paso County, near County Line Road and Highway 105, and hit his head before he was abducted by Brown.
The following day, she told Al Stauch that her story about Gannon falling of his bike was a lie and and said that the blood in the corner of Gannon's room was a combination of hers and Gannon's and a result of the abductor sexually assaulting her and Gannon.
Leticia Stauch called a phone number associated with "fakepolygraph.com". The website states that she would receive a certificate proving that a real polygraph test was completed, in which the customer can choose the questions and results.
When she called a second time, a man told her that her report was blocked by management based on the content of the questions.
According to the website, Stauch submitted five questions, including: "Did you participate in any way in causing harm to your stepson" and "Did you participate in any way in causing the death of your stepson?" She submitted "No" as answers to both.
The Santa Rosa County Sheriff's Office in the Florida Panhandle east of Pensacola, announced it had found Gannon's remains on March 18.
The news came as the 4th Judicial District Attorney's Office announced the filing of additional charges against Stauch, bringing the number of charges against the boy's stepmother to 13.
The added charges include counts alleging Letecia Stauch used a gun, a blunt instrument and a knife or other sharp object to kill Gannon, court documents show. The affidavit released Friday provides no additional details on how or why investigators believe Letecia Stauch killed Gannon.
The additional charges come nearly three weeks after authorities arrested Stauch in Myrtle Beach, S.C. Her arrest March 2 marked a turning point in the five-week search for Gannon, pivoting from a missing persons case to a murder prosecution.
A judge set an April 14 review hearing to address the next steps in the case.
Throughout the investigation, the boy's stepmom has denied any wrongdoing. After she was arrested in South Carolina, she waived her right to fight extradition and was taken to the El Paso County jail, where she remains held without bail.
The complete arrest affidavit can be read, here.