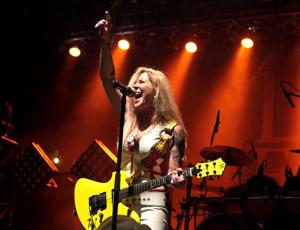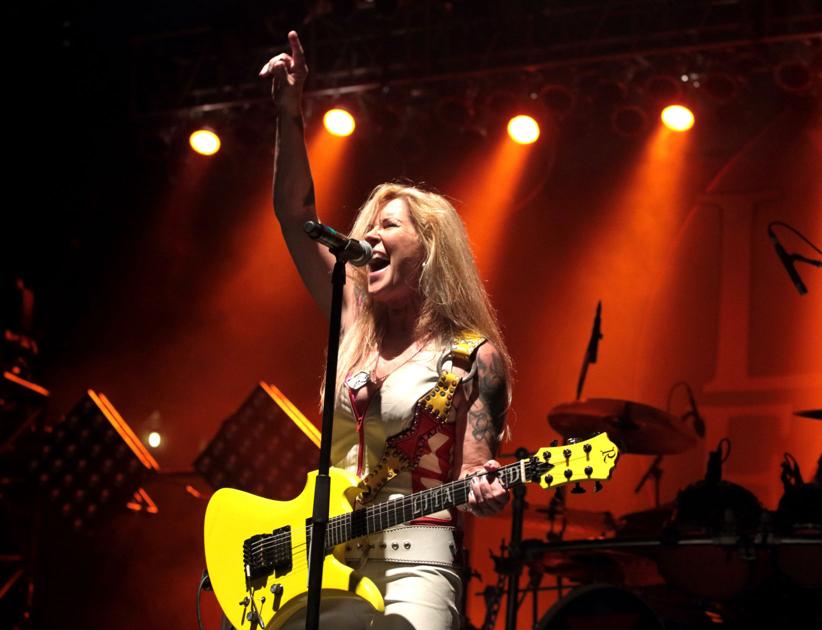 Heavy metal singer and guitarist Lita Ford played as hard as any male musician in her heyday.
But she still can remember the insulting questions people asked early in her career.
"They'd say, 'Lita, is somebody behind the curtain playing the guitar?'" she said in a phone interview from her home in Arizona.
It didn't let up, even after her 1988 song "Close My Eyes Forever," a duet with superstar heavy metal icon Ozzy Osbourne, landed at No. 8 on the Billboard charts, making it her most successful single.
"People still asked who played the guitar solo," said Ford, 61. "I couldn't get the point across anymore than I did."
Ford will perform Friday at Sunshine Studios Live.
Her entire career has been one long pushback against the male-dominated world of heavy metal and hard rock music. Ford started playing guitar at 11 and had mastered Led Zeppelin songs a few years later, she writes in her racy 2016 memoir, "Living Like a Runaway." At 16, she was approached by manager Kim Fowley about joining The Runaways, a groundbreaking all-girl rock band. From 1975 to 1979, the group put out four albums and a number of hits, including "Cherry Bomb," "Hollywood" and "Queens of Noise."
"I knew we were before our time. Women weren't accepted equally in the rock 'n' roll genre," Ford said. "We were more of a novelty kind of act. People couldn't wrap their heads around it. That's OK. I was still pretty happy with it."
The Runaways also produced Joan Jett, who, like Ford, went on to a successful solo career when the band broke up due to musical differences. Ford and drummer Sandy West wanted to keep making hard rock and heavy metal, while Jett wanted to play punk rock.
Transitioning to a solo career wasn't easy for Ford. She first had to figure out the schtick of playing guitar while also singing. She rented a warehouse in Long Beach, Calif., and practiced for hours.
"Guitar is, for me, like a gift from God," she said. "Being a lead singer was not. I had to figure it out. How do I play guitar and sing at the same time, and what will I look like and sound like when I do this?"
Clearly, she figured it out. Though her first solo album, 1983's "Out for Blood," was a dud, she persisted. She hired Sharon Osbourne as her manager and released the more radio-friendly, pop-metal album "Lita" in 1988, featuring the hits "Kiss Me Deadly" and "Falling In and Out of Love," co-written with Nikki Sixx of Motley Crüe, who was also her boyfriend for a while.
But even after all that, it was still a struggle to be a woman in the world of rock.
"You get the runaround from people, not just men," she said. "Especially if you're a good-looking woman and promoting sexuality, which I am. Sexuality and rock 'n' roll go hand in hand, so why not put it out there? But it puts a curtain over the music side of things. People can't see through the sexuality into the talent, especially in the earlier days."
In the mid-'90s, Ford took a long sabbatical from music to focus on raising her two sons and didn't reemerge until her 2009 album, "Wicked Wonderland." Her latest, 2016's "Time Capsule," was a collection of songs she made in the '80s with Gene Simmons, Dave Navarro and others.
It was only two years ago Ford finally felt the music world shift for women, on the 2017 night that Guitar Player Magazine and Marshall Amplification, a company that designs and manufactures music amplifiers, bestowed her with the title The First Lady of Rock Guitar at the She Rocks Awards.
"That was the moment everything clicked, and I went, 'OK, mission accomplished,'" Ford said. "We've achieved this."
She also can see the change when she's out on tour. Female fans fill the front rows at shows.
"It's changed. It's official now. It's done," she said. "They know you're there for them, as well as men. You're there to play music and make people feel good."