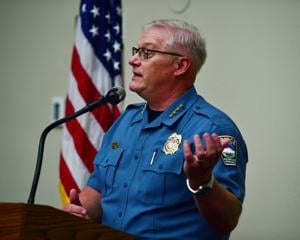 Recently, the Gazette published a column where the author shared his analysis on policing, specifically bringing forward his desire to have Community-Oriented Policing and Problem Solving — or COPPS for short — in Colorado Springs. Specifically, he stated: "If we're not doing it here we should be."
After reading his words, I felt compelled to reach out directly to our community.
To begin, COPPS is formally called COPS, which stands for Community Oriented Policing Services. The Office of Community Oriented Policing Services was created in 1994 and falls under the Department of Justice. Its goal is to develop innovative programs that respond directly to the emerging needs of state, local and tribal law enforcement, to shift law enforcement's focus to preventing, rather than reacting to, crime and disorder. It also focuses on enhancing law enforcement officers' problem-solving and community interaction skills while promoting collaboration between law enforcement and community members to develop innovative initiatives to prevent crime. I am proud to say this is something the Colorado Springs Police Department has been doing for more than three decades.
Community policing, to include COPS and the Problem Oriented Policing model, are fundamental parts of our organization. It is present in everything we do on and off the street. For instance, the Colorado Springs Police Department has a Community Relations Unit that is dedicated to building bridges in our community. There are eight community-focused programs run by the department, which include the Illumination Project, Leadership Steering Committee, Citizen Advisory Committees, and more. We also engage in direct partnerships with local organizations for the betterment of our community. One such program is the Crime Prevention through Environmental Design program where an officer will collaborate with a local business and use urban and architectural design to help prevent crime at their business locations.
Our Crime Prevention Officers also head the Neighborhood Watch Program where officers and community groups work together to prevent crime in their neighborhoods. The CSPD has more than 500 Neighborhood Watch groups throughout the city. The CSPD also has a high-functioning team of data analysts who provide in-depth analysis of crimes, trends and prolific offenders. These programs and units in coordination with our community make COPS ever-present in Colorado Springs.
I also want to directly address the implication in the column that suggested the Boulder shooting could have possibly been prevented had law enforcement officers used COPS. That statement has no merit. What happened on March 22 at King Soopers was tragic. Even though we are nearly 100 miles away, all of us felt the reverberation of heartbreak right here in Colorado Springs.
To suggest that the fault is at the hands of law enforcement officers for not using community oriented policing, is a poor excuse at demonizing those who bravely wear a badge. The Boulder Police Department is vastly invested in its community, and it also places community-oriented policing in high regard. To assume lack of community awareness led to this shooting is an inappropriate and incorrect accusation. Law enforcement officers take their oath knowing their life, their career is to serve and protect their community.
It's important for all residents to know that CSPD is extremely engaged with the community. Our department's mission statement is "to promote the quality of life in Colorado Springs by providing police services with integrity and with a spirit of excellence, in partnership with our Community." There is no Colorado Springs Police Department without our community.
Last year was challenging, but it was also a time of growth, listening and understanding. While there were many takeaways of how we can better serve Colorado Springs, one of our primary goals was to become more accessible. While we are a good department, we have failed at telling our community who we are, what we do, and what our department stands for.
The column served as a reminder that we as a department need to provide more opportunities for our community to get to know their police department on a deeper level. We have taken major steps, such as providing an open source data website to enhance transparency and are developing an online community academy that takes a deep dive into our units and procedures. We hope that community members will feel welcome to get to know our department, to get involved and to ask questions.
Please join a Neighborhood Watch, attend an Illumination Project Meeting, become part of a Citizens Advisory Committee. We want to answer your questions. We want to be the best police department we can for you.
To learn about the many ways to engage with CSPD, please visit coloradosprings.gov/cspd and click on "Community Outreach" on the menu.