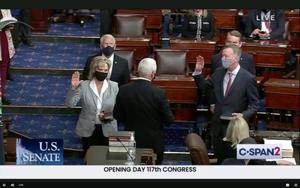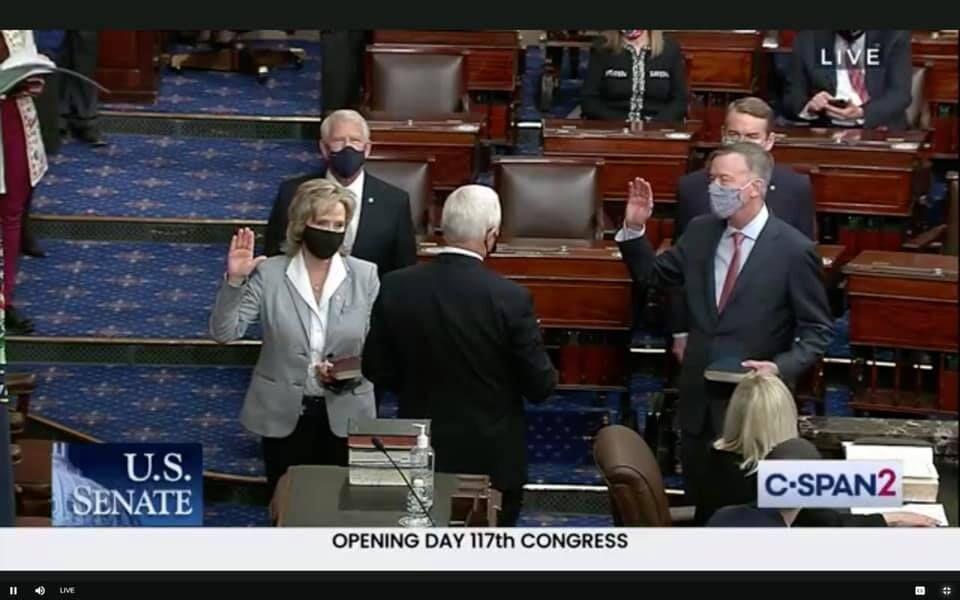 Stop calling him former governor, just like you had to get used to stop calling him mayor a decade ago — John Hickenlooper is now a Colorado U.S. senator.
He was sworn in Sunday morning, with Colorado's other Democratic senator and his former employee, Michael Bennet, standing behind him.
The oath was administered by Vice President Mike Pence, who, like the senators, wore a face mask. The senators were sworn in in pairs. Hickenlooper stood next to Republican Cindy Hyde-Smith of Mississippi.
After the oath was completed, Pence bumped elbows with Hickenlooper and Hyde-Smith rather than shake hands, both signs of the pandemic times.
Hickenlooper trounced Sen. Cory Gardner, the one-term Republican from the Eastern Plains, two months ago.
Both newcomers were joined by their state's senior senator.
The Coloradan is one of six new faces in the 100-member chamber, joining Sens. Cynthia Lummis, R-Wyo., Ben Ray Lujan, D-N.M., Roger Marshall, R-Kan., and Bill Hagerty, R-Tenn. and Mark Kelly, D-Ariz.
Control of the Senate, however, won't be decided until Tuesday, pending the Georgia runoff Sen. Kelly Loeffler against the Rev. Raphael Warnock, as Sen. David Perdue meets John Ossoff. Both incumbents are Republicans.
Hickenlooper tweeted about the upcoming ceremony on his official Senate Twitter account Sunday morning.
"Hi, Hick here!" he wrote. "Today I have the honor of being sworn in to the U.S. Senate."
The new senator's office did not release a statement Sunday morning.
Gardner has not been responsive to media requests since he lost the Nov. 3 election, but on Dec. 8 he posted a video of his farewell address to the Senate on his Twitter account. Gardner served three terms in the Colorado House of Representatives and two terms in the U.S. House before being elected to the Senate in 2014.