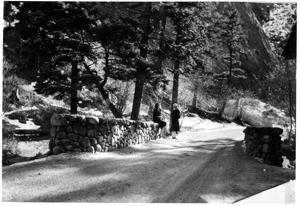 As three vehicular bridges are being reconstructed in North Cheyenne Cañon Park, their historical significance is said to be considered.
Generations of visitors have passed by the bridge walls of stone from the creek, the first of which was constructed in 1914, according to the park's 2018 master plan. These replaced wooden bridges from the days prior to the canyon opening to automobiles in 1917. The wood was "considered an unsightly contrast to the natural landscape," the master plan noted, while the stone was deemed fittingly rustic.
The decades saw more bridge modifications.
"But all along, the city of Colorado Springs and the Public Works Department, while making it more accessible and making it obviously safe for people, they always sought to respect the natural beauty of the canyon," said Leah Davis Witherow, curator for Colorado Springs Pioneers Museum.
"And those bridges … we're talking about bridges that respect that natural environment. They don't detract."
The manager of the ongoing $4 million bridge project has pledged to "salvage as much of the original stone work as possible to reuse on the new structures." A city news release says the bridges "will be wider, stronger and safer, but the goal is for them to appear as if nothing has changed."
That 2018 master plan called for the bridge replacements. The document also said "the original stone should be retained, concrete residue removed, and the stone reused in the new structures or safely stockpiled for a future park project."
Bridge construction in the early 1900s represented the first major job in the park's public history. In 1885, North Cheyenne Cañon became the Springs' first park acquired through a voter-approved purchase. After years of private ownership and fees, it was a 254-32 vote for $5,000, Witherow said.
Today's construction is expected to last through the end of May. The road through the park is closed during that time, but trails remain open. Parking remains available near the park's main entrance and at the upper lot from Gold Camp Road.