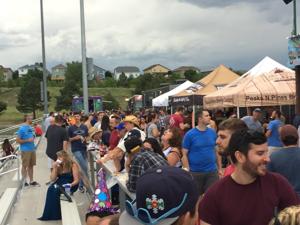 Meet "Michael."
He is a 30- to 39-year-old professional who earns more than $100,000 a year, some of which he spends on grooming products for his beard, mustache or goatee. He likes IPAs, is straight, white and sans kids (so far) to distract him from man cave/hobby space/time in the house he owns with his wife/domestic partner.
If a Michael-type is what comes to mind when you think "homebrewer," you're totally typecasting (shame!) — and, statistically, pretty much right on the money.
"Your typical homebrewer right now is a mid-30s white male with a beard. It absolutely does fit the stereotype," said Marshall Schott, whose Fresno, Calif.-based brewing media company recently released the findings of its fourth "General Homebrewer Survey."
Brülosophy's annual poll seeks to map the landscape of the international homebrewing scene — from what everyone's making and how they're doing it to what they see when they look in the mirror.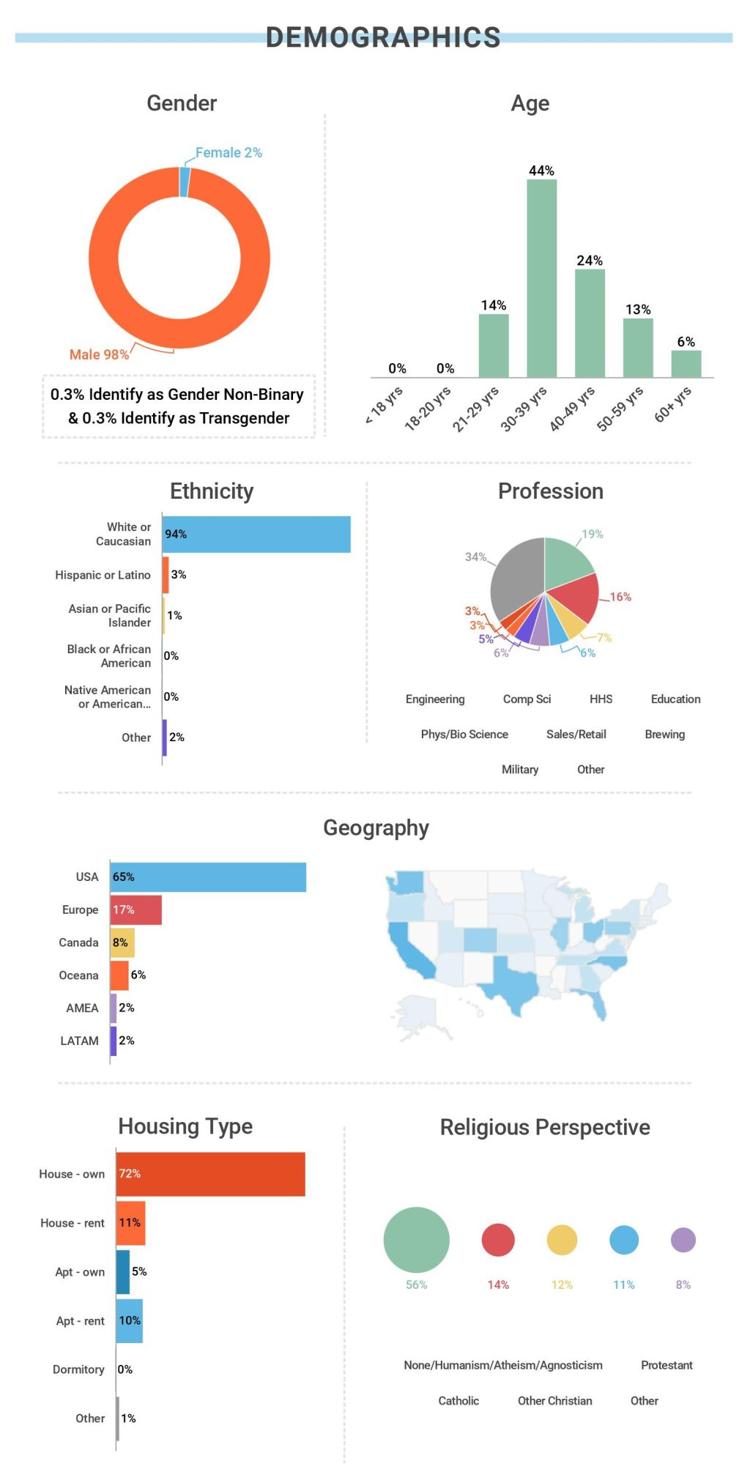 "I'm a curious person in general, so I was just interested to see what the modern homebrewer looked like on various scales. That was kind of the original impetus," said Schott, whose 5-year-old company produces a weekly podcast and a popular series/side project called exBEERiments, hailed as the "Mythbusters of Making Beer."
The survey, Schott said, isn't just recreational; it's meant to provide insight into where the homebrewing industry's succeeding, and where it's not.
"Homebrewing is still and always has been a very whitewashed, male hobby, and that despite the fact that there have been very overt efforts on the part of organizations out there really trying to make it more accessible to the less-represented in the hobby," he said. The survey "gives us access to demographics that are underrepresented in brewing in particular, but in craft beer in general. For all of us, to have an idea of what it is we might be missing out on is really important. What is it that we're doing wrong? What else could we do?"
Brülosophy promoted the survey on its website and podcast and encouraged homebrewers to share it with their local clubs and friends who brew. In the end, close to 2,700 hobbyists responded, sharing the nitty gritty of their beer-making odysseys plus deets about their consumption habits and lifestyles.
Some insights:
• While 39% brew for less than $50 per month, 46% of respondents said they spend between $50 and $100 during that time on their hobby.
• 53% of respondents prefer to drink homebrewed beer.
• 32% have been doing it between four and six years, and most (56%) learned how to brew from online resources.
• 94% were white or Caucasian, 3% Hispanic or Latino, and 1% Asian or Pacific Islander.
• 2% of respondents were female, with 0.3% identifying as gender nonbinary and 0.3% as transgender.
Of course, results might say as much about what kinds of homebrewers are aware of — and complete — surveys about their homebrewing habits, Schott conceded. "For example, we didn't have a single black person take the survey, and I'm friends with multiple African Americans who homebrew," he said. "It kinda makes you wonder what's going on."
Atrevida Beer Co.'s Jessica Fierro isn't surprised the survey confirmed stereotypes, but said her experiences as both a Latina homebrewer and a brewery owner have led her to believe she's part of an industry, and culture, that's evolving — albeit in baby steps.
"Diversity is certainly just now starting to emerge and be highlighted in this industry. While we have progressed as a whole with having more women on the production side (still a very slim margin) rather than on the service side, there is still more to be done," said Fierro, who last year took over and rebranded the former Great Storm Brewing after winning "Beerland," a homebrewing competition hosted by Viceland TV network.
"People of color are extremely underrepresented in craft beer," she said. "And, in my experience as a Latina head brewer/owner, I have had to prove myself 'worthy' as a homebrewer and now as a head brewer."
After almost two years at the helm of her own establishment, Fierro is drawing kudos for more than her Latin-inspired recipes: Atrevida Beer Co. recently was awarded the 2019 Governor's Minority Small Business of the Year prize. "My hope is for more breweries to bring inclusion and diversity inside their production house and for the craft beer community to continue to uplift all of our efforts to bring quality craft beer to them," Fierro said. "The same way that we, craft beer enthusiasts and brewers, celebrate and eagerly await new styles and variations of beers to be brewed and released is the same way we should all be just as eager to encourage and celebrate diversity behind the glass."