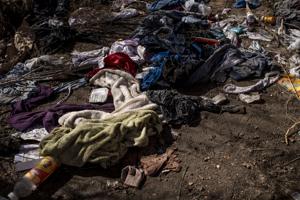 Colorado Springs police cleaned out a homeless encampment near Dorchester Park Wednesday afternoon, just days after firefighters extinguished a blaze at a homeless encampment under a bridge on South 31st Street, north of West Cimarron Street.
Amid a week of freezing temperatures, some enclaves of people experiencing homelessness in Colorado Springs opted to hunker down in encampments throughout the city instead of staying in homeless shelters.
Dwayne Cohea, one of the five people whose encampment on the north side of Tejon Street and I-25 was cleaned out Wednesday, said not everyone experiencing homelessness wants to stay in a shelter. Cohea said he opted to stay on the streets because he had a dog, and other people staying in the shelter would sometimes steal his belongings.
"It's stressful for a lot of people out here," Cohea said.
Colorado Springs police accompanied Colorado Springs Neighborhood Services as members gathered trash that was strewn along the side of the road. An outreach worker for Homeward Pikes Peak, Jansen Howard, also joined the officers on scene to provide resources and information for those experiencing homelessness and try to register them for housing.
"We just tag along and provide resource where we can," Howard said. "It really allows us to access folks that normally wouldn't reach out to resources, meet people where they are, and also go places we wouldn't be able to go alone."
Some of the resources Homeward Pikes Peak offers include sober living programs, plus the organization mangers most of the permanent housing vouchers in the city, Howard said.
"I think as outreach we really refer to everyone," Howard said "I see us as kind of the glue between resources in a way."
Howard noted that concerns of COVID-19 in shelters can be a deterrent for people to stay there.
"It raises concerns mentally and physically for a lot of people" Howard said.
The city of Colorado Spring, El Paso County and the Continuum of Care opened a separate shelter for those experiencing COVID-19 symptoms or with a COVID-19 diagnosis.
Colorado Springs counted 1,116 people experiencing homeless at the start of 2020, but a point in time count for unsheltered individuals was not conducted in 2021 due to concerns of COVID-19, the Pikes Peak Continuum of Care announced.