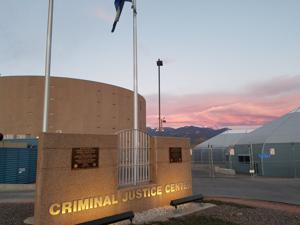 An inmate who died Friday night in the medical section at the El Paso County jail was identified Wednesday as Brian Clark of Colorado Springs.
Clark, 44, was booked into the jail Jan. 7 on a warrant for failure to appear after being arrested in 2018 on suspicion of indecent exposure, a misdemeanor, and driving under the influence. The DUI charge was a felony because he had three prior offenses, according to court records.
The Colorado Springs Police Department is investigating Clark's death because force was used, said Jacqueline Kirby, Sheriff's Office spokeswoman.
Typically, a neutral agency investigates whenever deadly force is used to avoid conflicts of interest.
"It does not indicate any wrongdoing by any stretch; it is just our policy," Kirby said Tuesday.
Ten deputies who work in the jail have been placed on paid administrative leave in the death, Kirby said, adding it's the same protocol that is followed in a shooting involving a deputy.
No information has been released about the deputies' involvement in Clark's death.
Clark died despite life-saving measures by deputies, medical staff and first responders, Kirby said.
No information has been released about why Clark was in the medical wing, for a medical condition or injury, and why force was used on him.
The Sheriff's Office plans to announce by Friday when it will release surveillance footage of the incident, Kirby said.
"This is not an internal investigation. We are not investigating policies for the Sheriff's Office," police spokesman Lt. James Sokolik said Tuesday. "We are investigating the events surrounding the death."
Once complete, findings will be turned over to the 4th Judicial District Attorney's Office, which will decide if the deputies involved will face criminal charges.
The county Coroner's Office has yet to issue a cause of death.
Clark's death is the latest in a series of inmate deaths in recent years, some from suicide and others involving allegations of neglect or excessive force and substandard health care.
After a falling out with its previous health care provider, Armor Correction Health Services, the Sheriff's Office hired a new medical contractor, Tennessee-based Wellpath, which took over a few weeks ago.
Last summer, two inmate deaths highlighted concerns about Armor's quality of care.
Terry West, 57, complained about his health routinely in the days before he died of a hemorrhaging stomach ulcer in the jail in June, according to investigative reports obtained by The Gazette.
In December, the county was threatened with a multimillion-dollar lawsuit by the estate of 36-year-old Holly Peck, who killed herself in June while incarcerated at the jail.
In August, the son of Eliezier Tirado-Ortiz sued the Sheriff's Office, claiming his father would still be alive if deputies hadn't used "excessive and unreasonable force" while restraining him during a drug-induced crisis in 2017.
Deramus Lemuel, 38, lost consciousness on a cell floor while high on drugs and held down by jailers in 2018. Deputies "needlessly initiated a use of force that would ultimately result" in the death of Lemuel, who never regained consciousness, the family's attorney said in a claim letter to the county last year.