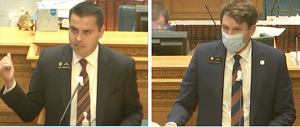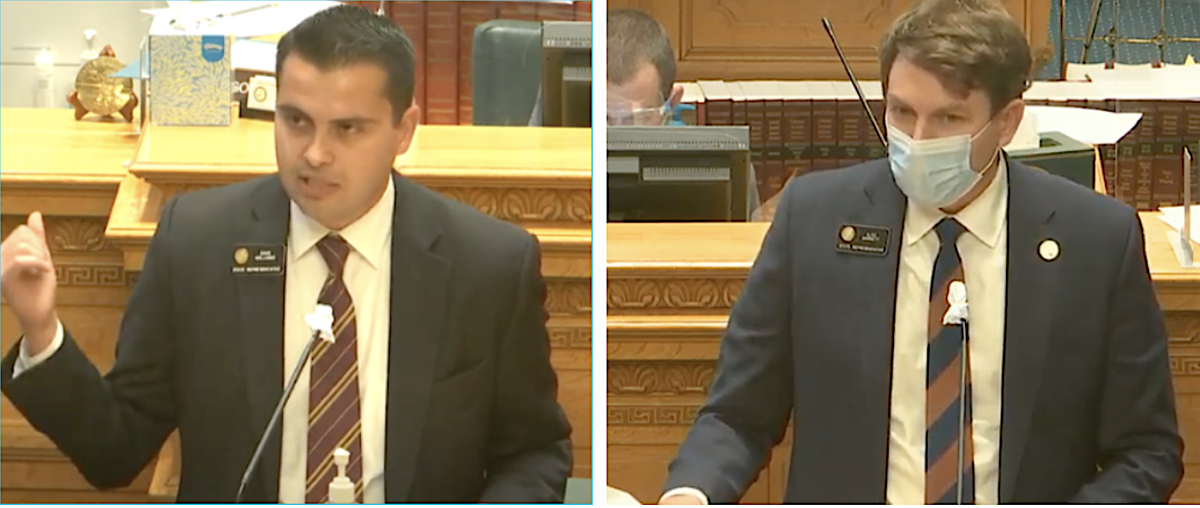 Imagine, if you will, a place where everyone has the same goal and fundamentally has the same solution, yet they can't stop bickering long enough to hear one another.
That place was the Colorado Capitol this week. There you had Democrats and Republicans going at it in a special session to distribute $280 million in unexpected tax revenue to Coloradans on the brink. You would find not one dissenting voice on that mission. Why, what and how are three different questions, though.
Republican Reps. Dave Williams of Colorado Springs and Lori Saine of Dacono, two of my favorite pugilists, went down swinging with amendments. Stubborn Democrats were having none of it. If you're a counter-puncher, though, it's what you do.
Even Roundhouse Dave had problems, sometimes, on where to land his well-calculated punches.
"If you asked me this morning, I was going to say I was voting no," Williams said, debating a bill to extend $57 million in direct aid to eateries, restaurants and cultural venues. "If you ask me right now, I'm leaning (toward) yes. That's how on-the-fence I am with this."
The House voted 63-0 to pass it.
Rep. Jonathan Singer, a Democrat from Longmont, squeezed in a bill to fix a drafting error in a bill he helped pass in the regular session to improve regulation of occupational therapists. Some lawmakers groused about whether the cleanup bill fit under the governor's instructions about pandemic relief and whether the fix could wait a month for the next regular session.
"If I'm right, we fix a problem," he pleaded. "If I'm wrong, I don't know who sues."
And if I had a million dollars, I'd be a millionaire. The bill was scuttled in the Senate. Here's the thing, though, Singer won't be back in January. He was term-limited this year.
Situational politics also snared Rep. Larry Liston, a Republican from Colorado Springs. He urged lawmakers to be patient; a vaccine is coming.
"It's only days away," he said.
Rep. Kyle Mullica, a Democrat from Northglenn and a nurse who has treated COVID-19 patients, found that position odd. Two years in a row Republicans marshaled forces against his bill to make school vaccinations easier to track.
"I want to thank Rep. Liston for stating the importance of vaccines and what they mean to our society," he said to the chamber, as Republicans groaned and Democrats laughed.
Rep. Perry Buck, a Republican from Windsor, got a party-line rejection on her bill to create a $102 million grant program for businesses shut down or otherwise financially strapped by the pandemic, even though bills and programs to do the same thing already existed.
That's a big chunk of the pie for a program with few qualifications and with the money funneled through the counties, another layer of government and $2.5 million in administrative costs — how fiscally conservative.
Applied to another bill, that concept set off another Eastern Plains conservative, Rep. Richard Holtorf.
The legislation would have allowed local government to cap fees charged to restaurants by delivery services. As eateries get more of their income from meals eaten elsewhere, delivery services are a lifeline.
"Now county commissioners are going to meddle some more in the restaurant business," Holtorf said on the floor. "I will tell you, ladies and gentlemen, I think government has meddled enough in the restaurant business. I think we've restricted enough. When does it end? Well, the answer is never."
The rancher and Army veteran from Akron said he had no interest in picking winners and losers, a GOP rallying cry since then-nominee Mitt Romney accused President Obama of it in 2012.
"I also do not like picking winners and losers, but we did try to make this bill as inclusive as possible," replied Republican Rep Kevin Van Winkle of Highlands Ranch.
Picking more winners than losers is OK, then.
Go in tomorrow and tell your boss, "I'm against this, but I'm going to work for it, because it's only partly against what I'm totally against." Let me know how that turns out: You'll probably have a lot of free time on your hands.
Politics has become a fiction people agree to believe. Both sides do it, because you can't lie to someone who wants to believe you anymore.
Next session, next month, Rep. Alec Garnett, a Democrat from Denver, and Rep. Hugh McKean, a Republican from Loveland, will be in charge of the House parties. Both are good gentlemen you'd be proud to know personally. (Someday I'll tell you the story about how McKean bailed me out of a bust in the chops that I probably deserved.)
Monday night, after a Republican staffer thought it would be OK to come to the Capitol despite her possible, then-confirmed, diagnosis, Garnett had a tone in his voice that was compassionate but firm. He referenced the lives and businesses being lost daily.
"We have no time for petty bickering, partisan stumps or political grandstanding," he said. "What the people need right now is leadership. They need us to rise to the occasion to deliver much-needed relief and model good, safe behavior."
The question is whether anybody was listening, or whether they were distracted polishing a rebuttal in their head.