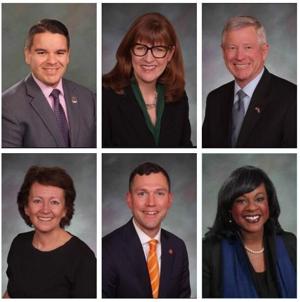 The Joint Budget Committee Wednesday got an earful from Coloradans who have watched the budget cutting with trepidation and worry about their future.
The hearing offered an opportunity for the public to talk directly to the panel about priorities for the state budget in 2021-22.
"It's important to hear voices before we start setting the budget for the next fiscal year," said chairman Sen. Dominick Moreno, D-Commerce City, at the hearing's beginning.
Many of those who testified Wednesday already have a seat at the table, represented by lobbyists, nonprofits and professional organizations that will advocate for their place in the budget negotiations commence.
That included state employees, who won the right to collective bargaining in the 2020 session, and who advocated for a bigger salary increase than what's been proposed by Gov. Jared Polis. Brian Hines, a corrections officer at the Buena Vista Correctional Complex, told the committee that corrections used to be an elite job, but the pay is now so low that people can't survive, especially if they have to drive two hours to get to work. "People are struggling," Hines said. And in small towns, when people leave state jobs, they leave the town, too.
Angelika Steadman, a registered nurse at the Colorado Mental Health Institute at Pueblo, said state employees will have to pay 3% more into their pensions this year, yet the cost of living increase proposed is only 2%. "Help us break even," she asked.
Janet Snipes, the executive director at Holly Heights Nursing Care Center in Denver, testified on behalf of long-term care providers. Her facility relies almost entirely on Medicaid.
"I am adamantly opposed to the proposal to take the current nursing home reimbursements out of statutes and freeze our rates with no increase for the upcoming year," which she said ignores increased costs from inflation and costs resulting from the pandemic.
Snipes told a harrowing tale of the impact of COVID-19 on her facility, staff and residents. Her facility had an outbreak in March before testing was available and before they knew how to adequately treat COVID-19. "Staff were afraid to work because they were afraid they would die too," she said.
She said she ended up paying some of her direct care staff double-time to incentivize them to come to work, an additional cost of more than $418,000, she said, to compensate them for putting their lives at risk with no protective gear. "We (had) reached out to multiple agencies" for those supplies but were told that her facility was not a priority. "I've worked in long-term care for 44 years, and this is the most emotionally traumatic period of time I've ever experienced. My staff has suffered from PTSD."
Snipes said the facility has lost $2.7 million in revenue in 2020, she said. Medicaid nursing homes have been put in severe fiscal straits, and some have closed, she said.
Moreno asked about the financial challenges for long-term care providers, including drops in resident numbers. More than 50 homes in Colorado have dropped below 70% occupancy, which makes it unsustainable, especially for those that rely on Medicaid, Snipes replied. The pandemic has also made it difficult to admit residents when a facility has an outbreak. "If these budget cuts occur, we will lose most of our help."
Still others hope to avoid the budget knife altogether. Bethany Pace Danley, who works for Peer Assistance Services, a non-profit that works on substance abuse and intervention services, explained their state funding had been cut by $1 million in 2020-21 and that it has been recommended for elimination in the 2021-22 budget. She asked the JBC to reject that recommendation and restore the cut handed down in 2020-21.
The availability of one-time funds in the 2020-21 budget, revealed with the December 2020 forecast, had some groups come forward with suggestions on how to spend it. Green Latinos, represented by Ian Thomas Tafoya, suggested more monitoring of air quality.
Higher education advocates, including students, called on better base funding for public colleges and universities. Several affiliated with Young Invincibles testified to the difficulties of finding the money for college.
That included Sara McFarland, who submitted written testimony that described the ordeal of trying to find the money for college. At 18 years old, she said, she sat in a financial aid office and "experienced an overwhelming sense of defeat in trying to stay in college." She worked to save money, "but the harsh reality is that (college) is available only to those who can afford it." She said she couldn't get private loans due to a low credit score. "Not every young adult has a down payment for school" and Pell Grants can only be stretched so far, she said. Even with grants and a scholarship, tuition is so '"grossly inflated" that it leaves a hole too large to fill, she said.
Thursday, the committee began looking at compensation for state employees and provider rates for health care services paid for by Medicaid. The committee has already finished working on supplemental bills for state agencies to realign their 2020-21 budgets, which will be among the first items to be dealt with when the General Assembly returns.
One piece of good news for schools: lower enrollment from the October student count could have meant a cut of nearly $41 million, given that state funding to school districts is a per-pupil calculation. However, the committee plans to hold the funding in the 2020-21 budget stable.