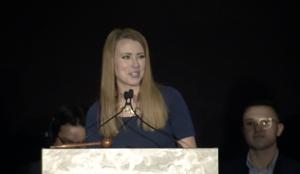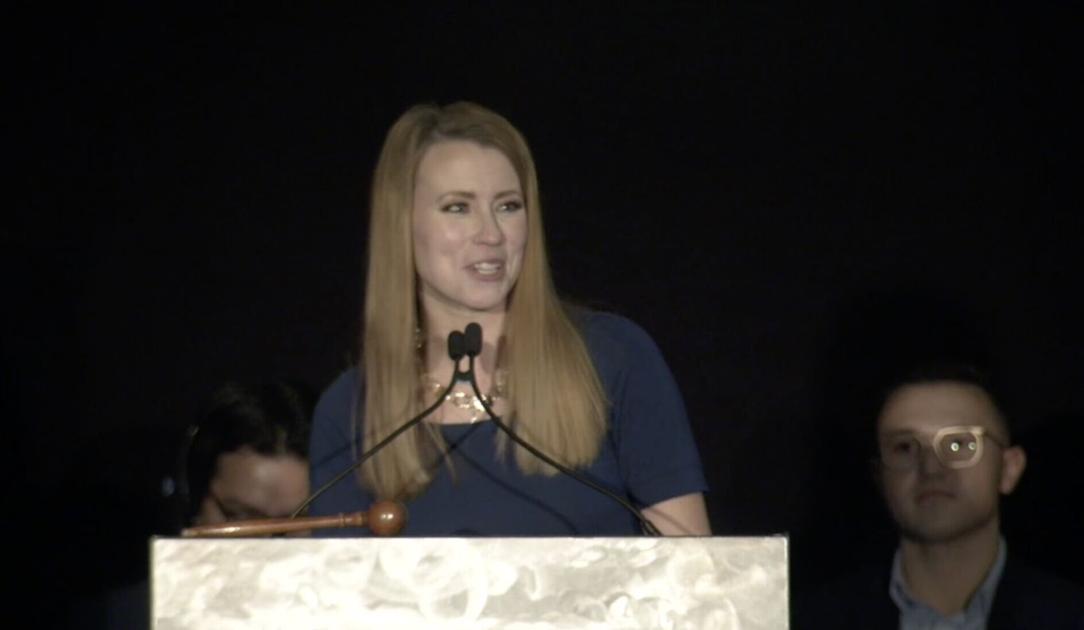 Colorado Republicans on Saturday elected Kristi Burton Brown to lead the party for the next two years.
The 33-year-old attorney and incumbent vice chairman of the state GOP takes the helm five months after Republicans suffered their second straight thumping at the hands of state voters, leaving the party with less power than at any time since the 1930s.
"It's time for a new generation of leadership in our party," Burton Brown said. "Republicans are facing the battle of our lives."
Calling herself a "strategic soldier with integrity," Burton Brown vowed to "take the fight to the Democrats" and admonished Republicans against divisive infighting.
"They are the enemy, not each other," she added.
It took three rounds of balloting for Burton Brown to win an outright majority in a five-way race that included former Secretary of State Scott Gessler, who finished second, along with former congressional candidates Casper Stockham and Rich Mancuso and GOP communications consultant Jonathan Lockwood. Prior to the final round, Stockham, Mancuso and Lockwood withdrew and threw their support behind Burton Brown.
The final vote was Burton Brown 226, Gessler 154.
U.S. Rep. Ken Buck, the outgoing state chairman, announced in December that he wouldn't seek a second term.
The Colorado GOP's central committee — around 500 party officers, elected officials and activists — convened for a hybrid reorganization meeting, with roughly half participating remotely and the rest packed into a ballroom at the Denver Marriott Tech Center.
Burton Brown, who rose to prominence when she co-sponsored the first attempt to pass a personhood amendment as a teenager, will be the first woman since the 1970s to chair the state Republicans — and with the election of Priscilla Rahn as vice chairman and Marilyn Harris as secretary, the Colorado GOP will have an all-female officer slate for the first time in its history.
She'll be faced with reviving a party that has shed 100,000 members statewide in the last five years, taking an unaccustomed backseat to Democrats and unaffiliated voters by registration, with just one statewide elected official — an at-large University of Colorado regent — remaining after last fall's election.
"We are the party of jobs, we are the party of kids, we are the party of the American Dream," she told Republicans. "I'm asking you to climb this mountain with me. Let's put on our hiking boots or saddle up our horses and ride into the storm."
After ticking off a list of Colorado counties, Burton Brown added: "This land is our land, and we've come to take it back."
Gov. Jared Polis, whose re-election bid will be among next year's top-ticket races in Colorado, drew a drumbeat of criticism from Republicans Saturday for the Democrat's response to the pandemic, with Burton Brown and several others calling him "King Polis," while others described the tech millionaire as a communist.
Burton Brown campaigned on a pledge to do a better job communicating the GOP's core principles and do a better job recruiting candidates, including Republicans who align with their districts even if they don't always strictly adhere to party orthodoxy.
"I don't think we've effectively communicated that to people, that our policies make their lives better, our policies provide more educational opportunities for their children, so our party has to be better at communicating those issues," she told Colorado Politics in an earlier interview, adding, "Those Republican candidates will look different across the state, and we should welcome that."
In addition to leading the 2008 personhood amendment campaign, Brown spearheaded a failed 2019 recall effort against state Rep. Tom Sullivan over the Centennial Democrat's support for gun-control measures. Last year, she served as lead policy adviser for U.S. Rep. Lauren Boebert after the Silt Republican defeated U.S. Rep. Scott Tipton in a primary.
Former U.S. Sen. Cory Gardner, who lost a bid for a second term in November, addressed the Republicans remotely from his home in Yuma, standing in front of an enormous tractor.
"We're the people defending our freedom, we're the people defending what our liberty means, we're the people who aren't afraid to admit that our country is great and will remain great," he said. "We're the people who aren't ashamed of our nation, we're the people who won't cancel Dr. Seuss and fight over silly things while China and Russia enlarge their agenda. We're a country that is great because the people in this room who make it great participate."
Rahn, who mounted an unsuccessful campaign last year for a CU board of regents seat, said her bywords for the Republican Party are "rebuild, reconnect and revive."
"It is upon us in this room as successors of the first Republicans to unite, to serve, to strive and fight for that liberty and that America," she said. "I offer my entire self before God and in service to the principles of this Republican revival. We begin right now."