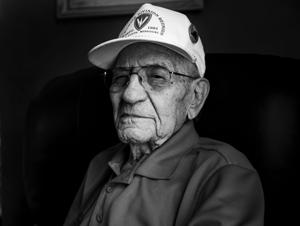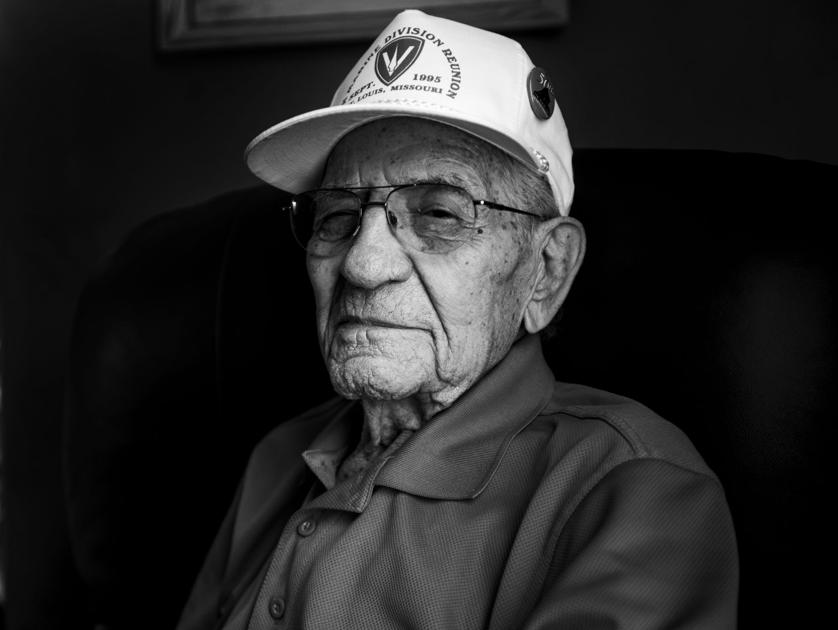 Escolastico "Cole" Griego was a 19-year-old Navy corpsman when he arrived at Iwo Jima in February 1945, unaware that he was about to take part in one of the bloodiest battles in the Marines' history.
"When we first saw Iwo, it was early morning," he said. "When we saw the island I said, 'Is that what we are gonna fight for? That little island?' And sure enough, that was where we were. We stayed on that damn island for 30 days."
Specific details of his days in the service have been lost with time. At age 95, he laughs when his memory starts to battle with him, sitting at his kitchen table as he tries to remember nearly 80 years ago.
Griego was born and raised in Belen, N.M. After graduating high school, he moved to Seattle in search of work. Shortly thereafter, Uncle Sam called.
"They said, 'Come, we need you.' They didn't tell me what for," he said.
He was drafted into the Navy as a corpsman and, after six months of training at Coronado Island in San Diego, he was assigned to the 5th Marine Division. Again, his memory comes up blank when he's asked more details about training.
He puts his hand on his head as he searches for answers. There's one thing he knows for certain, he was a corpsman, not a medic.
"The only thing they called, you're a corpsman, you're a corpsman, you're a corpsman. They'd grow that into your head, that we were corpsman, not medics," he remembers.
After training, he was put on a troop transport and began the journey to Iwo Jima. On the ship, they received more training.
"We were doing training all the time. Either medical training, or getting along with everybody else. That's, that's training," he said.
In their free time, some men on the ship played cards, gambled or drank. Griego preferred to spend his time reading but indulged in the occasional sip from the bottle.
"We got our first look at liquor after we got trained and we were heading to Iwo Jima," he said. "I didn't get drunk, but I had good, good shots of whiskey."
For many on the ship, the Battle of Iwo Jima would be their first combat experience, and an intimidating one.
They were greeted at the island with sounds of gunfire and bombs. The battle for the island hadn't yet begun on the ground, but the water and the air had been a battlefield for months.
For three or four days before storming the island, Griego remembers sitting on the ship listening to the sounds of the fighting.
"We were all chickens," he said. "I mean the bombardment on top of your head, and nothing but bombs all over. … It was enough to scare the heck out of us and scare the hell out of the Japanese."
Finally, on Feb. 19, 1945, he went ashore in the fifth wave. From then on, his job was to treat wounded Marines. As bullets flew and the Japanese tried to target corpsmen, he kept working.
In the five weeks of battle, he estimates that he helped more than 100 men. For each, he had to decide if he could treat them on the battlefield, if he had to get them back to the main hospital, or if treatment would do any good.
"We roam around and pick up the wounded ones and sort out the dead ones. We didn't have to bother with him anymore," he says quietly.
He never saw the men he helped again, he writes in a letter about his service.
The days of fighting were long. Once they stepped on the island, eating, sleeping and bathing were no longer priorities.
Griego didn't bathe, change clothes or brush his teeth for 30 days.
"You didn't have time. You kept going," he recalls.
When it rained, he rinsed his mouth with that. It was nearly a week into the battle before Griego had the chance to eat.
"We had some K-rations, but we didn't like it, nobody liked them. Not even the candy bar," he remembered.
Around the same day he received his first rations, he also watched as the American flag was raised on Mount Suribachi.
On Feb. 23, five days into the battle, five Marines and one Navy corpsman raised the flag. Griego was performing first aid at the base of the hill and watched as his fellow Americans wore their pride on their sleeves.
"That was the happiest day of my life," he said confidently.
The only other fond memory he has of his time on Iwo Jima was after the fighting. No longer familiar with the sound of silence, he remembers feeling like he was in a tomb.
"All of the sudden it's silence. Except us, yacking away, the American's yacking like usual," he laughs.
They celebrated their victory with showers.
"Oh, the glory," he said.
The rest of Griego's experiences are still clear in his mind, but those around him will likely never hear the stories.
"I hate, uh, I hate to say anything about it. It hurts, still hurts," he said. "The war, you can never forget, never, never, never forget it."