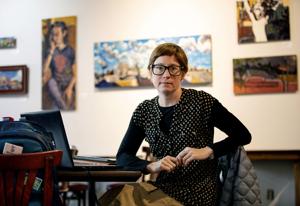 A black Dodge Ram with a Trump 2020 sign in its back window barreled down U.S. Highway 24 on Black Friday, blasting past the exit for Manitou Springs, as if it had no business there.
About a mile away, locals and tourists crowded the sidewalks of this quaint mountain town, their hands full of shopping bags from merchants such as the Leprechaun Shoppe and Christmas in Manitou.
Manitou's liberal spirit has endured, despite President Trump's 2016 victory that many Manitoids described as a gut-punch.
Colorado Politics visited in the summer of 2017 to see how locals in El Paso County's lone blue outpost were coping in the era of Trump. Many, it seemed, had taken the billionaire's victory personally — and emotionally.
They vowed to fight perceived injury with kindness, including free steaming bowls of soup for the hungry and glasses of spring water-infused Manitou lemonade for the thirsty.
But 2½ years later, pessimism and negativity are no longer strangers in "Hippie Mayberry." Between Thanksgiving and Christmas, new faces and longtime residents alike provided a common view: One of a snow globe-like mountain community known for inclusivity and a sunny disposition drained of its optimism, smarting from wounds no longer inflicted exclusively by outsiders, but also by neighbors.
Natalie Johnson did not feel in control on election night 2016.
Despite a forecast that had many pundits leaning toward a Hillary Clinton victory, the tide was changing — and fast.
To be able to sleep, she needed to formulate a plan.
"I remember, in that moment, I thought, 'I'm going to work harder and more for the Manitou Springs community than I ever had before,'" said Johnson, director of the nonprofit Manitou Arts Center, a community fixture.
"And then I was able to fall asleep. Nothing was sufficient, but it was what I felt I could do as one person in the world."
While holiday shoppers sipped hot chocolate and browsed the town for unique gifts, Johnson plunked away on her laptop, alone in the center's lobby that doubles as a cafe — an "art is the answer" sticker neatly adhered to the front of her laptop.
It isn't as if Johnson was or is a detached citizen — far from it. The 15-year resident works 70-hour weeks as the center's director and volunteers in the community.
But facing a four-year Trump presidency, her seemingly valiant efforts paled in comparison to the need.
"In terms of my community involvement, I certainly increased everything I was doing," she said. "I gave more of myself," from grant-writing to raising funds for a creek-walk trail in the city to participating in a fundraising campaign to help make the library compliant with the Americans with Disabilities Act. She also joined the local school board.
Her response was "very Manitou-specific," she said, "because I felt like a community of 6,000 is more manageable than trying to fix the world."
But if the world is to face a second term of a Trump presidency, her stepped-up efforts will no longer be sufficient, she fears.
"The way I spend my energy will have to change, because I have seen things happen on a more systemic level — the anger, even locally, is different," she said, a tinge of melancholy in her voice.
"Folks are a lot more unsettled — there's a lot more anger, questioning authority and basic facts — those things are starting to come through. And it's hurtful.
"I'm realizing that it's more than just a creek-walk experience that we need."
Manitou Springs isn't particularly diverse for its liberal reputation. The town of about 5,000 was 92% white in 2019, while its liberal Colorado counterpart, Boulder, was at 88%, according to the estimates of the U.S. Census Bureau.
Conservative Colorado Springs, much larger than both, of course, was more diverse at 78% white.
Manitou Springs lies on the western edge of an area voting analysts call "Blue Colorado Springs," which begins in Manitou and extends eastward through Old Colorado City, downtown Colorado Springs and into eastern Colorado Springs, Bob Loevy, professor emeritus of political science at Colorado College, told Colorado Politics in 2017.
The area is so Democratic that Manitou — more precisely, the three precincts that encompass it and parts of El Paso County — swung blue in the last two presidential elections by nearly 2 to 1, according to the Colorado Secretary of State's Office.
But Manitou is a blue dot compared to the roughly 688,000 residents of reliably red El Paso County, where all five county commissioners and most other local elected leaders are Republicans.
Why does the area lean so far left?
"That's a really good question," Loevy said. "I can't answer it. I've never heard any theories on why Manitou attracts liberals and people who like to vote Democrat."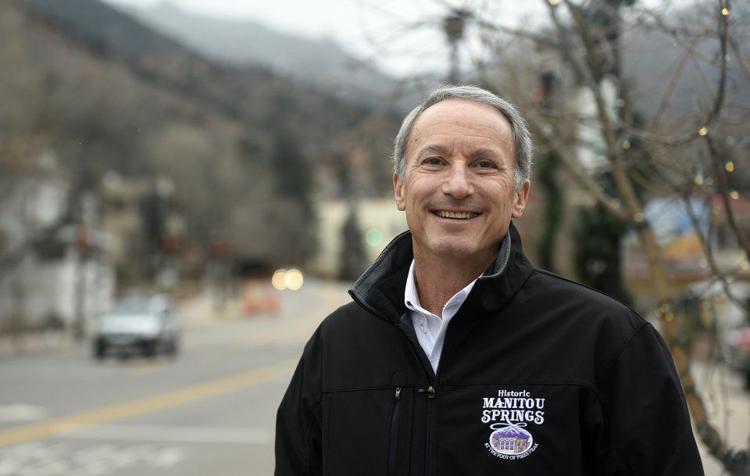 Outgoing Mayor Ken Jaray has a theory: Manitou has visual resources in spades, attracting those who seek such beauty and have a desire to protect it.
"How many right-wing conservative Republicans are strongly involved in the environmental movement?" he posited. "Those who are more concerned with the environment are likely going to be more progressive and open minded."
If anyone has the authority to speak on how the Trump presidency has affected the Manitou community, it's Jaray, a 40-year resident and retired local attorney.
"I try to watch it from a distance, and therefore I'm not as directly involved," he said of the White House's issues and controversies.
It's less of a roller coaster that way, he added.
"I try not to let it affect me on a personal level, but it's hard not to," Jaray said. "I think we'll get through this and get over it, but we probably won't know all of the consequences for a number of years.
"I'm a little nervous about the future."
Just as they vowed to in 2017, locals say they're still trying to fight what they see as a Trump regime, averse to their views, with positivity — take, for instance, last year's 12-day "Manitou Chooses Love" festival that featured music, art, dancing, yoga, and "love ambassadors" dispensing good vibes and treats.
But Trump's adversarial attitude trickled down regardless, and local politics has gotten "a little bit rougher," Jaray contends.
"I think it's more accepted to be disrespectful and call people out inappropriately, even at the local level," said Jaray, who cites the shift — along with stress and health issues — as part of the reason for his decision not to seek as second term.
"Many people are angry and upset and fearful. I think that's reflected in their daily lives."
"It's a scary prospect," he said.
Eric doesn't have any thoughts on the upcoming presidential election — or the previous one, for that matter. He refused to give his last name.
He can't afford to, he contends.
"People like me work five, six days a week but have no official residence," he said while minding the register at a local jerky shop that sells dehydrated meat delicacies like turtle, python, alligator, shark, sriracha turkey and whiskey rabbit.
"What used to take us 20 hours to pay for now takes us 40."
The jerky clerk says he can't afford to rent or buy in Manitou, where the median home price is just shy of $395,000, according to payscale.com. Because he hasn't had a permanent residence for the past six months, he's ineligible to vote — and he refuses to turn to drug-dealing and other illegal ventures to supplement his income.
He likened his situation, and the situation of those like him, to "modern-day slavery."
"It kinda sucks — we'd like to be part of our own system, but we don't count," he said before breaking off to talk about Harry Potter with a customer who saw his blue and red Hogwarts hat and wanted to introduce his dog, Gryffindor.
"Things just get worse for people like me."
If things look up for him in the new year, just who might he vote for?
"I don't got a horse in that race."
Veteran Manitoid Shane Bernard and his wife, Elissa, didn't see the Trump tornado coming in 2016, or maybe they just didn't want to.
Like many, Bernard thought Clinton had the election in the bag — but something compelled him to stay up and watch the returns that night anyway.
Once the race had been called, Shane found himself feeling peculiarly uncomfortable — not devastated, he said; that was too passive. "Pissed" was more like it, he said.
"Head down, power on," he quipped dejectedly.
These days, the commander-in-chief makes his head spin as Bernard goes about his business at Totally Nuts & Company — a crêpe shop that also serves gourmet hot chocolate, hot cider, roasted nuts, shaved ice and fresh-squeezed lemonade, depending on the season — which operates in an old tuberculosis hut off Manitou's main drag.
He's hoping he gets a chance to vote for Bernie this go-around but questions his ability to predict anything in this topsy-turvy world of politics.
"You know, I thought he had a good shot in 2016 and that didn't work out, so we'll just see," he said of the elderly Vermont senator, the smell of hot cinnamon nuts wafting out of his shop's window in the frigid air.
"I didn't think he had any shot at all in 2016," he shrugged. "All I can do is vote and pray that everything goes well."
For self-proclaimed confidential informant Michael Edwards Thomas, Trump's victory came as a bit of a surprise, three years after the fact.
When asked how he felt about Trump's 2016 victory, Thomas — soot-colored snow pants bunched up around his calves, a skateboard with red roses strapped to his backpack — replied, "He won the election? Which one?"
Once informed that Trump won the 2016 presidential election and was up for re-election, Thomas, who claims to work with a myriad of law enforcement agencies on the local and federal levels, said he supported Trump, for lack of a better option.
"Hillary Clinton, there was some issues there," he said, citing an alleged incident in which she acted rudely during an interview with entertainment gossip website TMZ. "If she's going to do that, then that's how she's going to treat our country.
"There were no other choices, really."
Thomas said he wished there was an independent candidate to vote for and that people like him could play a hand in choosing candidates.
"I don't really vote," he added.
For Paul Marcel, Trump's 2016 victory provided him with peace of mind.
"In my subconscious of my mind, you know, I feel at ease," he divulged on a dreary afternoon after strumming a few guitar chords on the north side of Manitou Avenue, his Saint Bernard-pointer mix, Rio, at his feet.
"Because I know he's not going to let anybody else overrun our country, and slowly that's happening," he continued. "People don't realize it, but we're being infiltrated … by foreigners, I'm going to say."
Besides, he said, "I knew that if somebody else got elected, our country would go to crap — literally."
Marcel's views contrasted with that of generally liberal Manitoids, but the 57-year-old retiree doesn't mind — he quite likes his new home, which he moved to about a month ago.
"I love it here in Manitou," he said in a satisfied tone. "It's really different from Louisiana, of course, but I do like the way it's laid back. And I know there's hypocrites, but it's not really broadcast here.
"More or less, it is what it is."
As for 2020, Marcel's attitude is as carefree as the tunes he strums for a living on the sidewalk, seemingly without a worry that the change he collects will cover his next meal.
"He's going to win by a landslide," Marcel said.
For soft-spoken Zaccai Dowell, a follower of the religious group Disciples of Yeshua, talking about Trump's presidency seems to put him in tough position.
On the one hand, "We're not saying he's perfect," said Dowell, who owns the South American-inspired tea shop Maté Factor Café with other members of the religious group, who dress conservatively and claim to live like the disciplines in the biblical book of Acts.
But, "My kingdom isn't of this world," he insisted, appearing torn between discussing an uncomfortable topic and not wanting to be rude. "It's not our business. We're praying for whomever was deemed to be in place."
"Lots of things need to happen" for the end of time to be ushered in, he couched.
The culture of Trump has its downsides for sure, but "we're thankful we can still home-school," he said before peeling away into the hungry crowd.