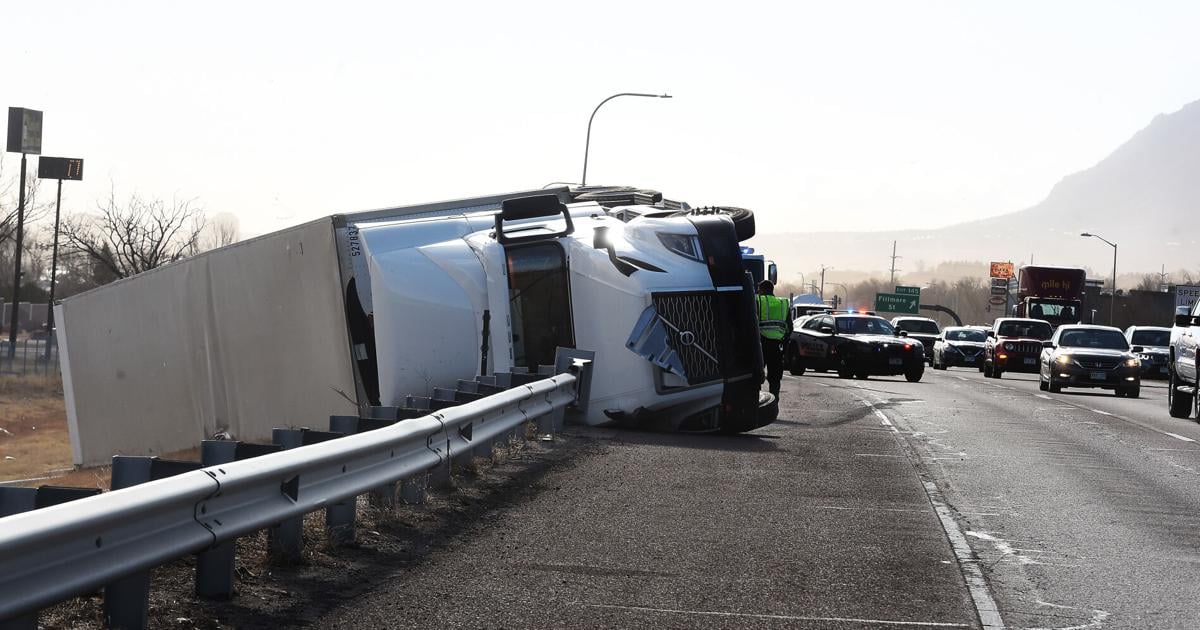 Brutal winds are ravaging Colorado at extreme speeds. Here is an active blog giving the latest updates for southern Colorado.
Wind speeds spike around the state, peak gust 107 mph
Over 500 Denver flights canceled, delayed amid high wind warnings
1:37 p.m.
Colorado Springs Police Department switched into priority dispatching around noon, meaning officers will only respond to high-risk incidents. Police were also on accident alert as of 7:28 a.m. meaning drivers should only call police for car accidents if there are injuries, drivers suspected to be under the influence or if there is damage to public property. Otherwise, if drivers have all proper documentation, they can fill out a online form to report the accident.
1:20 p.m.
El Paso County issued a shelter-in-place order for all semis, tractor trailers, buses, recreational vehicles and high profile vehicles. These vehicles are not allowed on roadways.
12:46 p.m.
Utilities warned residents not to touch downed wires or anything they are touching and to wait for emergency personnel.
12:42 p.m.
Winds are causing power outages across Colorado Springs due to fallen tree limbs. Around 20,000 Colorado Springs Utilities customers are affected. Outages could be "prolonged" because crews can't go up in buckets in sustained winds above 35 mph, according to Colorado Springs Utilities.
12:33 p.m.
Traffic lights are out on Union Boulevard between E. Boulder Street and Fillmore Street. Treat intersections as four-way stops.
12:26 p.m.
Woodland Park School District will release classes at 1:30 p.m. due to power issues, the district tweeted.
12:07 p.m.
A high wind restriction has been put in place for CO 115 from 2 miles north of Florence all the way to St. Elmo Avenue in Colorado Springs. Vehicles that weigh, or have less than 10,000 lbs of cargo weight, and are taller than 13 feet 6 inches may be stopped.
12:02 p.m.
More overturned trucks: One has been reported at the northbound entrance ramp from Academy Boulevard to I-25 and another being reported by Colorado State Patrol near Briargate.
11:56 a.m.
Southbound I-25 has been closed to commercial vehicles at County Line Road (Exit 163) due to the high winds, according to the Colorado State Patrol.
11:50 a.m.
U.S. 50 is closed between County Road 25 and County Road 9 (mile markers 378-436) because of the extreme wind. Also, CO 93 is closed between CO 170 and Indian Head Road.
11:34 a.m.
A gust of wind at the U.S. Air Force Academy hit 100 mph.
11:33 a.m.
A brush fire sparked in the 36000 block of Bush Road in eastern Pueblo County, Gazette news partner KKTV reported. Fire danger is expected to be extremely high with red flag warnings in place until 5 p.m., the weather service said.
11:17 a.m.
Interstate 25 closed southbound traffic for commercial vehicles at mile marker 163 at Monument Hill. Winds blew a semi trailer onto it's side on southbound I-25 near Baptist Road. UPDATE: The semi has been moved to the side of the highway and all lanes are now open.
Southbound Interstate 25 just north of Baptist Rd closed. CDOT working on moving trailer to open at least one lane. Detour Highway 105 pic.twitter.com/3GMKsxipTg

— CSP Colorado Springs (@CSP_CSprings) December 15, 2021
10:54 a.m.
A wind gust at the U.S. Air Force Academy hit 91 mph and blew down a stop light near the city's north end.
10:00 a.m.
High winds are slamming parts of southeastern Colorado with some gusts reaching 107 mph, according to the National Weather Service in Pueblo.
Winds are sweeping the plains and the agency reported a 107 mph gust in Lamar and snow squalls were reported in Colorado Springs along Interstate 25 and Woodland Park along US-24.
Around 8:42 a.m. and "a wall of dust" headed through Pueblo, the agency said.
A dust storm warning is in effect for La Junta, Las Animas and Rocky Ford until 10:30 a.m. the weather service said.
Gusts in southern El Paso and Pueblo Counties hit 80 mph along I-25 and winds are expected to start increasing along the interstate between 9:30 a.m. and noon with gusts expected to hit 90 mph throughout the Pikes Peak region, the agency said.
842 AM
107 mph gust just occurred at Lamar, across the eastern plains! Very dangerous conditions occurring across far eastern CO at this time. Please use extreme caution! #cowx

— NWS Pueblo (@NWSPueblo) December 15, 2021
The weather service warned that winds could blow down trees, power lines and kick up dust, making for hazardous air quality until 8 p.m. Wednesday.
US 287 between Springfield and Wiley in eastern Colorado shut down due to fallen power lines and crashes, according to Colorado State Patrol.
Several flights were cancelled out of Colorado Springs airport with many more delayed. Travelers can view the full list of flight cancellations here.
Wednesday's wind also means fire danger is high because flames could spread at extremely fast and because humidity will also be as low as 14%, the weather service said.
The rest of the week is forecast to have high temperatures in the 40s with sunny skies, the agency said.
Tuesday marked the 217th straight day without measurable snowfall in Colorado Springs, a streak that has been going since May 11. The longest stretch without snow in Colorado Springs lasted 236 days in 2012 and 1946, according the weather service.
Colorado Springs broke the record for latest measurable snowfall after Dec. 2 came and went without any snow.
Here's the rest of this week's forecast from the National Weather Service.
Thursday: Sunny, with a high near 47 degrees and winds between 10 to 15 mph.
Friday: Sunny, with a high near 41 degrees and winds between 5 to 10 mph.
Saturday: Sunny, with a high near 44 degrees and winds between 5 to 10 mph.
Sunday: Sunny, with a high near 56 degrees and winds around 10 mph.