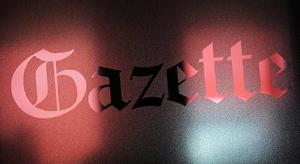 A 32-year-old man died after he was found hanging in his cell at the El Paso County jail early Tuesday, the sheriff's office reported.
The man, whose name has not been released, did not have a pulse and was not breathing when deputies found him in the male housing ward about 1:40 a.m., the sheriff's office said.
Deputies performed CPR and the jail's medical staff and American Medical Response personnel used an automated external defibrillator. They tried to resuscitate him for 30 minutes, but his pulse did not return and he was pronounced dead.
The man was not on suicide watch but was in a "15-minute check ward," the sheriff's office said. No checks were missed, said spokeswoman Jackie Kirby.
An investigation, however, will review time logs to see if checks were done at the appropriate time and recorded correctly, Kirby said. Per protocol for all investigations at the jail, the sheriff's office will also look at every person who had contact with the inmate that day, she said.
Tuesday's death marks the second suicide at the jail in the last five months. In June, a woman was found hanging in her cell and died in a hospital five days later. A report from the El Paso County Coroner's Office indicated that she had a history of bipolar disorder and "recent personal stressors."
Before her death, a suicide had not been reported at the jail since 2009. However, suicide attempts among inmates have more than doubled in the last five years, data show. In 2014, the sheriff's office recorded nine attempts. Last year, there were 19.
So far this year, there have been 14 recorded suicide attempts, Kirby said.
The rise, in both suicide attempts and deaths by suicide in the jail, reflects the increasing number of those struggling with mental health within the community, she said.
To address the need, all sheriff's office employees are required to receive an eight-hour mental health first aid training course, aimed to help identify the signs and symptoms of mental illness.
The jail's inmate classification section works closely with the jail's medical provider, Armor Correctional Health Services, Kirby added, to ensure that inmates are housed appropriately, according to their history, physical and emotional needs.
"The challenge with that is that we do not know if someone has a mental health issue or if they are at risk of suicide unless they tell us or if there is a suicide attempt," she said.
"We don't have a special formula to say that this person is struggling."
Kirby declined to release the man's charges and date of entry into the jail, pending the coroner's completion of an autopsy.