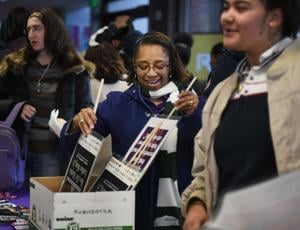 As the nation honors the life and legacy of the Rev. Martin Luther King Jr., Colorado Springs and Pueblo will offer several opportunities to celebrate the late civil rights leader.
Colorado College MLK Celebration
Colorado College's yearly celebration of the civil rights leader will be held in-person for the first time in three years, according to CC's website. This year's theme is "It Starts With Me: Cultivating a Beloved Community Mindset to Transform Unjust Systems."
The daylong festival will begin at 7:30 a.m. with the All People's Breakfast and social hour in the Ed Robson Arena. A Unity March will be held at 10:15 a.m., followed by a 7 p.m. performance by the Cleo Parker Robinson Dance Ensemble.
Pikes Peak Habitat for Humanity
Colorado Springs residents looking for service opportunities are invited to sign up for Pikes Peak Habit for Humanity's first-ever Martin Luther King Volunteer Day. Volunteers can sign up for morning (10 a.m.-2 p.m.) or afternoon (2-6 p.m.) shifts at either of the nonprofit's ReStore locations.
Pikes Peak Library District
Carlotta Walls LaNier, the youngest member of the Little Rock Nine, will visit PPLD's 21c branch on Tuesday, Jan. 17. LaNier will recall her 1957 experience as one of the first Black students ever to attend Little Rock Central High School. She will also be launching a young reader's version of her memoir, titled "A Mighty Long Way."
Colorado State University in Pueblo
CSU Pueblo is planning a week of service and learning events beginning Tuesday, Jan. 17 with a student gathering and culminating on Thursday with a public panel discussion titled, "Social Justice and the Status of America Today." The CSU Pueblo Black Students Union, NAACP Pueblo Branch, and representatives from CSU Pueblo and the community will lead the discussion.
Food bank
Care and Share Food Bank for Southern Colorado is hosting 75 volunteers throughout the day at our Colorado Springs and Pueblo distribution centers in honor of Dr. Martin Luther King Jr.'s legacy.
Individuals, families, and volunteer groups will help sort and pack thousands of pounds of food that will be distributed to our partner food pantries, meal sites and direct services across southern Colorado, according to a news release from the agency.
Community members will gather starting at 9 a.m.
MLK Day of Service
The city of Pueblo will partner with the Pueblo branch of the NAACP for a Martin Luther King Jr. Day of Service on Monday. The day will begin with a march from the Rawlings Library to the El Pueblo History Museum. After the march, volunteers will conduct a cleanup near the downtown area, officials said.
The following City of Colorado Springs agencies and offices will be closed Monday:
• Administrative offices for Mountain Metropolitan Transit (buses will operate on regular schedule).
• City Administration Building.
• City Clerk.
• City Hall.
• Colorado Springs Pioneers Museum.
• Deerfield Hills, Hillside, and Meadows Park community centers.
• Memorial Park Recreation Center.
• Municipal Court.
• Parks, Recreation & Cultural Services Administrative Building.
• Rock Ledge Ranch Historic Site.
• Sales Tax Office.
• Sports Office at Memorial Park.
• Starsmore Discovery Center.
• Therapeutic Recreation Programs at Westside Community Center.
El Paso County office closures:
• 4th Judicial District Attorney's Office.
• El Paso County Combined Courts.
• Colorado State University Extension.
• El Paso County Public Trustee & Treasurer's Office.
• Pikes Peak Workforce Center.
• El Paso County Department of Human Services.
• El Paso County Public Health.
The following facilities will remain open for normal or modified business hours:
• Evergreen and Fairview cemeteries: gates are open to visitors, offices are closed.
• Garden of the Gods Park.
• Patty Jewett and Valley Hi golf courses, weather permitting.
• Pikes Peak– America's Mountain, weather permitting.
• Sertich Ice Center
• Skate in the Park at Acacia Park.