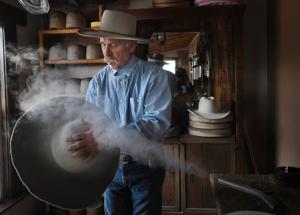 PENROSE • A grainy, cartoonish voice takes a message.
"This is the ol' wrangler answerin' the phone for Tom again. He's out ridin' or ropin' or dancin' with the ladies …"
It's true, he might be doing any of those things. But the voice is false.
It's not the ol' wrangler. It's Tom himself. Tom Hirt.
It's him in character yet again. He prefers it that way, explaining his past life on movie sets. He doubled for Western stars of the day. But more often, he fashioned their hats.
And still today, at his tin-roofed adobe at the end of a dirt road in pinyon-juniper country south of Colorado Springs, Hirt will get a call. "I sent a dozen to Val Kilmer a couple weeks ago," he says.
That devilish curl on the brim is unmistakable. The $895 black hat is "a must have for the true Doc Holliday aficionado," reads the sale on valkilmer.com, where the actor includes a description of Hirt, "the official hat maker for the film 'Tombstone.'"
No one does it like Hirt, the website says. Pure beaver hide. The crown formed over 100-year-old timber blocks. Flanged, sanded, pounced and finished all by hand.
For his tools, Hirt counts a sturdy string, a wooden cylinder and a brush. No technology.
"This is it," Hirt says, pointing to a vintage Singer sewing machine that does some stitching.
It all happens through the front door of his home, in the small room where mud is tracked and dust gathers on the work bench and the lamp. Here there's a framed movie poster for "Conagher," in which Sam Elliott dons one of Hirt's hats. Hirt says Elliott was the one who looped him into "Tombstone."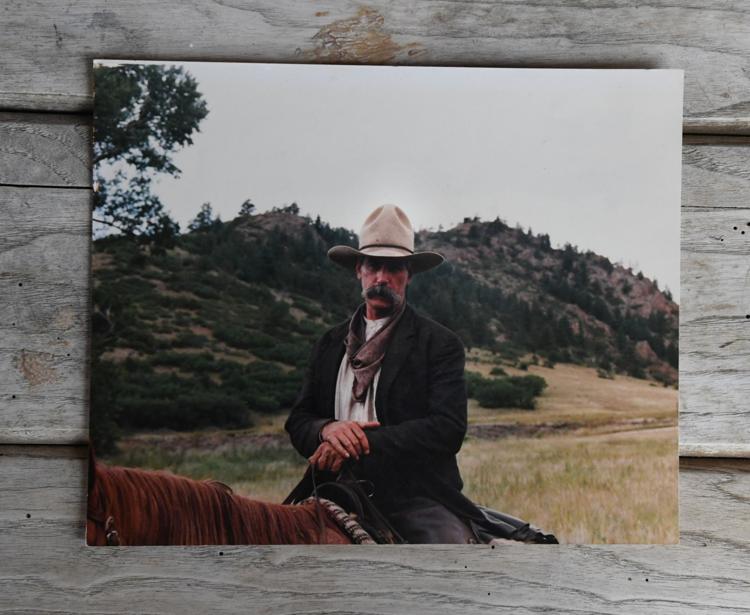 Elsewhere in a manila folder, Hirt keeps old photos.
There he is in matching attire as Mark Harmon on the set of "Comes a Horseman." There he is with Richard Farnsworth, whom Hirt also doubled as. Another time, for the TV show "Gunsmoke," Hirt stood in for Buck Taylor.
Later wearing the hats for "Tombstone," Taylor signed this picture: "Tom, you are the hat master!"
Here's Burt Reynolds: "Your friend always."
And then there's a letter from the White House.
"Please accept this belated note of thanks for the terrific Western hat," Ronald Reagan wrote. "I am delighted with this handcrafted remembrance and I appreciate your special thoughtfulness."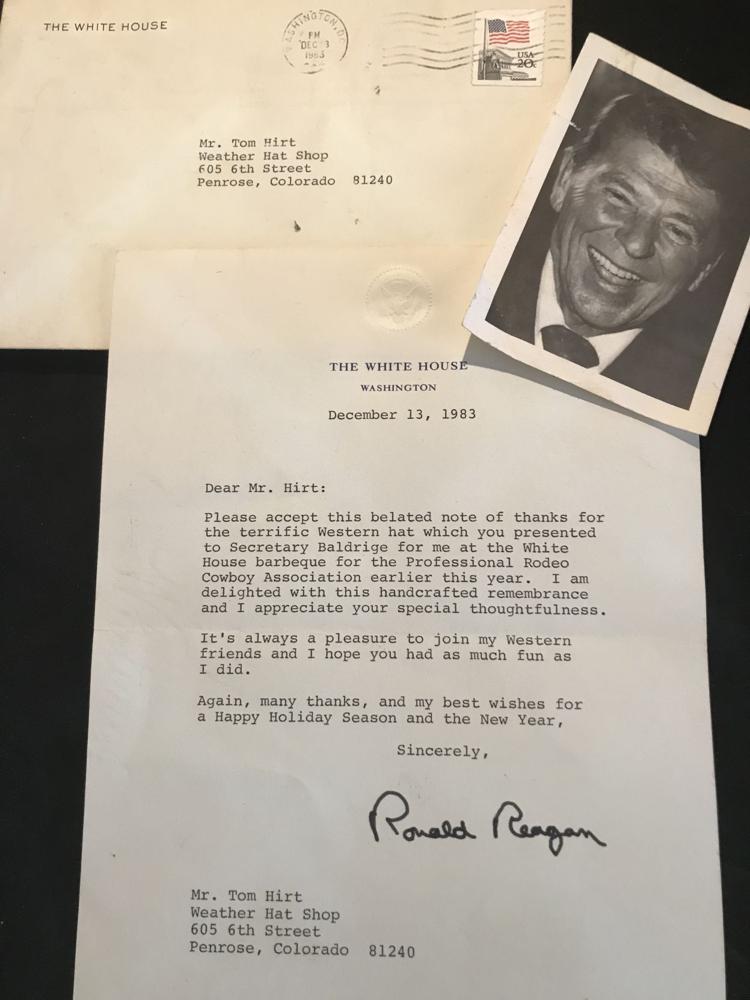 For every hat there's a story — that last one begins at a rodeo where Hirt befriended Malcolm Baldrige, Reagan's secretary of commerce. As for Hirt's story, it begins in a classroom in the 1960s.
"I was horribly, horribly shy," he says.
He could hardly manage a sentence, much less a conversation. Speeches to fellow students were out of the question, his teacher knew. So she thought of a performance.
"You're just playing a part, you're not Tom, you're a character," he recalls her instruction. And that excited him, a boy enthralled by the adventures of John Wayne.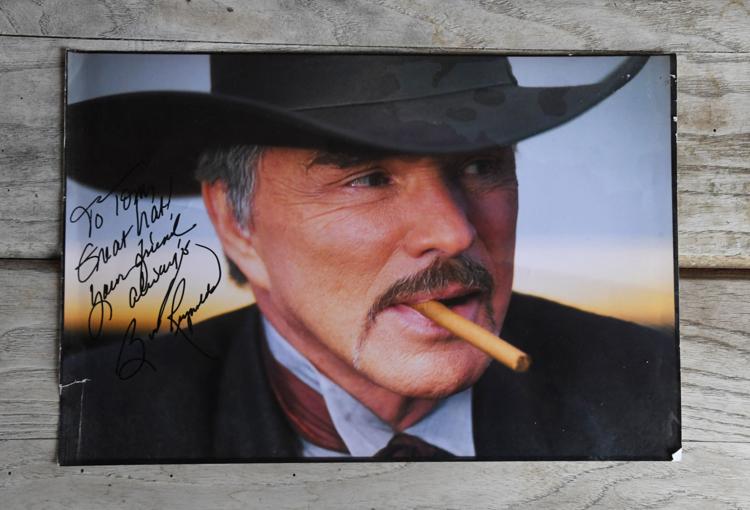 So Hirt performed for his class. Nothing heroic, rather mundane actually, something about a restaurant owner. But it was liberating.
"It was the first time in my life I remember people laughing with me instead of feeling like they were laughing at me," he says.
He resolved to one day attain cowboy glory. First, though, he would flip burgers at McDonald's in Santa Barbara, Calif. There he also made some of the world's first Egg McMuffins under the order of company tycoon Ray Kroc. "My claim to fame," Hirt says.
But no, he didn't want McDonald's to be his destiny. Nor would he continue working for his father, making jewelry at the family's home later in Colorado Springs.
He left to be a hand at ranches around the West. And throughout his travels, he never abandoned his Hollywood dreams.
Finally he got a call back for "Comes a Horseman," which was filming in Westcliffe. He remembers his first task: to play dead — foreshadowing, perhaps, his film career.
A gig was hard to come by amid the Screen Actors Guild strike of the late '70s. Back in the Springs one day, he wandered into Art Henderson's old Western shop downtown. Hirt became the man's apprentice, finding the fine art of hat-making to be as noble as the horseback heroics of his childhood imagination. He bought the business in 1980.
And eventually, the movies called again.
"Tombstone" was one of the early ones requesting wardrobe services. "Geronimo" came a little later. Gene Hackman, playing a hard-charging general in that one, would wear Hirt's hats again in "The Quick and the Dead," as would Sharon Stone.
But just as cowboys faded from the mainstream, so too did calls from Hollywood.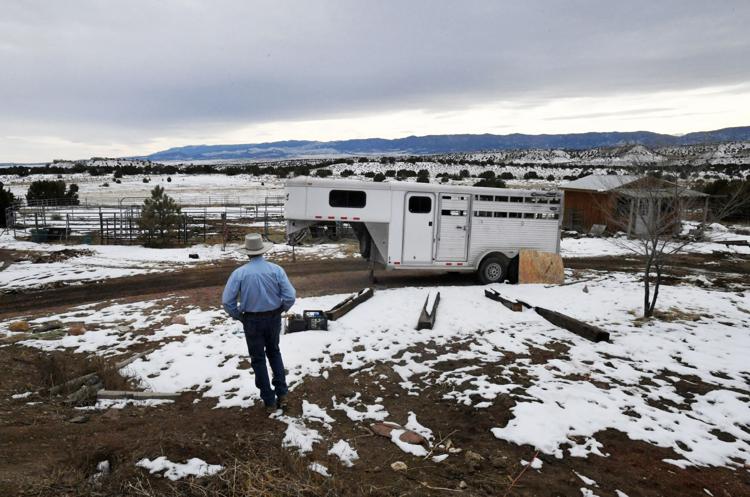 Now Hirt takes pride in teaching, imparting the ways of hat-making at Trinidad State Junior College and at clinics around the country. He stays busy so as not to "get stuck," he says.
"You get stuck because no one's around. No more than this hill and those hills and that little town over there."
It's just him here. "That's one thing," he says. "I wish I'd had a family."
But he was busy chasing a dream. He was having fun.
Anyway, he's not alone. He's got Spur the dog and two quarter horses: Harry Caray, a bit of a hassle before Hirt broke him good, and Rietta, always a joy.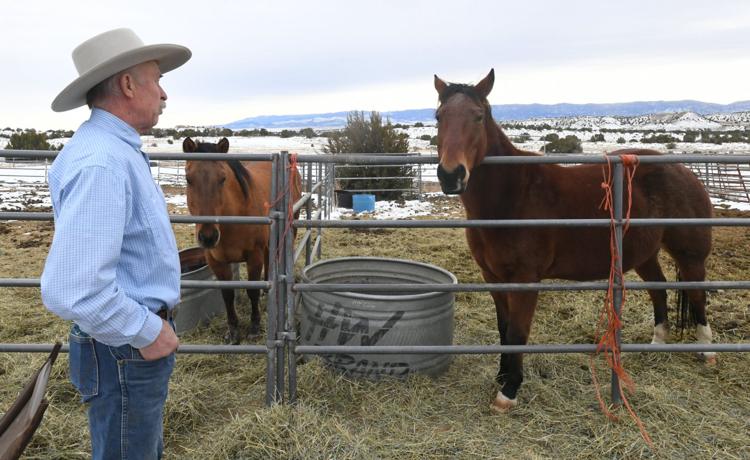 "She's a good horse here," Hirt says, rubbing her forehead. He looks ready to ride, from his cowboy boots to his cowboy shirt to his cowboy hat.
He turns back to the house. "I gotta find another horse actually. These guys are getting old."