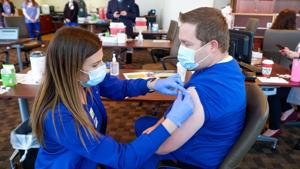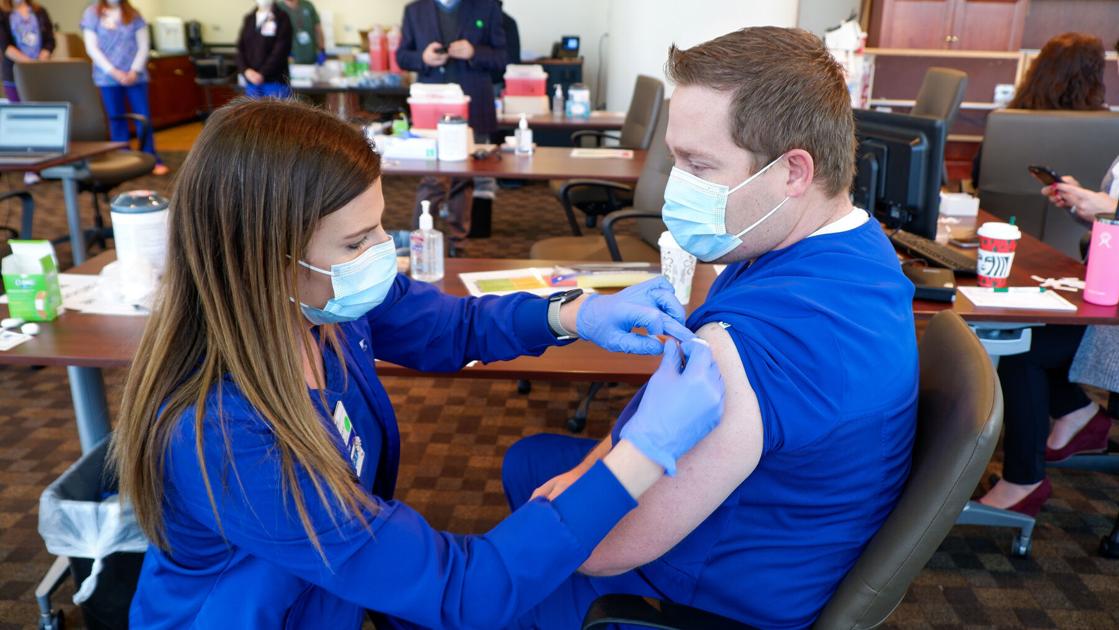 If the rollout of the COVID-19 vaccine has you feeling frustrated and confused, you're not alone.
Despite federal, state and local campaigns meant to clarify and streamline the process, a recent survey by the Kaiser Family Foundation found that 6 in 10 older Americans still say they haven't received enough information about the vaccine, and about one-third of adults aren't sure when or how the doses will get to them.
To be fair, even if you've been paying close attention, there's room to get lost.
"This is a massive vaccine distribution unlike anything we've seen in our lifetime. It requires extraordinary logistical planning and collaboration between multiple state agencies, local public health agencies, community partners and providers," said the Colorado Department of Public Health and Environment.
Yes, eventually you will be able to get a free vaccine.
Yes, thousands of doses are arriving each week from the federal government.
Those numbers aren't constant and depend entirely on federal supply. More are on the way, and new vaccines are in development, but right now there's not nearly enough to meet demand. Doses are only being made available to certain people, through certain health care providers.
Still, more than a month after Colorado began vaccinating its highest risk Phase 1A front-line workers, the largest-scale emergency inoculation program in generations appears to be hitting a stride. But not everywhere, not yet for everyone, and only after some eligible people say they'd spent weeks trying to get appointments using online portals that crashed or didn't appear to be designed to accept their registration in the first place.
Colorado Springs psychiatrist John Fleming said he and his staff spent much of January — and one nurse spent a whole day on the phone — trying to get an appointment, or on a waiting list through Kaiser, the community partner vaccine provider he was directed to use. They repeatedly hit dead ends, were put on hold, only to reach someone who couldn't provide an answer.
"As a small office with only a part-time secretary and direct care staff and myself totally busy taking care of patients I actually cannot devote a huge amount of time trying to figure this out," said Fleming. He sought vaccines for the members of his staff who come into close contact with patients daily, during procedures such as drawing blood, and thereby qualify as high-risk under the vaccine criteria.
Late Friday afternoon, Fleming logged on to find an updated webpage and portal that worked as promised.
"I swear this was not there before. Maybe the passage of time is allowing systems to get caught up," he said. "I am afraid that what is happening is that it's 'fire, then aim, then ready,' instead of get ready, implement what is needed, then announce."
As of Friday, just over 6% of Coloradans had received at least the first dose of the two-dose vaccines manufactured by either Pfizer or Moderna, among the higher rates being reported nationwide. While the state continues to vaccinate its Phase 1A candidates, it's also begun vaccinating the first half of Phase 1B, Coloradans ages 70 and up, with a goal of vaccinating 70% of that population by Feb. 28.
Not everyone's experience has been, or will be, the same. Even if they fall within the same high-risk group. Even if they're neighbors.
In some cases, it's simply an issue of first come, first served. In others, it's a bit more complicated.
Allocations of the vaccine come to the state, and the CDPHE's Joint Vaccination Task Force, from the federal level through Operation Warp Speed, with the amount based on population. Colorado's residents make up 1.69% of the U.S., so it receives less than 2% of the vaccines available each week from Pfizer and now Moderna, which both received FDA emergency use authorization late last year.
"That equates to between 60,000 and sometimes 80,000 doses per week that we are allocated to the state of Colorado," said Lisa Powell, manager of the Emergency Preparedness and Response Program for El Paso County Public Health. (A full course of the vaccine is two doses, with a recommended spacing of at least 21 days apart for the Pfizer version and 28 for Moderna.)
From there, the state uses an allocation table to decide how many doses go where.
Ten percent of the statewide distribution stays with CDPHE, and goes to support equity initiatives.
Sixty percent goes to large hospital systems. In El Paso County, those are Centura Health and UCHealth, Powell explained.
Fifteen percent goes to federally qualified health systems, such as Peak Vista, and another 15% to local public health departments, which then get the doses out via community partners, including UCHealth, Centura Health, Kaiser Permanente and Matthews-Vu Medical Group (see a full list of providers online at elpasocountyhealth.org) primarily through clinics.
"Those entities were chosen because they filled out applications for the Centers for Disease Control to be what we are calling a Phase 1 provider. That means they made agreements to allocate vaccines to our community in a fair and equitable manner and they are able to maintain the quality of the vaccine as it comes in," Powell said.
You don't have to be a patient of any of the health care systems administering vaccines to get on the list for an appointment, so long as you qualify under the current phase. You will, however, need to register and provide contact information to get an appointment, which could come in days or possibly weeks, depending on where you fall in the queue.
"It may appear that some people are finding it easier to get the vaccine than others. I think that some of the confusion is that on the website, it says we are vaccinating our patients. What's not very clear is once you sign up through their portal, then you are considered a patient and everyone has the same equal opportunity to receive the vaccine," Powell said.
Evans Army Community Hospital on Fort Carson and the VA get their vaccines from different sources at the federal level than CDPHE.
Evans' are coordinated through the Army Medical Materiel Agency and the Defense Health Agency. The hospital won't release numbers of doses administered, due to security concerns, but said in a tweet Friday that the hospital received its first doses of Moderna vaccine in late December. It's currently vaccinating national critical capabilities and personnel preparing to deploy to locations outside of the continental U.S.
Once prioritized groups at Fort Carson have the chance to get the vaccine, availability will be opened to Tricare beneficiaries and other eligible Department of Defense populations, according to the hospital.
The Department of Veterans Affairs is currently only offering the vaccine to members over 75.
In the VA Eastern Colorado Health Care System, vaccine appointments were opened to veterans who met the criteria several weeks ago at the Rocky Mountain Regional Medical Center in Aurora, among the first wave of national VA vaccination locations, in part, because it can safely maintain the Pfizer vaccine at the ultra-cold temperatures required.
Qualifying veterans began receiving the Pfizer vaccine at the Springs' Floyd K. Lindstrom Clinic Jan. 16, and then in Burlington.
Receipt of the more portable Moderna vaccine, which doesn't require such extreme cold, meant appointment-only VA vaccine clinics began last week in Lamar, La Junta, Salida, Alamosa and, on Saturday, in Pueblo.
Getting the doses of vaccine, and getting them into the arms that need it the most, is still only part of the challenge. For a health care system that covers 44,000 square miles, much of it rural, and includes aging veterans who maybe don't get their news in real time, clearing up confusion means turning to more traditional forms of outreach. Town halls (virtual), landline calls, and letters with a stamp.
"We're trying to get concise, important, up-to-date information out as often as we can … as best we can, in a lot of different modes and venues," said the region's acting assistant director David Brazeau. "Because there's a lot of information out there and sometimes there's a lot of misinformation, or information they don't really understand."