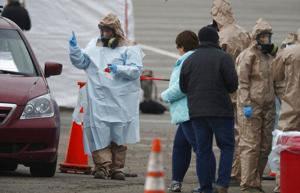 The state's unified command center started testing for COVID-19 at long-term care facilities on Sunday, and this week will complete testing at two more in the coming days.
Assisted by the Colorado National Guard and the Colorado State Patrol, the Colorado Department of Public Health and Environment chose three of the state's largest nursing homes that have not yet reported COVID-19 outbreaks, one each in Adams, Broomfield and El Paso counties. The goal is for earlier identification of COVID-19 to limit the spread of the virus in those facilities.
According to a CDPHE statement, 300 test kits are being provided to three facilities to test staff and residents. They are:
Pikes Peak Center, at 2719 N Union Blvd. in Colorado Springs, which provides skilled nursing and post-acute care. Testing was conducted on Sunday.
Elms Haven Center in Thornton, a combined care facility that provides long-term, post-hospital rehab and respite care services, which will be tested on Tuesday.
Broomfield Skilled Nursing & Rehab Center in Broomfield, will be tested on April 23.
Two of the three facilities are owned by the same company, Genesis HealthCare, which operates 400 facilities in 26 states. Another Genesis facility, PowerBack of Lakewood, reported seven cases among residents, one resident death and six staff who have tested positive for the virus, as of April 15.
The Broomfield facility is privately owned by an unidentified family, according to the facility administrator.
As of Sunday, the CDPHE reported 111 non-hospital health care facilities with outbreaks of COVID-19. Based on data released April 15, 49% of the deaths from COVID-19 have been at those facilities. The state also reported over the weekend that COVID-19 is now the leading cause of death over the past two weeks.