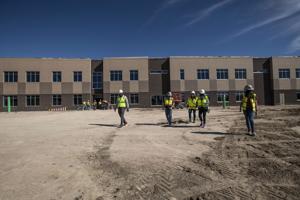 Jenny Sterk can picture it.
In four months, she'll be watching hundreds of children walk down the long main hallway, out the front doors of their new school in the North Fork neighborhood, and all the way to the sidewalk — with Pikes Peak in sight the whole time.
"It's one of our favorite pieces," she said last week, during a tour of Encompass Heights Elementary School.
The children's laughter sounds as clear as a school bell, in her mind.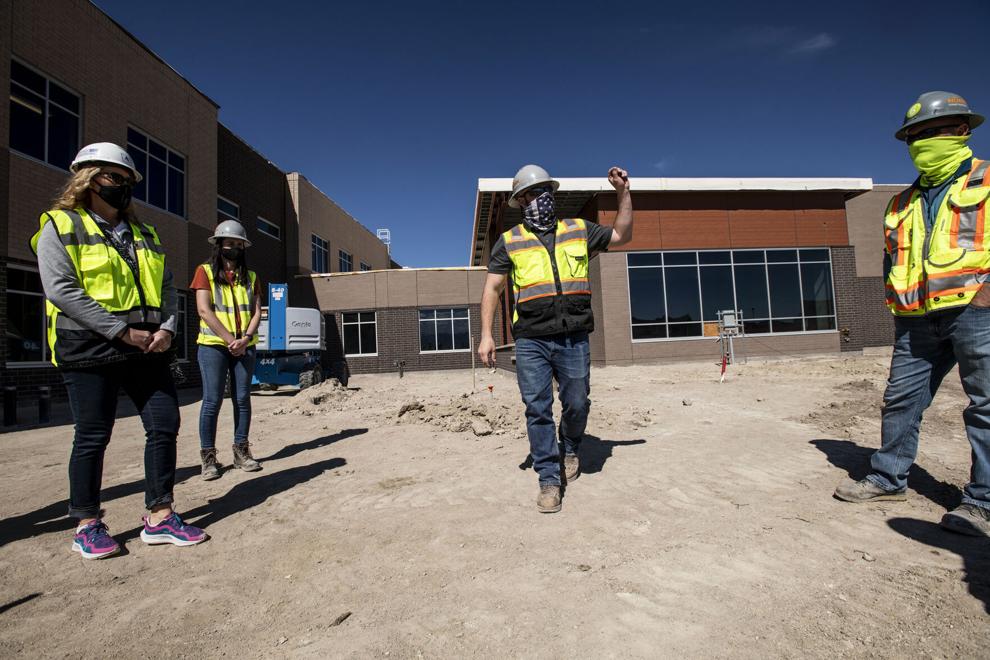 "You can just see it," she said. "It's nearly complete."
Crews from Nunn Construction in Colorado Springs are putting the finishing touches on Encompass Heights, at 3602 Daydreamer Drive, near Pine Creek High.
It's the final project of a $230 million bond initiative Academy D-20 voters passed in 2016. The money funded two new elementary schools, one new middle school, a permanent School in the Woods in Black Forest and a Center for Modern Learning, a compilation of programs. Also, all high schools were expanded, and other existing schools received improvements.
Construction on Encompass Heights started in July 2020, and the school is on track to be completed by the end of July, said Henry Reitwiesner, executive director of the building fund.
With a capacity of 600 students, the $25 million new school is one of the largest elementary buildings in D-20.
It's a little over 100 days until students arrive. Sterk is counting, and she can't wait.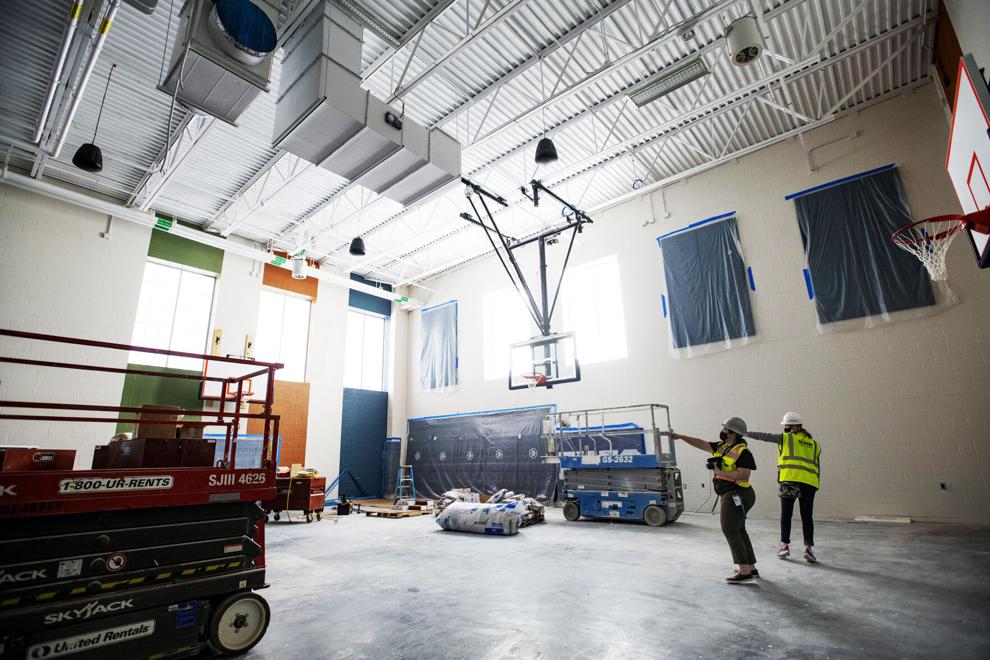 Her title will change from "planning principal" to "principal."
And the work that began 15 months ago to guide the design, select a mission and vision, choose colors and a mascot, find furniture, create the curriculum, hire teachers and build a staff will give way to enjoying the efforts.
She knows what that feels like. Sterk was on the planning team that in 2005 opened D-20's Discovery Canyon Campus, a preschool through 12th grade site.
Encompass Heights Elementary, named to "encompass the needs of all students and staff and to meet each individual's heights," will be distinct in offering 800 lessons in the STEM lab (science, technology, engineering and math).
Students will revel in robotics, say hurrah to hands-on learning, get a charge out of experimenting with electricity and cozy up to computers.
"Trial-and-error is the philosophy," Sterk said.
The school also will provide D-20's first literacy therapy program for students who exhibit signs of dyslexia.
The reading disorder is "near and dear" to Sterk's heart; one of her children struggled with dyslexia until a tutor opened wide the world of reading and engaged her in learning.
"I have a passion to work to inform Colorado Springs what dyslexia is," Sterk said.
Private therapy rooms are located behind large center pods for group learning. The pods, called collaboration space, connect four classrooms in each grade level and are a unique design, Reitwiesner said.
Two-way mirrors allow parents to watch the therapeutic sessions, providing a window into science-based methods of helping students with learning issues.
The school will be integrated, though, with students having dyslexic characteristics — thought to be one in every 15 to 18 people — studying beside students who don't.
The floor plan of the 61,700-square-foot, two-story building is the same as two schools in the St. Vrain school district, Reitwiesner said, but is the first such design in D-20.
Among other features, the cafeteria doubles as a performance venue with seating for 300, the playground is outside the cafeteria for convenience, and shiny, polished concrete floors are more maintenance-friendly than tile.
The new school sits on 11 acres and seems to be a popular addition to the neighborhood, which buzzes with residential construction.
More than 300 families from across D-20 and into other districts already are interested in attending, Sterk said.
Amid a statewide teacher shortage, some 40 applications come in for every position.
Opening a new school for growing districts like D-20, the largest in El Paso County, is a combination of research and science, along with art and creativity, and a little magic thrown in, said D-20 spokeswoman Allison Cortez.
The wizardry is in nailing the timing.
"You don't want to be so far ahead of the game that you open to an empty school," she said, "but you don't want to have to put in double-wides either."
The district's Chinook Trail Elementary, for example, opened in 2007 ahead of anticipated growth, with just over 100 students at the start, she said. But now it's full and using double-wide portable buildings for the overflow.
Legacy Peak Elementary, which opened in 2018 also as a result of the bond issue, already is at capacity, Cortez said.