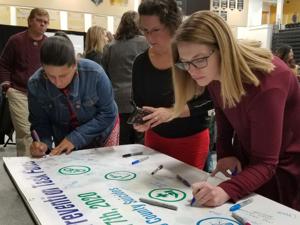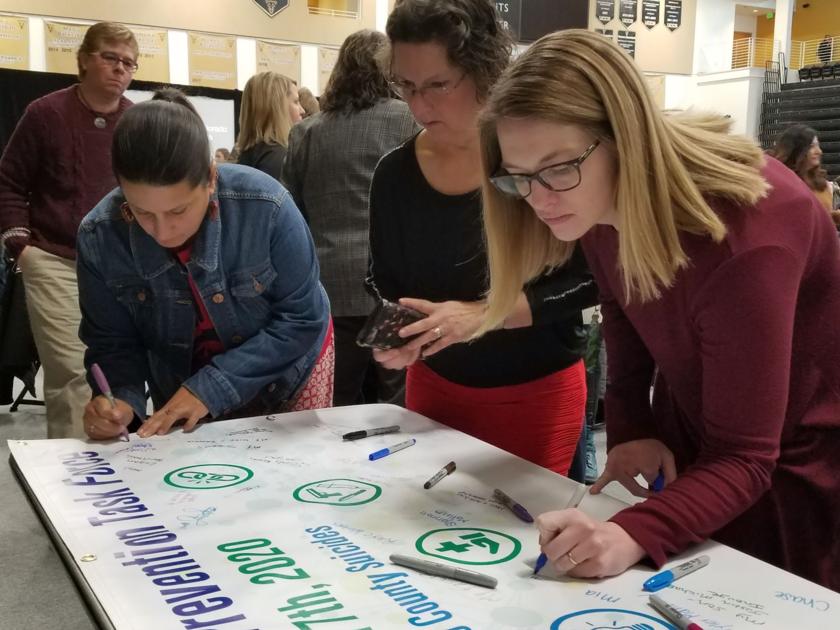 A new strategy to tackle suicide prevention is getting underway, with a $306,000 grant to further the work of the Suicide Prevention Coalition of El Paso County.
"This is a big deal in that it signifies a new way of approaching suicide prevention," said Melissa Hansen, who has worked as the suicide prevention project manager for Community Health Partnership, a nonprofit focused on improved health in the Pikes Peak region.
Colorado Health Partnership received the two-year grant from the Colorado Springs Health Foundation.
The approach involves building a collaborative systems approach, rather than targeting isolated populations of teens, young adults, working adults and seniors, Hansen said. Applying a unified strategy based on a framework from an initiative called the Colorado National Collaborative is expected to produce better results.
The plan also will address prevention over a person's lifespan, not just the stages of development, Hansen said. That will help fill gaps, such as when school isn't in session.
"The community hasn't been successful at sustaining a reduction in suicide rates," Hansen said. "Instead of looking at suicide through a population lens, we're looking at are we able to sustain reducing the rate for everyone at risk."
Over the past seven years, significant time, money and effort has been spent on suicide prevention, with "no sustainable significant reduction," the grant application states.
El Paso County experienced a record high 180 deaths by suicide in 2019, which also ranked as the highest number of deaths in any county and the highest number using a firearm to complete suicide.
The number dropped just a few to 177 El Paso County residents dying by suicide last year, according to early data from the coroner's office.
But teen suicide deaths increased sharply in the county last year, preliminary statistics show. Fifteen local teens ages 17 and under completed suicide in 2020, compared with nine in 2019 and seven in 2018.
Preliminary statewide totals for 2020 from the Colorado Department of Public Health and Environment indicate suicide deaths were down slightly overall last year. Only the age groups of 10 to 18 and 65-plus saw increases in rates of suicide — but those increases were not considered statistically significant.
The new suicide prevention model for El Paso County supports "emerging evidence that is saying here's how you do it," Hansen said. What's proven to work best are increasing protective factors and decreasing risk factors, she noted.
"We're hoping as a community if we focus on both, we'll make a noticeable difference," she said.
Among protective factors the U.S. Centers for Disease Control and Prevention lists are having connections to family and friends, learning coping and problem-solving skills, cultural and religious beliefs that discourage suicide, supportive relationships with caregivers, availability of physical and mental health care, and limited access to lethal means, such as guns or pills.
Risk factors include having problems with finances, the law, relationships, bullying, employment, health, addiction, isolation, depression and other issues.
Improving suicide awareness, resiliency to life's challenges, healthy coping mechanisms, connectedness and other strategies are cited in the grant application. Targeting interventions to the unemployed and retired, eliminating clusters of teen suicides and reducing suicides by use of firearms are other goals.
Working men ages 25 to 55 are the hardest to reach in terms of forming connections and educating, and college-age young adults age 18 to 22 are an area of focus.
Improvements won't happen quickly, Hansen said, but the goal is to realize "a noticeable reduction rate of 20% by 2024."
The Suicide Prevention Collaborative of El Paso County formed last year and continued meeting during the pandemic to review other models, case studies and best practices, and hear from "voices in the community that haven't been heard," Hansen said.
"This is going to take systemic change," she said.