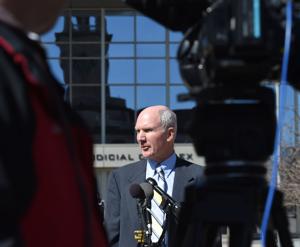 After 12 years as the Pikes Peak region's top prosecutor, 4th Judicial District Attorney Dan May says unfinished business will keep him tethered to the office — and the courtroom — a few more months at least.
Although his time calling the shots ends Jan. 11, May said he will remain on fellow Republican and DA-elect Michael Allen's payroll for a final assignment: serving as the lead prosecutor in the case against James Papol, the man accused in the 1988 rape and murder of 24-year-old Mary Lynn Vialpando.
"It's one that I've been on since 1988, and it's one that I know better than anybody in the office," said May, who was called to the crime scene as a rookie prosecutor and reclaimed his lead role two decades later when authorities say a DNA hit led to Papol's arrest in September 2018.
The Papol case is set to close a storied chapter of May's nearly 40-year career as a Colorado prosecutor, including the second-longest tenure as DA in El Paso and Teller counties, after reaching a term limit with three terms.
May will oversee the case on a contractual basis — estimated at six weeks including trial time and preparation — but financial details haven't been finalized, said Howard Black, a spokesman for Allen. Papol, who has pleaded not guilty by reason of insanity, is slated for an April trial to determine if he knew right from wrong at the time of the attack. If a jury determines he was sane, a separate trial will be held in May to consider whether he committed the crime.
May has no plans to run for elected office or open a private practice, he said. Instead, he'll focus on neglected hobbies, including fishing and golf.
"I'm looking to just take a break," he said. "This is a 24/7 job and it has been for several years."
During a wide-ranging interview last week, May responded to critiques stemming from the historic Black Lives Matter protests — disputing what he called unfair claims of widespread racism by police — and addressed questions about the 2013 murder of Colorado prisons chief Tom Clements, which May attributed to a lone actor, rejecting critics who say investigators missed a white supremacist prison-gang conspiracy.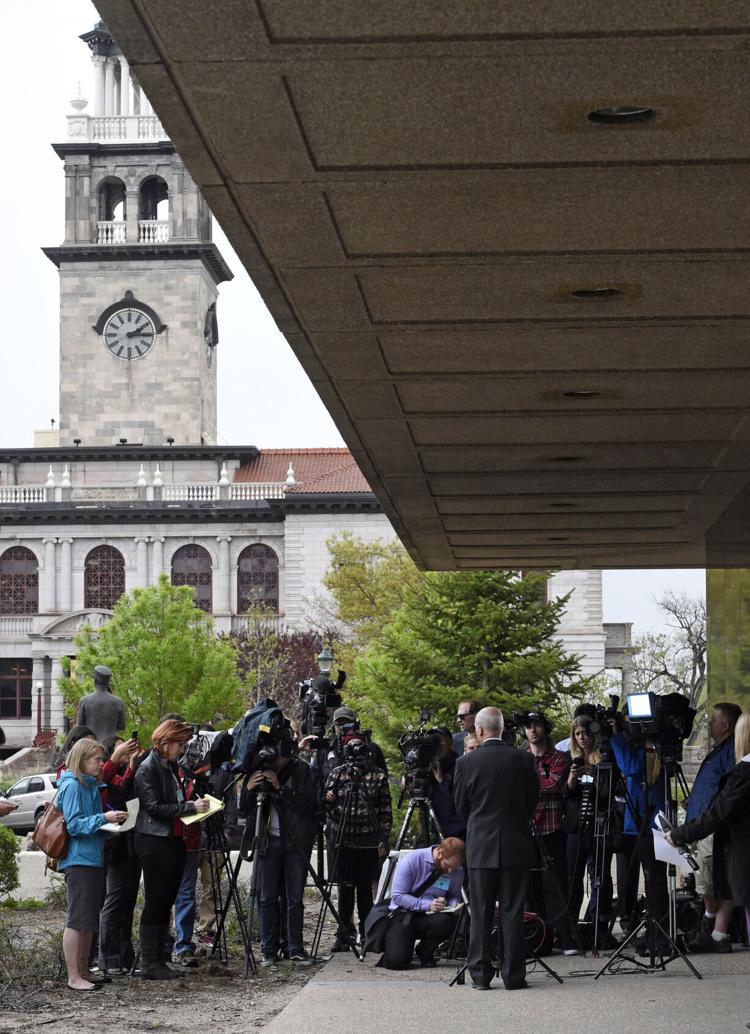 His time as top prosecutor spanned numerous cases that drew national attention, including that of Robert Dear, the accused gunman in the Nov. 27, 2015, shooting rampage at a Planned Parenthood clinic in Colorado Springs that killed three people and wounded nine. A judge found Dear mentally unfit for trial in early 2016, and the charges against him are in limbo while Dear faces a parallel murder case in U.S. District Court in Denver.
May, who stayed on his office's "homicide roster" while presiding over its 80 attorneys, was Dear's lead prosecutor.
He also served on the team that won a life sentence against Teller County farrier Patrick Frazee in the murder of his fiancee, Kelsey Berreth of Woodland Park, after a widely watched November 2019 trial. He recalled becoming emotionally attached to the case while Berreth was still considered missing, and recounted how gasps erupted in a Cripple Creek courtroom when an investigator revealed an alleged account of how Frazee beat her to death with a baseball bat.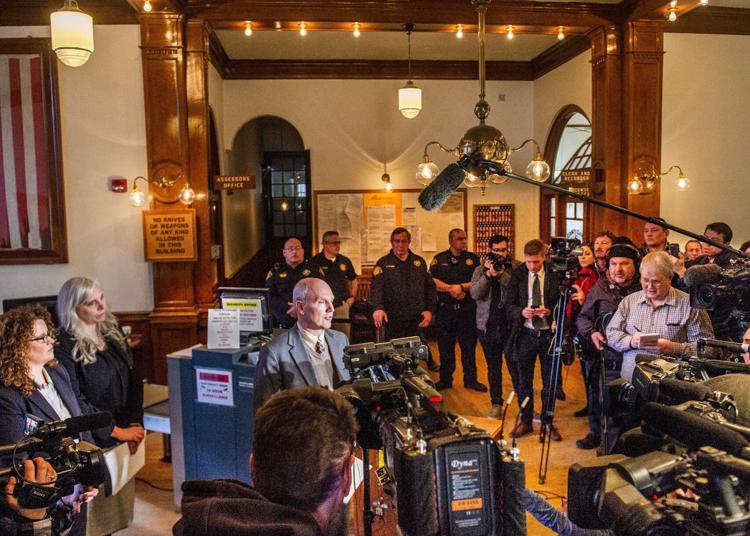 May's policies as DA mirrored the tough-on-crime rhetoric that swept him into office, including pursuing the county's first death penalty prosecution in a decade against double-murder suspect Glen Law Galloway. A jury convicted Galloway for the murders in June 2018, but rejected the death penalty, leading a judge to impose a life prison sentence without the possibility of parole.
In April, his office withdrew plans for a second death penalty attempt against Marco Garcia-Bravo, an accused gunman in the 2017 killings of two Coronado High School students. The move came two months after Colorado repealed its death penalty for all new cases filed July 1 and later. Garcia-Bravo remains on trial and a verdict is expected this month.
May defended his routine use of habitual criminal statutes, Colorado's version of a three-strikes law.
Under the law, people with multiple prior felony convictions can face up three or four times the normal sentence if convicted — setting up what can amount to life sentences.
One example came in May 2013, when Belinda Wells-Yates was sentenced to 72 years in prison after being convicted, in part, of stealing $3,000 worth of property from a home evacuated during the Waldo Canyon fire, which destroyed hundreds of houses before it was extinguished. Her accomplice, Shane Erik Garrett, was sentenced to 48 years in prison.
May personally prosecuted the pair and pushed for the steep penalties, calling their crimes "abhorrent" in court and saying they planned to keep on stealing.
Wells-Yates and Garrett were intermittently homeless and had a history of drug addictions that contributed to their criminal records, their attorneys argued, fueling criticism that the pair's punishments were out of step with their crimes.
"It's the biggest club that he has, and it's a big, heavy club," said Colorado Springs attorney Phil Dubois, referring to the habitual criminal counts. He said that use of the statute often leads defendants to plead guilty rather than risk lengthy penalties at trial. Fellow Colorado Springs attorney Josh Tolini echoed the complaint, calling it a "trial tax" that resulted in unfair sentences.
May offered no apologies for his use of the sentencing enhancers. By his admission, his office pursued them more than any other prosecutor's office in the state.
May said he believes in second chances when appropriate, but that he also campaigned on the promise that repeat criminals would be dealt with harshly.
"If you want to keep committing felony after felony after felony, you've come to the wrong district to do that," he said.
Addressing second chances, May pointed to the numerous problem-solving courts operating in El Paso County with the DA's support, geared at breaking the cycle of repeated arrests of homeless people, those with mental illness and people involved in domestic violence or prostitution, both victims and offenders.
At the same time, May's office filed more felonies, and prosecuted more trials, than any other prosecutor's office in the state, records show.
In fiscal year 2020, El Paso County filed 7,910 felonies in District Court, trumping the Denver DA's Office, which had the second most felonies with 5,192, by a 35% margin, according to an annual report from the Colorado Judicial Branch.
El Paso County District Court had 136 trials, compared to Jefferson County, which had the next highest number of trials with 89.
May is the first district attorney to serve more than two terms since Bob Russel, the five-term DA who first hired him as a young prosecutor. A two-term limit for the local DA's office was imposed after Russel left office. Russel died in 2012.
In 2010, voters extended term limits for elected county officials and the district attorney from two to three. Afterward, many voters said they'd been confused by the ballot language and demanded a redo.
When the issue went back on the ballot in 2012, voters reversed the change. But Teller County commissioners did not put the term-limit issue up for a vote in their county, and approval by both counties was necessary to reimpose the tighter limit because they are joint members of the 4th Judicial District.
May said he did not take a stance on the term-limit issue or lobby Teller County officials. But he defended the move, saying the office can benefit from the additional experience.
He credited his administration for creating what he called "the most sophisticated training for prosecutors in the state," and pointed out that numerous District and County court judges started in the 4th Judicial District Attorney's Office.
"I'm building leaders in this community," he said. "So I would say that's part of my legacy."
Colorado Springs Mayor John Suthers, who served two terms as DA in the 4th Judicial District beginning in 1988 and who worked alongside May in the office, called him an "excellent public servant."
"Dan has been a very steady hand at the wheel," Suthers said. "It hasn't been a particularly flamboyant or high-profile office, but trust me, when you're talking about the prosecutor's office, that's a good thing. DA offices that are controversial are not the ones that are doing well."
Days from the end of his term, May offered a mixed outlook on the racial justice protests in Colorado Springs, saying he was "outraged" by the killing of George Floyd by police, but that protests led to a distorted portrayal of law enforcement officers.
"What I don't like is that we're taking a few cases like George Floyd and trying to say that all police officers are systemically racist," May said. "They're not systemically racist. They were equally outraged."
He defended a grand jury's review of the killing of De'Von Bailey, a 19-year-old Colorado Springs man who was shot in the back by two local officers after fleeing while being question about a reported armed robbery in 2019. May said video evidence led the panelists to conclude the officers had acted in self-defense because they suspected Bailey was reaching for a gun as he ran. A gun was found in Bailey's after he was fatally shot.
May also responded to continuing scrutiny of how authorities pursued the 2013 assassination of Clements, the Colorado Department of Corrections' top official, who was shot to death on his Monument doorstep while answering the door.
May echoed previously published comments by El Paso County Sheriff Bill Elder in identifying slain parolee Evan Ebel as the lone actor in the deadly plot. Ebel, who was killed in a shootout with Texas authorities while on the run, was also implicated in an earlier shooting death of a part-time pizza delivery worker, Nathan Leon, whose uniform and pizza box were stolen and apparently used as a disguise in the attack on Clements.
Numerous newspaper reports, including in The Gazette, have raised questions about the thoroughness of the investigation and probed whether investigators failed to unravel a broader conspiracy by 211 Crew, a white supremacist prison gang to which Ebel belonged.
"The evidence in that case is pretty clear that it all goes back to Evan Ebel," May said. "And obviously, he was ultimately held accountable by the Texas Rangers."
May contested the Texas Rangers' conclusion asserting the Ebel was acting at the behest of the 211 Crew leadership.
"When I'm looking at a conspiracy, I have to ask, 'What did they do for him?'" May said. "When you look at the Evan Ebel evidence, you will find that he went out there and he got a straw person to go out for him and buy a gun. That person was prosecuted by the feds. Where does the financing come from? His dad gave him all the money."
There's no evidence that 211 Crew provided Ebel with a car he used in the plot or the hit list later found on Ebel's computer, May said.
"Everybody on the list, Evan Ebel had a previous grudge for," May said. "One of the people on the list, he had turned to, years before, and said, 'When I get out of here, I'm gonna get you.'"
In alleging a conspiracy, the Texas Rangers cited in part a confidential informant with ties to the 211 Crew.
May said the informant's claims were "speculative" — representing that person's guesses when asked during an interrogation how the crime might have happened.
"Nowhere in there did he say, 'I know this happened' or 'I know this person did this.' They just asked him, hypothetically, how do you think it came down. That's what the Texas Rangers say is evidence of some sort of conspiracy."
May's comments clashed with the findings of a 2018 review by then Attorney General Cynthia Coffman's chief investigator, Larry Adkisson, which found that the informant was prepared to testify that he'd had a phone conversation with a 211 Crew figure who claimed to have ordered Ebel to kill Clements.
May said that "top attorneys" were involved in reviewing the evidence and that he had also been personally involved.
"I have looked at that confidential informant's interview more than once," May said.
Suthers, who was state attorney general at the time of Clements' killing, also said the informant was "just not real credible." Suthers said he personally met with reputed gang leader Benjamin Davis, who denied involvement, but offered to provide authorities with information that someone in his gang gave the order, in exchange for a reduced sentence. "He wanted a deal beforehand," Suthers said. "He was a total BSer." Davis died in a Wyoming prison in 2017 after being transferred out of Colorado.
"There's nothing that came close to prosecutable, not in the evidence I saw," Suthers added.
Adkisson's report states that disagreements continue among law enforcement officials over whether Ebel's actions were ordered by the prison gang 211 Crew hierarchy.