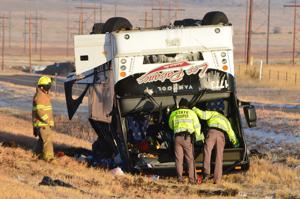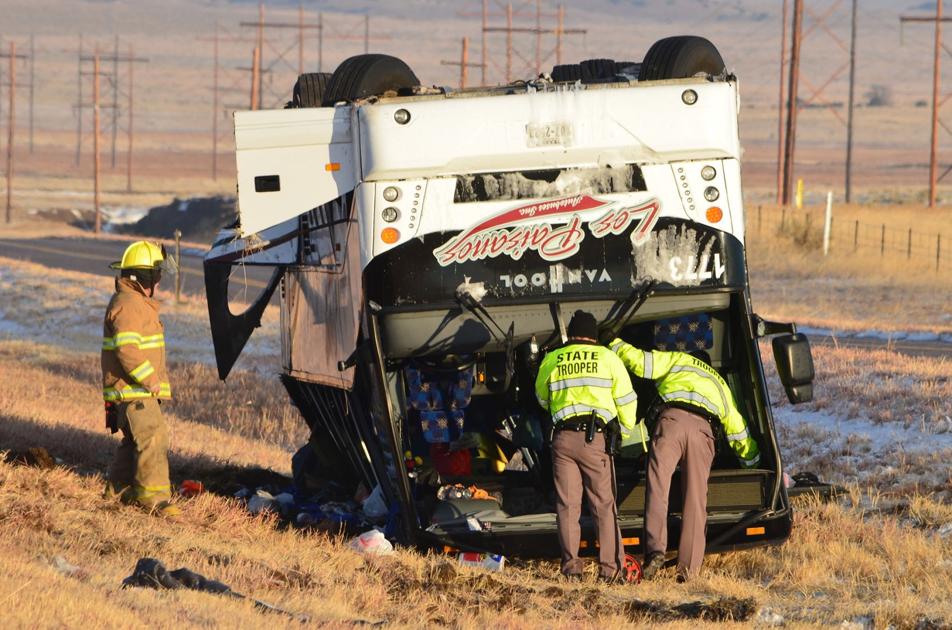 Several passengers on a charter bus carrying 49 people were injured Thursday morning when the bus skewed off Interstate 25 and flipped onto its top, Colorado State Patrol said.
Troopers said the bus was en route to Denver just before sunrise when it crashed south of Walsenburg, which is about 90 miles south of Colorado Springs. Slick road conditions may have been a factor, said State Patrol spokesman Josh Lewis, but authorities have not officially determined what caused the bus to drift off the road yet.
Of the 45 passengers on board, Lewis said about two people were taken to nearby hospitals with serious but non-life threatening injuries. Other injuries were reported as minor to moderate, he said.
Troopers were still at the scene of the crash at noon, but traffic on northbound I-25 was moving, Lewis said.
Channel 9 reported that the bus involved is with Los Paisanos Autobuses, according to the staff working at their ticketing office on Broadway in Denver. Thursday afternoon they said another one of their buses was headed to go pick up passengers and bring them back to Denver.
The Huerfano World Journal is reporting translators responded to the scene as well to help those passengers who speak little to no English.
Los Paisanos has several offices in the U.S. as well as Mexico, according to their website.
The Red Cross also told Channel 9 they responded to help, including mental health nurses and health services nurses.
Crews were expected to arrive with equipment to right the bus later in the day, State Patrol spokesperson told KKTV, and the investigation was expected to restrict traffic on the highway.