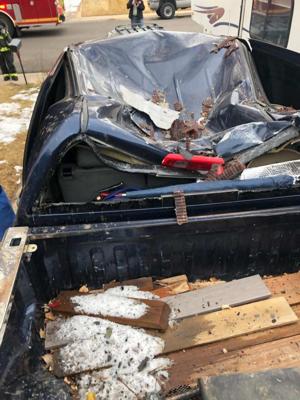 Maryann Klements and her husband, Kirby, were sitting in the living room at their Broomfield home Saturday afternoon, taking advantage of some downtime.
But shortly after 1 p.m., the couple and their dogs heard a "supersonic" boom that shook their typically quiet neighborhood — and their entire house.
"All of a sudden, there's this giant boom and I can't even try to describe how loud it was, but I looked at my husband and said 'what the heck was that?'," Maryann Klements said.
"A few moments later we walked outside and saw this big round thing in our yard and we just went into complete shock."
The big round thing was part of the engine of a Boeing 777-200, just one of the pieces of debris that rained from the sky after the right engine of a United Airlines jet bound for Honolulu from Denver suddenly failed and spewed flames and pieces of metal.
The pilots called in a Mayday and successfully maneuvered a return to Denver International Airport with 240 passengers and 10 crew members onboard.
The plane safely landed at DIA around 1:30 p.m. with no injuries.
A crowd of curious people and media swarmed the three main impact zones at Commons Park and the Northmoor and Red Leaf neighborhoods on the eastern part of Broomfield.
RELATED VIDEO:
Passenger on flight that dropped debris over Colorado talks about what he saw
Onlookers wanting to get as close to the action as possible, but Broomfield Police had surrounded the soccer fields at Commons Park with police tape. The fields, which had earlier been full of people enjoying a relatively mild February day and soccer teams getting in some practice, were now littered with pieces of engine debris.
"Given the number of people who are at Commons Park on a weekend day," Broomfield Police said on Twitter, "we are beyond grateful that no one was injured."
The 1300 block of Elmwood Street — where the Klements live — was blocked off by emergency responders and the lights of emergency vehicles were visible from blocks away.
Roadways surrounding the impact zones mimicked rush-hour traffic on I-25 prior to the COVID-19 pandemic.
Megan Lindgren, her husband and two children drove a few miles northwest from Westminster after hearing about the incident on the news. They said they had to see it to believe it.
"My husband saw it on the news and we live so close, we decided to drive up and see it for ourselves," Lindgren said. "It's scary to think about what would've happened if someone was walking outside and have debris fall on you."
Luckily, police said there have been no reports of injuries as a result of the falling metal.
Adam Moore from Denver said he was at his brother's house to watch the Avalanche play on television and decided to see what all the commotion was about.
"My brother's wife yelled down to turn on the news and we saw a live shot of the park a few blocks down and we instantly headed out," Moore said. "We didn't realize the severity of the situation until we actually saw it firsthand."
For the Klements, Saturday's eruption was a little too close for comfort. The debris missed their home by a few feet.
"If it had been 10 feet different, it would have landed right on top of the house," Kirby Klements told the Associated Press.
Luckily for them, the debris only damaged their truck and a section of siding and gutters. It spooked the dogs, of course.
"Things could've ended a lot differently, but I'm very thankful that everyone appears to be safe," Maryanne Klements said.
"The plane landed safely, nobody got hurt on the street, and aside from some damage and debris we're perfectly fine.
"I'm gonna kneel and thank the Lord God above, because I pray every day for him to protect us, and I'd say he did a pretty dang good job today."