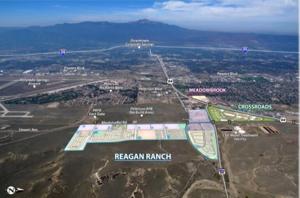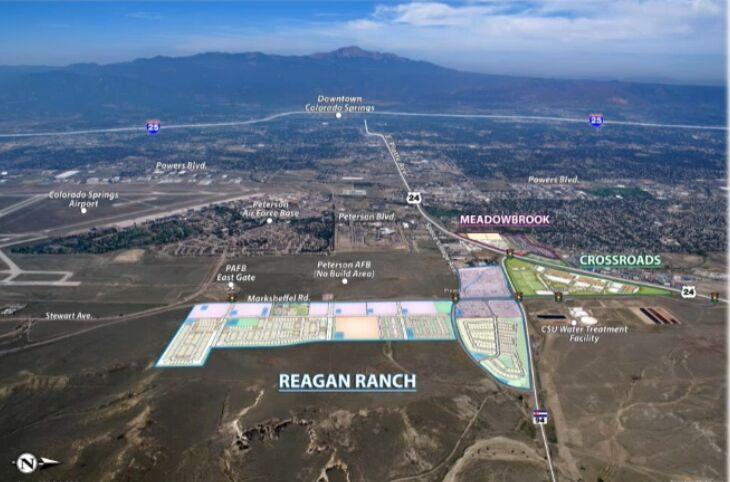 The Colorado Springs City Council unanimously approved plans this week to build new businesses and more than 1,600 new homes east of Peterson Air Force Base.
Council members lauded the plan for the new subdivision called Reagan Ranch near Marksheffel Road and Colorado 94 that will stretch across about 235 acres, in part because it includes a mix of housing types. Developers are planning for 1,120 single-family homes and 500 multifamily units. Some of the single-family homes are expected to have built-in apartments, known as accessory dwelling units, to further increase housing choice, developers said.
Councilwoman Jill Gaebler said she expected the new subdivision within Banning Lewis Ranch to draw a diverse population because of the varied housing options.
"I will be watching and cheering for you," said Gaebler, who is set to leave her seat in April.
The council vote was 7-0 to rezone the vacant property from mostly industrial use to allow for office buildings, retail shops, homes, parks and other uses. Council President Richard Skorman and Councilwoman Yolanda Avila were not present for the vote.
Commercial development in the new subdivision is mostly planned directly east of Marksheffel Road, providing a buffer between residences and Peterson Air Force Base. The layout also keeps homes out of the accident-potential zones set by military standards, said Tasha Brackin, a city planner.
In an earlier meeting, two city planning commissioners opposed the project because it is less than a mile from the Colorado Springs Airport and new residents might have trouble with the noise from aircraft.
Colorado Springs Airport Director Greg Phillips told council members the developers have agreed to ensure noise is below 40 decibels inside homes and residents are informed of the noise from planes and lights from the airport. The Airport Advisory Commission had no objections to the development as long as those conditions are met, he said.
Equity Group owner Danny Mientka said the new subdivision was supported by the Peterson and Schriever Air Force Base commanders and will bring important housing to the area. He said he expected to have home lots ready to sell to builders by January.
"I have every single lot spoken for," he said.
The new subdivision is expected to include about 20 acres of parkland across several sites and 2½ miles of trails, Mientka said. The new parks will be built and managed by the new metro districts set up to help fund development of the area.
The city approved three new metro districts for the area last year that have the authority to issue more than $100 million in debt to build utilities connections, roads and other improvements, city documents said. The debt will be paid back through property taxes paid by new home and commercial property owners in the district.