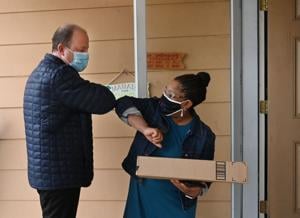 Colorado Gov. Jared Polis hand-delivered rapid COVID-19 test kits to Front Range educators Monday, making stops at homes in Fountain and Pueblo, as well as in Denver.
Delivery of the kits — each containing six tests meant for use once every five days, according to the federal Food and Drug Administration — paralleled the Monday launch of a state at-home testing program for educators and students. The program is the product of a partnership between Colorado and BinaxNOW, which produces rapid COVID tests, according to state officials.
The state health department took the partnership further, adding partnerships with Amazon and eMed, a digital health provider, to have the tests delivered to educators' homes, and to allow for telehealth appointments.
Colorado is one of three states chosen for such a partnership and has purchased 2 million test kits, which will be delivered to homes of educators, staff and students in districts that choose to participate, officials said Friday.
On Monday, officials from several Pikes Peak-area school districts said they were still in the process of signing up for the program or waiting for delivery of kits, including Lewis-Palmer District 38, Widefield District 3 and Academy District 20.
Harrison District 2 didn't register for the program because it did not receive an answer regarding the full cost to the district after the initial 30-day period, an official said. The district will refer to free testing from public health, but potentially reconsider if it receives "concrete information" on costs, district spokeswoman Christine O'Brien said.
The cost of the tests was picked up by the state this month. The purchase of tests next month will involve a cost-sharing agreement between the school districts and the state. The charges may be reimbursable by the federal government, according to a Friday news release from the state.
Local school districts continue to work with area vaccine providers in an effort to line up staff members for the shots starting Feb. 8, when educators become eligible to receive the vaccine.
The state's updated Phase 1B.2 category includes Coloradans 65-69 years old, preschool through grade 12 educators and staff, and those whose work ensures the continuity of state government.
Officials in many local districts said their substitute teacher pools aren't much larger now than they were late last year, if at all. That's worrisome if staff members call in sick after being vaccinated. State officials are advising districts to stagger vaccinations because of the potential for flu-like side effects, District 20 spokeswoman Allison Cortez said.
"If we can successfully stagger our vaccination schedules, hopefully our current substitute pool will be sufficient," she said. "If after receiving the vaccine too many staff don't feel well and we need to temporarily move to e-learning at a school, the long-term gain will outweigh the short-term challenge."
Harrison is hopeful that the second vaccine, reported to sometimes have more severe side effects than the first shot, will occur during spring break for many staff.
Vaccinating seniors 70 and older will likely remain a focus for many El Paso County health providers, even after eligibility expands statewide to include those 65 and older, El Paso County Public Health spokeswoman Michelle Hewitt said Monday.
"Vaccinating Coloradans age 70 and up will save the most lives, and they should continue to have priority," she said.
As of Sunday, only 2.9% of seniors 70 and older — 1,847 of the 65,000 residents in that age bracket in El Paso County — had received two doses of the vaccine, Hewitt said. About, 17,300 seniors in that priority group, representing 27% of the group, have received at least one dose, she said.
"At this point in time, our greatest barrier remains lack of supply," she said.
Brigadier Gen. Scott Sherman, who leads the vaccine task force, said Friday the state's supply should be improving soon, with the state receiving 452,000 doses between Friday and March 1.
Many El Paso County health providers administering the vaccine have waiting lists with thousands of seniors on them, so it is likely to take time to get a call back, Hewitt said. Once seniors have registered for an appointment with a provider, they can remove themselves from the other lists, she said.
She couldn't say if all county health providers are accepting registrations from the 32,000 residents between 65 and 69. Centura Health confirmed Monday they are registering those 65 and older. UCHealth and Optum did not respond to a request for comment about whether they are accepting registrations.
When more information about registering is available for those 65 to 69 years old, the county will distribute it widely, Hewitt said. The county is also working on setting up large vaccination clinics in the coming weeks, she said.