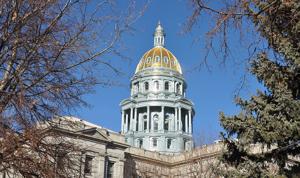 With just under 50 days to go until Election Day, the Democrats running for statewide office in Colorado maintain a wide fundraising advantage over their Republican challengers.
According to campaign finance reports filed on Monday, for the two-week period ending Sept. 14 the four Democratic incumbents running for reelection as governor, attorney general, secretary of state and state treasurer each pulled in many times the amounts reported by the Republicans hoping to unseat them.
The Democrats also started the month with more than seven times as much cash on hand as their opponents, with just under $5 million in the Democrats' campaign accounts and about $670,000 left to spend by the Republicans.
That comparison could understate the edge held by the incumbents, however, since nearly all of the Democratic statewide candidates have already spent millions of dollars on fall TV advertising, while their GOP counterparts have yet to book airtime.
Ballots start going out to voters in just under four weeks and must be returned to county clerks by 7 p.m. on Nov. 8.
The Democrats' totals are skewed by the millions of dollars Polis continues to pour into his campaign, but even without that advantage, his party mates are dwarfing the sums brought in by their opponents.
During the most recent period, Gov. Jared Polis wrote himself a check for $2 million, bringing his total self-funding for the cycle to $9.1 million. The wealthy tech entrepreneur and former five-term congressman, who spent at least $23 million to win the office four years ago, said earlier this year that he'll spend what takes this time.
For the two-week stretch from Sept. 1-14, Polis reported raising about $10,000 on top of his own contribution — he caps donations from supporters at $100 per year — and finished the period with nearly $3.5 million on hand.
His GOP challenger, University of Colorado Regent Heidi Ganahl — the only Republican holding statewide office and a wealthy entrepreneur in her own right — raised about $150,000 and lent her campaign $250,000 during the most recent reporting period and finished with just over $430,000 in the bank. Ganahl has sunk $350,000 into her own campaign since launching just over a year ago and owes herself $500,000 for additional loans she's made to her operation since then.
Danielle Neuschwanger, who won the American Constitution Party nomination for governor after failing to make the primary ballot as a Republican, raised just $1,600 for the two-week period and finished with almost $6,500 in the bank. Over her entire run, she's raised more than $150,000 and lent her campaign nearly $75,000.
The gubernatorial candidates' campaign ledgers don't tell the whole story.
While Polis will likely keep the massive cash advantage over his challengers, the recent emergence of a deep-pocketed outside entity could muddy the spending waters in coming weeks. According to this week's reports, Weld County rancher and oil and gas magnate Steve Wells has already pumped $11 million into an independent expenditure committee formed to back Ganahl. Additionally, other committees from both sides of the aisle look like they're preparing to spend millions on the race.
In the race for attorney general, Democrat Phil Weiser pulled in just over $105,000 for the reporting period — bringing his total for the cycle to more than $4 million — and finished with over $1.1 million on hand.
Weiser's challenger, Republican John Kellner, the district attorney for the 18th Judicial District, raised $33,000 for the period and finished with just under $100,000 on hand. His total fundraising for the cycle is approaching $250,000.
Democratic Secretary of State Jena Griswold raised $141,000 in the first half of September and reported $316,000 in the bank. Her total fundraising for the cycle is nearing $3.8 million.
Her Republican challenger, former Jefferson County Clerk Pam Anderson, brought in $18,000 in the most recent report and had almost $45,000 on hand. Since starting her run, she's raised almost $220,000 and loaned herself $40,000.
The race for state treasurer appears to be a bargain compared to the other statewide contests.
Incumbent Democrat Dave Young pulled in just under $10,000 for the two-week period and finished with $77,500 in the bank. His total fundraising is approaching $525,000.
Republican Lang Sias raised just over $4,000 in the most recent interval and finished with $93,000 in the bank. He's raised almost $150,000 since he got in the race.
State-level candidates — also including candidates for the Legislature — must file reports every two weeks from now until the election, with additional reporting requirements for large donations kicking in closer to the day votes will be counted. The next report, covering Sept. 15-28, is due Oct. 4.