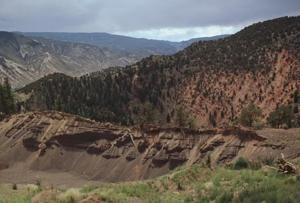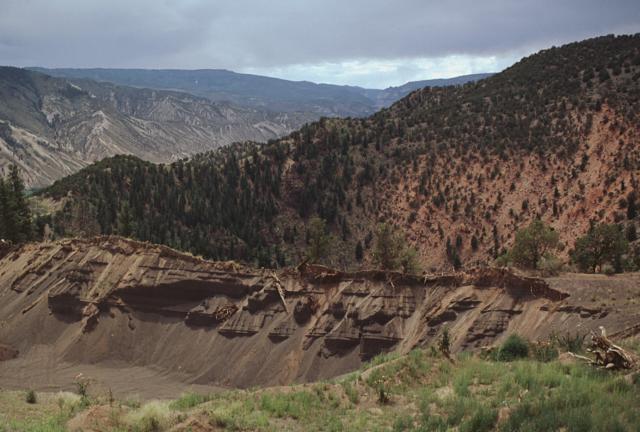 On Facebook Saturday night, our governor gave us a lesson about the state's only known volcano.
"There is exactly one active volcano in all of Colorado: The Dotsero Crater in Eagle County. Dotsero last erupted about 4,000 years ago, and while it's capable of erupting again, there haven't been any recent signs of unusual activity.
"The lava flow for over a mile from Dotsero's last eruption. At certain points, the lava current picked up quartz fragments that later hardened into 'Dotsero Diamonds' (quartz embedded in basalt). Visiting Dotsero Crater isn't hard; just take I-70 to Exit 133, drive half mile on Colorado River Road to the trailhead, and you're there! The moderate hike is about three miles (a better idea in summer). The rest of Colorado's volcanic activity ended over 20,000,000 years ago, and Dotsero remains a mysterious anomaly in the Rockies."
Dang, and I thought Dotsero was just an interstate without a restroom near where the Eagle River joins the Colorado.
The governor's bully pulpit for education was apparent. Twenty hours later, the post had been liked more than 1,800 times and shared 300 times.
Among the 151 comments at that point, Sue Nunez of Pueblo wrote:
"Thank you, governor. I am a volunteer to help the kids read at Columbian School in Pueblo and the book they are reading is about volcanoes. They were all aware of the eruption in New Zealand and they wanted to know if there were any volcanoes in Colorado. I can now tell them about Dorsero. (sic) Thanks so much. You rock!"
Polis was kind enough to respond.
"Thank you for volunteering at a school!" he wrote. "I think they will be excited to know that there is a volcano in Colorado that erupted 4,000 years ago."
"There's a geyser in Colorado too!" wrote Lori Dawn, whose profile doesn't say where she's from. "Tell us the story of the geyser."
Polis replied, "Yes, it's not much of one, but it is a geyser! I'll post on it soon."
It was enough for 9News to report on Geyser Spring in Dolores County in August, according to a link posted by Nathan Swain of Denver.
"Haha, I love story time," wrote Kimber Sisco, also from parts unknown.
Three hours earlier, Polis had beer on his mind, specifically a story from the Salt Lake Tribune about the state destroying about $18,000 worth of beer rendered illegal by a change in state law in November.
"You be you, Utah," Polis posted. "But throwing out perfectly good beer? That's simply not our Colorado way."
Polis, you might recall, has a bit of a beef with the Republican governor of Utah, Gary Herbert, at least over exporting natural gas.