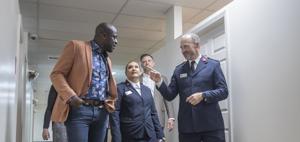 Eight days after the Salvation Army's renovated emergency homeless shelter for families-only fully reopened a few weeks ago, all 31 private sleeping quarters were occupied.
Demand hasn't let up — 32 families were staying at the shelter Thursday, said Capt. Doug Hanson, who leads El Paso County's Salvation Army church and outreach programs. And he doesn't expect the need to lessen.
"We were surprised how quickly it filled up," he said. "It confirms our long-range plan to double yet again."
The city's only shelter for homeless families, at 709 S. Sierra Madre St., has a new name, the R.J. Montgomery Family Hope Center, and twice the capacity for parents with children as it's had since the organization started operating the shelter in 2003.
Previously known as the R.J. Montgomery Center, the shelter no longer accepts single homeless men and women, who are referred to the city's largest homeless shelter, Springs Rescue Mission, which is about half a mile away.
At a grand reopening ceremony Thursday, homeless parents said they appreciate the reconfigured model.
"It's really helped us in a time of need, with a good space that's safe for me and my daughter," said Jose Barreras.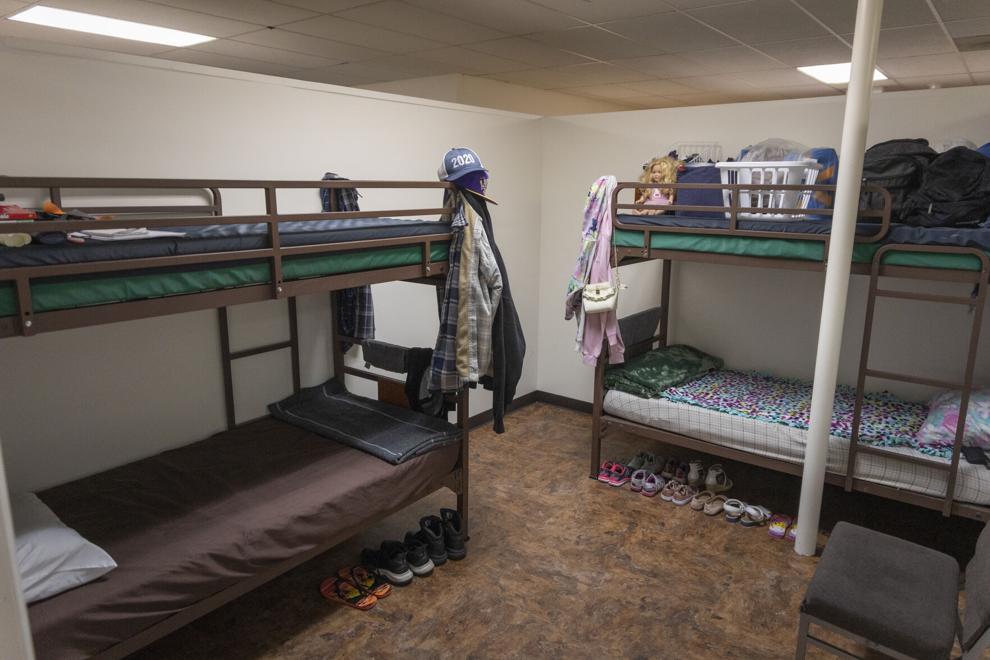 After his wife died in March, Barreras said he and the couple's 8-year-old daughter "lost everything that was going on in our life."
Previously, the shelter accommodated 15 families, who slept in large rooms in bunkbeds lined up closely together, with women and children on one side of the building and men on the other.
The 31 new suites provide a total of 186 bunkbeds configured to families needs.
"The rooms give families privacy and enable them to stay together as a unit," Hanson said, "which is what we're most excited about."
The shelter remained open during construction, which began last fall in concert with the transition of the population from anyone who's homeless to just families.
Three funders paid for the $400,000 remodeling: the city of Colorado Springs, nearby developer Weidner Apartments Homes and COSILoveYou, a faith-based collaborative supported by local churches.
"This is God's work, this work is sacred to care for the most vulnerable," said Colorado Springs Mayor-elect Yemi Mobolade as he took the podium at the grand opening.
"Our city is only as strong as it's weakest link," he said, adding that he thinks Family Hope Center is an appropriate name.
"Hope is scarce," Mobolade said. "The most vulnerable in our city need hope."
While the shelter remains low-barrier, meaning adults can enter having used drugs or alcohol beforehand, background checks prevent sex offenders from staying there, Hanson said.
Anyone who needs medical attention or is belligerent, argumentative or hostile is not accepted, he said.
Additional safety protocols and features also are in place to protect children, Hanson said, such as kids' bathrooms.
Homeless families receive free overnight stays, meals and case management has been increased to help them become self-sustaining once again. Many families come to the shelter from living in their cars after being evicted from housing, Hanson said.
Nearly 60% get back into an apartment because they save enough money while staying at the shelter or move into transitional housing, he said.
"Our goal is not to shelter as many people as we can but to transition them back to self-sufficiency," Hanson said.
The project is a temporary solution, he said. The Salvation Army will launch a $33 million fundraising campaign in early 2024 to build a new family shelter on its main campus at 908 Yuma St., Hanson said.
Urban renewal of the city's downtown southside means the R.J. Montgomery Center finds itself in the midst of burgeoning development, including a new sports complex, the U.S. Olympic & Paralympic Museum, multiple market-rate apartment complexes and future motels.
The shelter occupies a building that used to be a tire store and is not conducive to expansion.
"It was meant to take care of 10 employees' restroom needs, not bathrooms and shower and laundry services for nearly 200 people," he said. "This is a short-term fix."
Barreras and his daughter are working on rebuilding their life.
They're now working on building a new life, with hope of securing an apartment soon.
"I'm happy because my daughter is happy," Barreras said. "She's made a lot of friends here to play with and talk to, and they do her hair and nails."