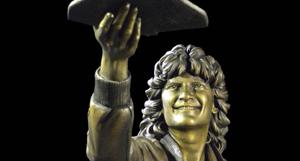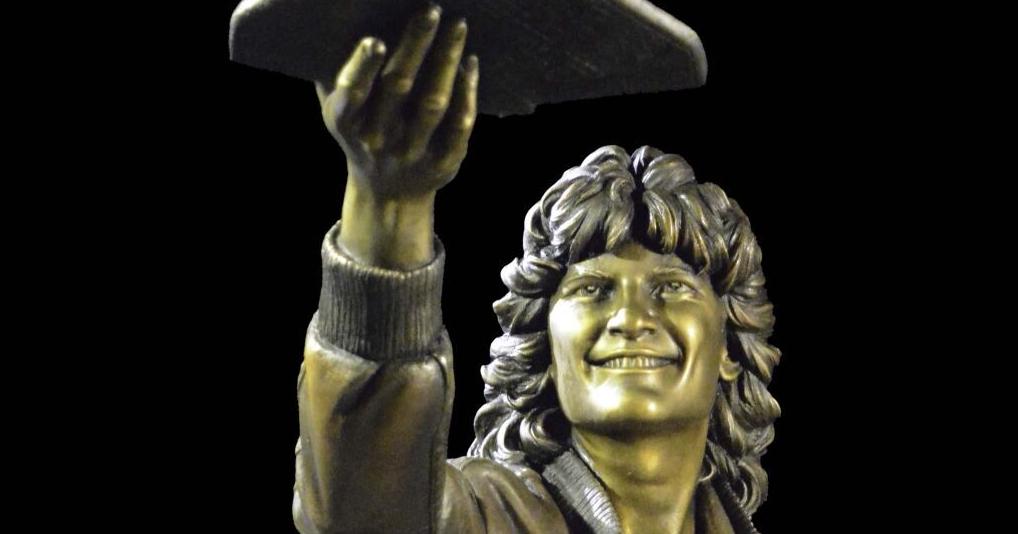 A bronze sculpture of astronaut Sally Ride has been completed and is headed to the Cradle of Aviation Museum on Long Island, N.Y.
The sculpture, created by artists at Lundeen Sculpture in Loveland, celebrates the late Sally Ride, America's first female astronaut, who flew on the space shuttle Challenger in 1983 and again in 1984.
She left NASA in 1987 to teach at the University of California San Diego and was active in encouraging women to study science and mathematics. Ride died in 2012 of cancer.
The statue was commissioned by documentary filmmaker Steven Barber.
Barber, who calls himself a "salesman," has been a fan of military and space travel for a long time.
When a movie deal with astronaut and moon walker Buzz Aldrin fell apart some years ago, Barber discovered there were few monuments to American astronauts, and none at NASA itself.
"There was one of Harrison Schmidt, who was on Apollo 17 or 16, and it was behind a Piggly Wiggly somewhere in Texarkana," Barber told The Gazette.
Others existed, but Barber thought there should be more recognition, so he contacted NASA to find out why it didn't have any. After protracted attempts, NASA finally responded to him, saying, "Mr. Barber, the reason there's no monuments is because we don't have an art commission at NASA. We put people into space, we build rockets; we don't do that."
But NASA referred him to the Kennedy Space Center in Florida, and the concessionaire that runs it agreed to showcase a sculpture in the center's Moon Garden if Barber could get it made.
Barber put together $750,000 in donations to create his first astronaut sculpture of Apollo 11 for NASA's 50th anniversary and commissioned Lundeen Sculpture to make it.
He's been working his way through the astronaut inventory ever since. One of his future projects for which he's trying to raise money is for a sculpture of the "Hidden Figures" women.
The three Black mathematicians — Katherine Johnson, Mary Jackson and Dorothy Vaughan — worked for NASA in the dawning days of spaceflight and were known as "computers in skirts" for their ability to perform complex calculations. They were featured in the 2016 movie "Hidden Figures," based on the book by Margot Lee Shetterly.
Lundeen Sculpture is recognized as one of the top bronze sculpture studios in the country. It makes all the giant sculptures that Scheels All Sports features outside its stores.
The company was founded in 1976 by George Lundeen, who studied sculpture in college and hails from Holdrege, Neb. He moved to Loveland after working in foundries around the world.
"I was teaching at the University of Nebraska in Kearney, Neb. I quit my job, moved out here and worked for the foundry for a year or two, met lots of sculptors, lots of art dealers. … Best move I ever made," Lundeen told The Gazette.
He was joined by his younger brother Mark in 1981, who took up sculpting just out of college.
"I took a lot of art classes when I was growing up and was always good at it, but never thought that this was what I would be doing, until I moved out here to Loveland and started working with George," said Mark Lundeen. "I just figured hell, if George could do it, I could do it."
The company has about 30 employees, many of whom are themselves artists and sculptors. Many have been with the company for decades.
Loveland is a hotbed for bronze sculptures in part because there are two top-quality bronze foundries in the city of 81,000, 46 miles north of Denver.
George Lundeen says the two bronze foundries are the best in the country.
"We get sculptors from all over the world coming to Loveland to do their castings," he said.
They started the Sally Ride sculpture about eight months ago. The first clay version melted in a fire in the building, and George Lundeen had to recreate it.
"We've redone it, and like most things you do a second time, you catch a few things you maybe would've done different," he said.
Asked about the permanence of bronze sculptures, George Lundeen said: "Well, you have to realize that these things aren't necessarily permanent. For instance, years ago I made a Thomas Jefferson and it ended up in quite a number of public places and universities. Now, a number of those have been taken out because Thomas Jefferson has come to be not quite as respected, you might say, as he once was."
Asked what happens to banished figures, George Lundeen laughingly said: "We had a Thomas Jefferson and a Ben Franklin taken out of a school in Kansas, and we called up a school in North Dakota and they said, 'Sure, we'll take them.'"
A large sculpture like Sally Ride costs around $200,000, said George Lundeen, who tries not to underprice his work.
"You do once in a while, but I try not to underprice myself these days," he said. "But I always say, where were these people when I was 25 years old, when I was starving?"