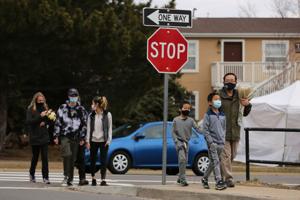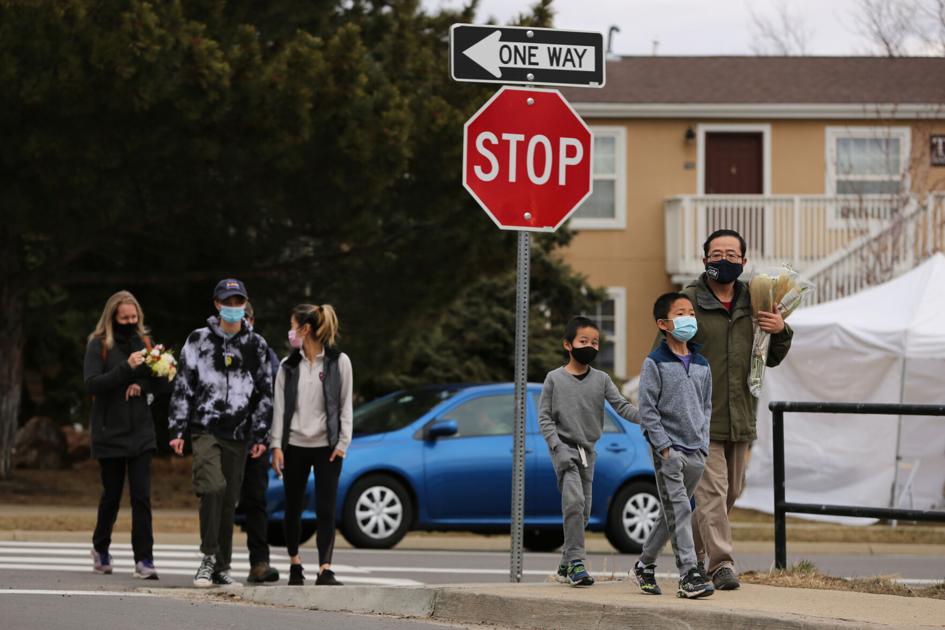 I was forced to view this week's horror through the lens of a father with a 20-year-old daughter in Boulder.
As SWAT members in full riot gear, automatic weapons drawn, ran by her house Monday in pursuit of a possible suspect, her mom was calmly reassuring her on the phone as I panicked for everyone. "You need a plan if someone comes to the door. What have you got that you can use to defend yourself?"
They came up with lighter fluid, hairspray and a match to use against some fleeing killer if he came knocking.
The SWAT team eventually left the street after what was apparently a false alarm during the siege at Soopers. But because of those first moments of acute parental disquiet, the stories of parents worried about their children inside King Soopers have been especially haunting.
Stories such as Craig McSavaney's frantic call from his daughter during the rampage. All he heard at first were hysterical screams, just his daughter's voice wailing in terror. After 15 or 30 seconds, he finally understood her.
"I can't get through. There's people with guns everywhere. They're all running toward King Soopers. I don't know what to do. There's gunshots. There's gunshots."
She had just pulled into the parking lot when the fusillade erupted, leaving her trapped in her car, according to our reporters. She hid there listening to gunfire until an officer in tactical gear helper her out of the car and across the street.
Or Sarah Moonshadow's angst as she ducked down with her son at the self-checkout near the west entrance, counting the seconds between each round fired from the other entrance to the east.
"All I could think of is 'I got to get my son out of here. I got to make sure my son gets through this,'" Moonshadow told one of our reporters. "And by about the fourth shot, I told my son, 'This is it, we have to run. We have three seconds, we don't have any other time.'"
She said she felt the concussion of bullets flying past her as they ran for the west doors and into the parking lot.
It occurs to me, as yet another mass shooting blackens our reality, that this is the only world my daughter really knows, a world punctuated by horrible slaughter every few months. Columbine occurred the year before she was born, and it has been non-stop ever since, increasing in lethality and insanity. Sandy Hook. San Ysidro. Fort Hood. Thousand Oaks. The University of Texas. The theater in Aurora. Parkland. Virginia Tech. Orlando. Las Vegas.
My daughter doesn't really know a world when this wasn't the way things are.
As a parent, you try to do all you can to make them safe. To create a bubble and cocoon where they have the space they need to find their footing and their way in the world. Roots and wings, that's what you want for them.
But creating your own insular world for them is clearly inadequate. A father never feels so impotent as listening to his daughter's voice waver as the larger world closes in on her.
We parents of this generation have been called helicopter parents, hovering over our brood with intense concern and over-attention.
At the same time, it appears, we have not helicoptered the world we are giving them nearly enough. After this week, it's clear to me we've fallen completely down on an important piece of our jobs.
We're giving them a world of recurring massacres where fear can strike anyone anywhere, even in a grocery store in a gentle place like Boulder. So much for freedom from fear.
We're giving them a world where we have kind of shrugged our shoulders at 500,000 deaths from an out-of-control disease.
We're giving them a world where the Capitol of the country can be overrun by violent thugs, and a world who's entire weather system seems to be veering seriously out of whack.
Clearly, us parents aren't doing our jobs when it comes to the wider world our kids will inherit from us.
Have we been too self-indulgent, us Baby Boomers? Or too negligent of our civic duty and obligations to the common good, focused too much on our private nuclear worlds? Or are we captives of the wondrous virtual worlds we've created, utterly detached from the stark reality left outside?
Or is it that — and this one scares me most — we have just become too impotent in controlling that world, settling for the idea that there is nothing we can do? That things are just the way they are? C'est la vie and pass the ammunition.
This week's events evoked memories of a colleague's daughter for new Boulder resident Laurie Viault, who moved to her "dream city" in November.
That daughter was shot three years ago at Marjory Stoneman Douglas High School in Parkland, Fla., an event that killed 17 people and injured 17 others.
"It's very emotional for me," she told our reporter.
"This is a safe community full of beautiful people that are full of peace and love of nature and love of life," she said. And then she thought about the irony of that statement after the week that just was. "You know, I guess, I've got to learn that nowhere is safe, no matter what people want to say …. We're not safe anywhere."
I'm guessing deep down in places they don't talk about, our kids are pretty pissed about that.