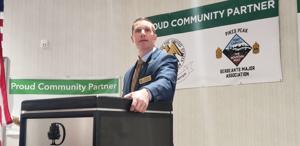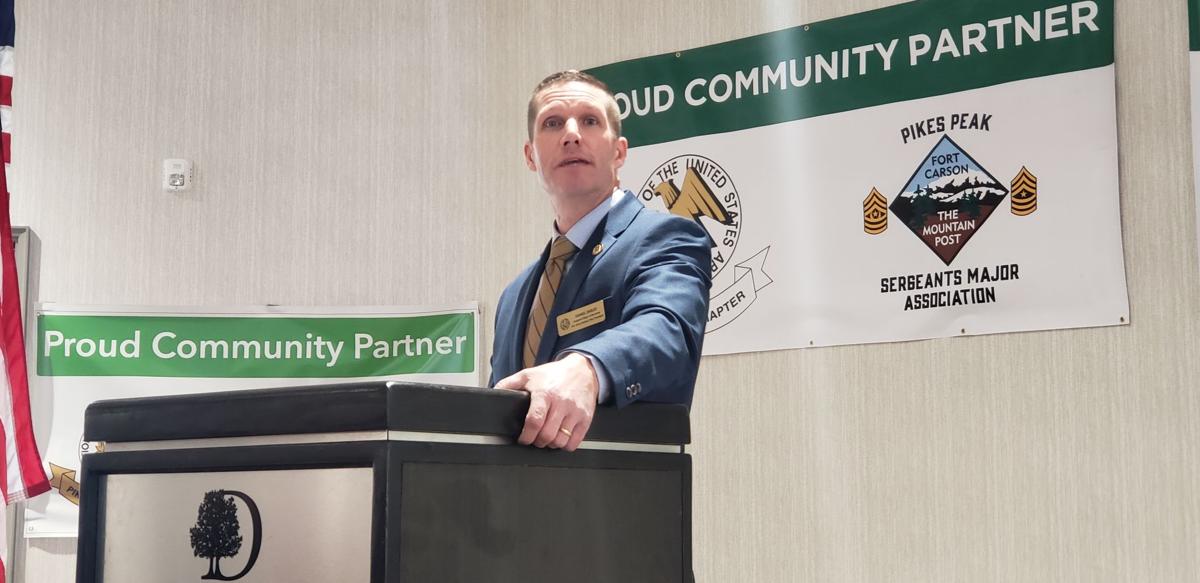 A former Fort Carson sergeant who went on to serve in the Army's top enlisted post, Sgt. Maj. Dan Dailey returned to the community that helped define his military career early this month to speak at a breakfast meeting of the Pikes Peak Chapter of the Association of the United States Army.
For almost five years, Dailey was the Army's most senior enlisted member and personal adviser to the Army Chief of Staff. He served as a spokesman for enlisted soldiers, noncommissioned officers and their families, advocating for them and the issues that affect them on federal councils and boards, in testimony before Congress and to the American people.
Before being sworn into that post on Jan. 30, 2015, Dailey rose through the ranks to become the top enlisted soldier at Fort Carson during the war in Iraq and Afghanistan.
A native of Pennsylvania's Pocono Mountains, Dailey enlisted at 17 while still in high school and completed basic training at Fort Benning in Georgia. During more than 10 years in the Springs, he was deployed to Iraq five times and earned a reputation as a fierce advocate for soldiers who didn't shy from standing up to authority in their defense.
Dailey left his post as 4th Infantry Division Command Sergeant Major at Fort Carson in 2011 to take the top enlisted spot at Training and Doctrine Command in Virginia, before becoming the 15th Sergeant Major of the Army in a ceremony at the Pentagon.
He officially retires at the end of the year and will take over as vice president of NCO and soldier programs for the nonprofit AUSA in Arlington, VA.
The Gazette caught up with Dailey, 50, at Colorado Springs' DoubleTree Hotel, after the sergeant major spent nearly an hour greeting soldiers and friends and posing for photos in a conference room that stayed packed long after the meeting ended.
Gazette: What's it like being back in the Springs?
Sgt. Maj. Dailey: This is a really dynamic community and it was an incredible place to live. I spent a lot of my career here … and because it was the height of the war in Iraq and Afghanistan and the Army was stabilizing organizations to keep their families stable with deploying soldiers, my family got to stay here the better part of 11 years. I spent a lot of that in Iraq, but this became our hometown. My son went to school here, my wife worked here. There are so many people in this community who are literally responsible for my success. They took care of my family in my absence for the better part of five years while I was deployed in iraq. I just want to say thank you, and not just from me but for all the soldiers.
Gazette: In your career, you've served in leadership positions under different administrations. Is there anything about that perspective, or the challenges, that you can share?
Dailey: The singular thought I have on that is I pride on the fact that our soldiers are immune to that. And I am very proud of the fact that our senior leaders in the military come to work every day focused on the defense of our nation. There's a lot of political stuff going on in America. We don't side with. And I was just incredibly respectful of our soldiers. They're allowed to have their views, but they kept their professionalism as a soldier. We have to work in a political environment, but we remain apolitical. My job is to defend America and support the administration, regardless of which one it was, and show the American people that our soldiers, regardless of the political environment of America, do what soldiers do: take care of the American people.
Gazette: What are your thoughts about how the military has affected you personally and professionally?
Dailey: I pride on the fact that much of what has developed the person that I am today was ingrained in me by the military, and I don't hide any of that. I think those qualities are very good and serve me quite well.
Gazette: How do you think you made the biggest difference?
Dailey: I think I've changed a lot of programs in the Army for our soldiers and I pride myself on the fact that I got those ideas from soldiers. I think one of the biggest successes I've had is taking the time to talk to our soldiers, listen to what their concerns are, and really act upon the things that I learned throughout my career — things that I said if I ever got the opportunity to be in a position to make a difference, I would do. I didn't get everything done, but I got a lot of things done that were very important to me and our fellow soldiers … like credentialing our enlisted education system (allowing soldiers to earn course credits for the skills they've learned in service that are recognized by schools in the civilian world).
Gazette: What about those new uniforms?
Dailey: That was one of the fun things: Right at the end, working on the new uniform. Starting next year, all soldiers in the Army will be issued World War II "pinks and greens." Honestly, it was about reconnecting America with the American soldier. I believe we have the second Greatest Generation now, these kids that are coming out of Iraq and Afghanistan. It's fitting that you pay tribute to the Greatest Generation and honor the current generation by going back to what America enjoys seeing a soldier wear. And when Americans connect with our soldiers, I think that's a win-win for everybody.
Gazette: Now that you're (almost) out, what do you think about how America takes care of its veterans?
Dailey: I think we've learned a lot of lessons. I think this war taught us those. I think we made mistakes throughout history … when our veterans came home from Vietnam, and World War I and World War II. We're not perfect, but … they're getting better every day, stronger every day, and they're the best in the world, bar none. I just went through their process to go from Army medicine to the VA, and I was comforted to know I'm going to be taken care of. I take a lot of pride in publicly saying I believe in our Veterans Affairs Association.
Gazette: You've been on "terminal leave" since Aug. 7 and will officially retire at the end of the end of 2019. How's the idea of "retirement" sitting with you?
Dailey: To be very honest, it really hasn't hit me yet. Once you're in the Army 30 years, it takes a little time to get out. I left the position and then still kind of stayed connected with the Army because I had commitments, but I did that silently to give the new Sergeant Major of the Army room. What I do know is that I don't want to change. I don't want to be any different than I was before. I knew I wanted to stay connected with the Army, and having the position with AUSA is giving me this incredible opportunity to work for an organization that's so closely associated with the organization I gave my entire life to.