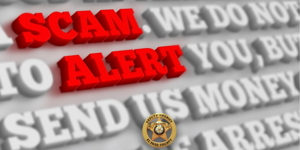 If you get a call from the El Paso County Sheriff's Office about paying a sum of money to prevent legal action against you, be warned: It's a scam.
Authorities said a scammer has called multiple victims about bogus warrants or legal matters, and then threatened them with legal action if they refused to pay or return phone calls.
The scammer has used the name of an actual employee at the Sheriff's Office.
The Sheriff's Office also says that some sophisticated scammers can make a phone call appear to be from a legitimate Sheriff's Office phone number. The practice is called "spoofing."
The Sheriff's Office says they will never call or send texts about active warrants, missed court dates, legal action, or payments for fines.
If you feel you've been the victim of this type of scam, or have information about this latest scam, you can contact the El Paso County Sheriff's Office at 719-390-5555.