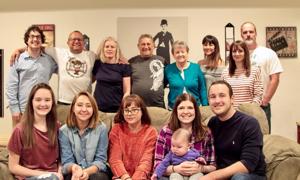 Popular opinion alert. The coronavirus sucks.
In January the pandemic raised eyebrows. In March everyone was stunned by mask and isolation mandates but figured life would go back to normal in a few months. Now, as 2020 draws to a close, we're in a holiday season like no other and it sucks.
Thanksgiving is my favorite holiday. It combines three great things that start with the letter "F" (in no particular order) — food, football and family. For the past two decades I've spent Thanksgiving at my parents' house in Denver and look forward to it every year as I always know what to expect.
My mom will serve about five pounds of shrimp cocktail and I'll eat roughly half. One of my sisters will make deviled eggs and I'll eat roughly half. My wife, who's a pescatarian, will bring a veggie tray. She'll eat roughly half and the rest will get nibbled on. Most of us are stuffed before the turkey hits the dinner table. It is glorious.
Topics of conversation are always a highlight. All of my siblings (I have two sisters and a brother) are pop culture nuts so we'll talk about movies, TV shows, video games, sports, podcasts, music and whatever we think everyone else should be bingeing. Don't get us started on the series finale of "Game of Thrones" and you better have watched the latest episode of the hottest streaming show before you arrive because we're going to spoil it for you if you didn't.
We used to play boardgames on Thanksgiving but that only lasted a for a few years. My family is a hyper competitive bunch. The rules of any and every table top game are followed to the letter, without exception. Debates can get so intense it feels like a Supreme Court justice is needed to make rulings on challenges.
We ended up switching to darts and cornhole instead because the rules are less open to interpretation and if someone gets lippy you always have a weapon.
To keep things light and because I'm the family class clown, I like to bring silly hats and make people pose for photos. The turkey hat is a bit obvious but is always a hit and the dinosaur head makes for some great pics. But since my family are a bunch of nerds, the Yoda hat and Stormtrooper helmet usually get the biggest laughs.
Of course, what would Thanksgiving be without visiting with family you haven't seen in awhile? I love seeing my nieces and nephews and catching up on what they're doing. My kids, a musician and a college student, get peppered with questions as well. Meanwhile my parents soak it all in with smiles on their faces, happy to see their family all in one place.
For all of these reasons, Thanksgiving is my favorite holiday. There's no pressure of gifts. There's just family, food, football and fun. I love it. Which is also why, after getting off the phone with my mom last Friday and telling her that we're not coming up for Thanksgiving, I broke down in tears. There are a number of people in my tight-knit family that are high risk if they get the virus and I wasn't going to put them in danger, neither were my other family members.
To be perfectly frank, I was devastated at first. I couldn't imagine spending one of my favorite days of the year without the people I love the most. Then I had two realizations and felt foolish. First, how selfish am I for feeling this way when so many people have sacrificed and lost so much this year? And second, I'm incredibly lucky.
Being without my family has reminded me of how important they are and how much I love and rely on them. That may sound incredibly obvious but haven't we all learned in 2020 that there are a lot of things we've taken for granted, particularly people? Family, friends and co-workers are people many of us long to see on a day like today.
Just like any family, my tribe may argue, disagree and get annoyed with each other but more often than not, get togethers are filled with laughter and love. So today, on what is hopefully the last day I spend my favorite holiday away from the people I'm closest to, I may be a bit sad but more importantly I'm truly thankful.
Gazette TV critic Terry Terrones is a member of the Television Critics Association and the Critics Choice Association.