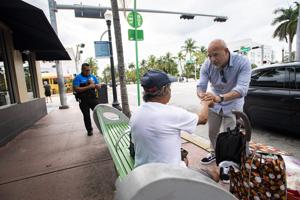 MIAMI — Justin Volpe could hardly believe his eyes.
Strung out and delusional, gripped by a crippling psychosis, Volpe questioned if what he was seeing was real — was a fellow inmate in a Miami-area jail being bludgeoned by jail guards to within a whisper of his life?
"I had enough insight to say this is really happening," Volpe said.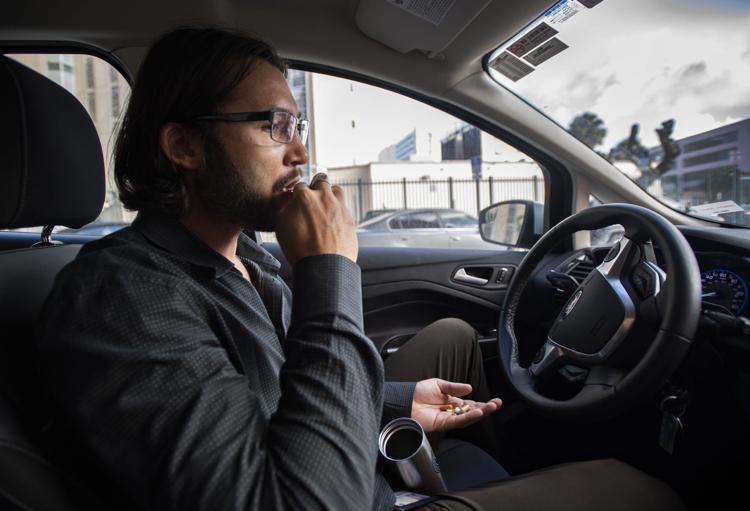 These days, Volpe walks to work across the street from the locale of that hellish scene, the warm ocean breeze caressing a free man.
He's healthy and a married father who benefited from a crusading judge's quest to reimagine the criminal justice system.
And he's among thousands of other mentally-ill Miamians to experience a new form of justice: The decriminalization of mental illness.
Here across sunny South Beach, Little Havana and the rest of sprawling Miami-Dade County exists a program that prioritizes treatment for some of Miami's most mentally ill defendants over plea deals, convictions and extended jail time. In the process, the movement has openly questioned long-established ideas of law and order, the nature of justice and just what obligations society owes the mentally ill.
The overarching principle is that people with mental illnesses are best treated outside of jails and in the surrounding community — often in residential care centers or recovery houses.
"It's an illness — you shouldn't have to take a plea to get help," said Judge Steven Leifman, who started the program in Florida's 11th Judicial Circuit. "And so we find that it's easier to convince people to take treatment if it's voluntary. And we're going to drop their charges.
"Our whole premise is to decriminalize mental illness. And the way you do that is to make sure they don't have a record at the end of the day."
The changes here took root 20 years ago at the behest of a single pioneering judge, Leifman, and a receptive community ready for change.
Despite its glitzy skyscrapers, palm trees, trendy Latin American eateries and miles and miles of soft sandy beaches, thousands of people live homeless here, and serious mental illness remains a vexing issue.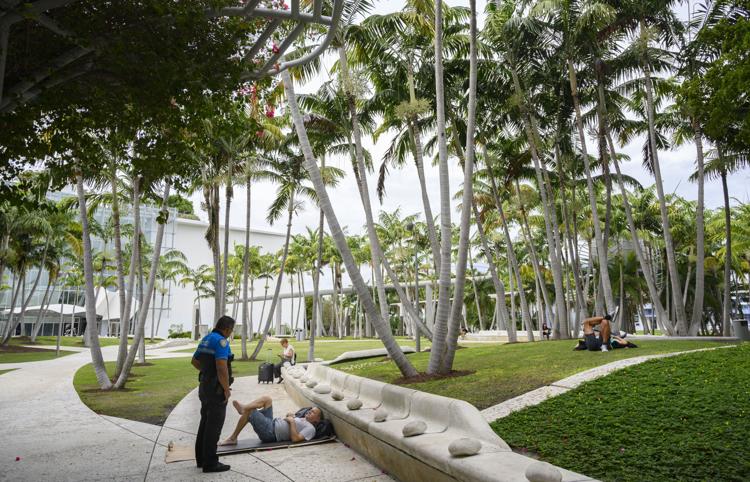 So year after year, leaders of Florida's 11th Judicial Circuit added new programs to create a constellation of services — reorienting the local criminal justice system all the way from line officers on the streets up to the judges adjudicating each arrest.
Here at the 11th Judicial Circuit Criminal Mental Health Project, police are trained to withhold making arrests for crimes that, too often, only affect people experiencing homelessness.
And when mentally ill people are taken into custody — such as in Volpe's case — they're often plucked from jail and given a choice: Keep the status quo and head for trial, or be released to receive housing and treatment, and usually watch those charges get dropped after completing the year-long program, no guilty plea required.
Since its inception in 2000, arrests and jail bookings have dropped. Recidivism is down, and progress is being made on managing state psychiatric hospital admissions for people found mentally incompetent to stand trial.
And that work has sought to bolster a tax-driven effort to curb homelessness — one that's seen the number of people living on the often sweltering streets of Miami-Dade County drop significantly in the last two decades. As a result, only about twice as many people live homeless in Miami-Dade than in El Paso County, despite its overall population being four times larger.
People elsewhere are paying attention.
Police lieutenants, district court judges, psychiatrists and health policy wonks from across the nation routinely fly to Miami-Dade — all seeking to understand what's been implemented here, and if it could work in their own communities.
Mental Health Colorado recently endorsed the "Miami Model" as one possible template for Colorado to follow in its own reforms.
And during a mid-December visit, the leaders of the Caring for Denver Foundation — which was established to fund mental health projects across the city and county of Denver using a recently-passed, quarter-percent sales tax increase — gave the program glowing reviews.
"I was extremely impressed by what they've been able to do in Miami," said Leslie Herod, a Denver state lawmaker and a graduate of Harrison High School in southeast Colorado Springs. "The success that Miami has seen is exactly what we want to see here in Denver. And I think could be replicated throughout the state, especially in our major counties."
All it takes is a willingness to re-imagine a criminal justice system at its most basic levels, Miami-Dade leaders say.
"I find that you can always find reasons not to do something," Leifman said. "So it's about political will, and if you want to do it, you can do it."
The damage of incarceration
The program starts with the premise that mentally ill people are best treated in the community.
Standing outside the back entrance of a Miami-Dade courthouse on a balmy December afternoon, he pointed to the sky. There, in the top floor of that towering building across the street ringed with barbed wire and dotted with reinforced windows, is the "forgotten floor."
It's where Volpe lived for several weeks inside the jail's mental health unit. And it's where several people died mid-2000s.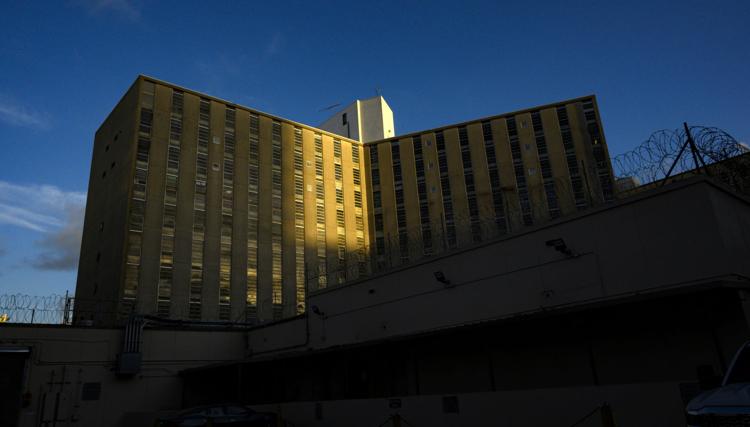 A three-year U.S. Department of Justice investigation later found "chaotic, crowded, foul-smelling, depressing and unacceptable" conditions in the Miami facility, with inmates repeatedly beaten by jail guards, who also were found to be encouraging fights between inmates.
For Volpe, living inside those walls caused his mind to reel. The guards made matters exponentially worse — constantly shouting at inmates, among the city's most mentally ill.
Then there was the day he saw the inmate at close hand being nearly beaten to death.
"And they would just scream all the time," Volpe said. "They beat this guy so hard that man, he just pleaded for his life right next to me.
"I was delusional, so I'm not well — I'm in a psychotic state — and I'm like, 'Where the hell am I? What's going on?'"
In that environment, it's easy to imagine the harms that incarceration poses to the mentally ill mind, he says.
But it doesn't take a gang of abusive jail guards to further damage a mentally ill person.
Research has shown that even a couple days incarcerated in jail can negatively impact people with mental illnesses.
Rather than languish in jail, though, Volpe received a godsend — a chance to leave that cell and get treatment for his illness.
His felony case was dropped down to a misdemeanor. And a judge offered him a choice: Stay in jail or accept outpatient treatment elsewhere under court supervision while living in a recovery house.
He would later have to plead guilty to a misdemeanor charge — meaning his case would be more unique. While some people still have to plead guilty to the charges they face, most see their cases dismissed after completing the program, without ever having to enter a plea.
But Volpe wouldn't need to find a psychiatrist or even a place to live — the court would take care of that for him.
The choice wasn't difficult at all, Volpe said.
Volpe found himself saved by a program that stretches across Miami's public safety net.
First, newly-booked inmates undergo multiple screenings for mental illness — the results of which are shared with court staffers who flag their cases for follow-up.
Then, working with prosecutors and public defenders, inmates are plucked from jail and placed on a special docket — one overseen by judges specially trained to handle mentally-ill defendants.
Finally, the defendants are asked if they want to participate in a program that allows their case to be placed on hold while they are released from jail. Usually, no guilty pleas are entered — it's as if their criminal cases are frozen in time.
Rather, the court sets them up with mental health treatment, and even a place to live — typically at residential treatment centers or other types of supportive housing. Sometimes, defendants can even live in their own apartments or with family.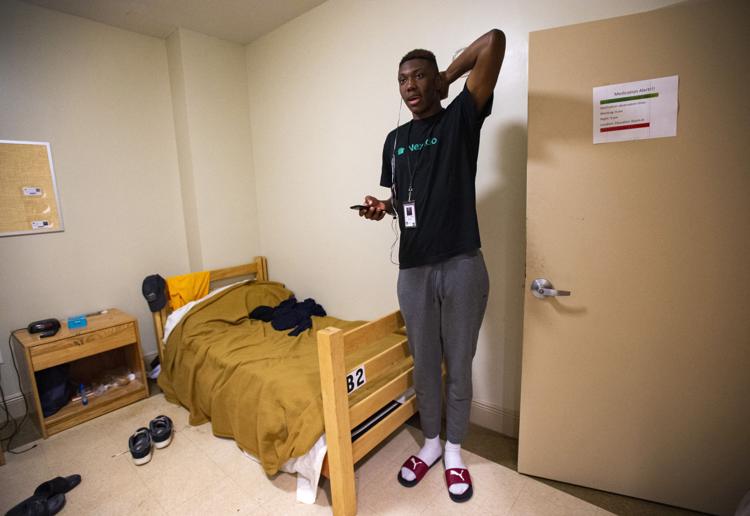 The treatment plans last a year. And at the end, charges are either downgraded or, more often, dropped.
"Our basic philosophy is recovery," said Cindy Schwartz, project director of the jail diversion program. "People can and do recover, given the appropriate supports."
The program started small — at first, only admitting people facing low-level misdemeanors.
But then it grew to include all misdemeanor cases, except traffic cases. And then lower-level felony cases, which require the victim's approval for defendants to participate.
It has since garnered praise from Miami-Dade's top prosecutor and its top public defender, as well as mental health advocacy groups in the area.
Since the program's inception in 2000, more than 5,000 people have been enrolled. Of that number, about 71 percent were arrested on suspicion of misdemeanor charges, and the rest on felonies.
The key is getting inmates to agree to the program. Participation is voluntary because defendants must waive their right to speedy trial.
On a recent December morning, one judge — his eyes riveted on the defendant — held up one finger in each hand. Two choices. Pick one.
"Like I said, I haven't been taking my medications, so I can't really talk," said a balding man in a maroon jail jumpsuit, his hands handcuffed to a chain around his waist.
No, the judge said, those two fingers still in the air. You go to trial, or you get help. Time to make a decision.
The man wavered, his mind sifting through the options. There was silence — the shuffling of people in and out of the courtroom, but no words.
"I'll take the program for now," the handcuffed man said.
For judges, the regimen calls not only for a saintly patience but has also meant submitting to a complete cultural shift. No longer are judges so independent, said Lourdes Simon, 11th Judicial Circuit judge, who presides over a felony docket for the program.
Rather, judges here have to feel like they're on a team with one goal: Ensuring people get the help they need, so they don't return on new charges.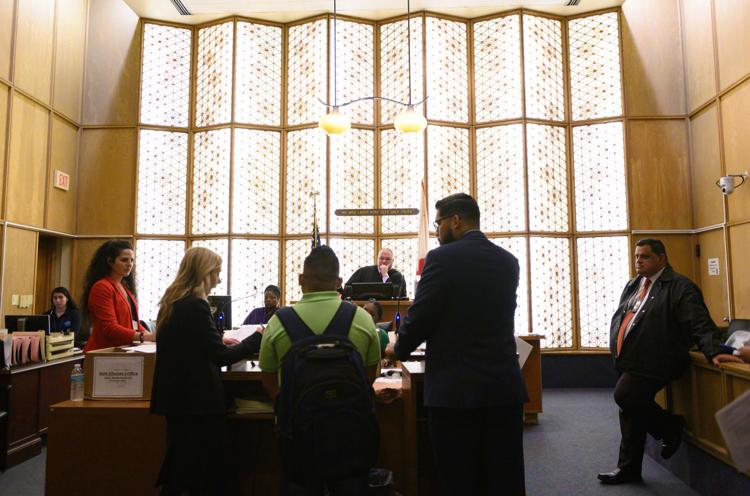 "It's like you're all working together, and that's very rare, especially in the criminal justice system," Simon said. "It's not the adversarial system that we're used to."
Simon said she tries to spend five to seven minutes with each defendant.
"If you just dismiss them in two minutes, even if it's just to say 'Congratulations, you're doing great, wonderful, see you next week,' it doesn't really take effect. You have to engage with them."
Better yet, program leaders say, is to avoid arrest altogether.
After all, that's where the most good can be done at the cheapest cost.
Officers patrolling popular Ocean Avenue and the causeways connecting Miami Beach to Miami's hopping downtown district are given wide discretion on whether to make arrests when mental illness is believed to be a factor.
The program vastly expanded access to crisis intervention team training — a 40-hour class that many experts say is key to increasing empathy among officers for the mentally ill.
Officers are trained on how to respond to people suffering from a psychotic break, when the wrong decision can leave an ill person fatally shot or an officer injured. And officers are trained on the places where officers can divert people facing arrest — such as a crisis stabilization unit — to avoid charges ever being filed.
Some of the three-dozen municipalities in the Miami-Dade County jurisdiction require such crisis intervention training for all of their officers. Others say it's voluntary.
In any case, about 7,000 officers in Miami-Dade have received CIT since 2000, said Habsi Kaba, who coordinates those classes.
One local police department also hired a man who spent 14 years homeless in South Beach to work with their homeless outreach team as a peer specialist — all to help further reduce arrests and improve relations between officers and people living on the streets.
And as a result, combined with reforms at the courthouse, the 11th Judicial Circuit Mental Health Project's results have been eye-catching, mental health advocates say.
Arrests declined among people with mental illnesses. For example, only 149 arrests were made during 83,427 calls involving CIT-trained officers in the area's two largest police jurisdictions from 2010 through 2017. And in 56 percent of those calls, officers transported people to crisis centers.
Jail bookings dropped, and the average daily inmate population in Miami-Dade declined by one-third, from 6,373 to 4,225. The change was so dramatic that officials there closed one of their three jails, saving taxpayers about $12 million a year.
It's an astonishing accomplishment, mental health advocates say, considering that many communities — including El Paso County — have struggled with overcrowding in their jails.
And Leifman said he's seen a change in the way officers handle mentally ill suspects.
"It used to be you'd look at the officer wrong and end up in jail," said 11th Circuit Judge Leifman said. "Now, you're the cool officer if you got punched by someone who is psychotic and not arrest."
Many of the reforms are credited to the work of Leifman, and a promise he couldn't keep 20 years ago.
Back then, a Harvard-educated psychiatrist stood before Leifman in a Miami courtroom, facing a low-level misdemeanor charge that had more to do with the man's mental health than a threat to public safety.
He was ill. And he needed help.
But at the bench, despite promising the man's parents that he would try to help him, Leifman found he had few options. He couldn't order the man to accept treatment, nor were any mental health providers standing at the ready to intervene.
Leifman also couldn't jail him, because the man's mental state was so fragile that Florida law mandated he be released. In Florida, people cannot be committed for competency restoration treatment if they're facing misdemeanors. Rather, are released, and if still incompetent to stand trial in a year, charges must be dropped.
"I don't think any of us go into this business or profession to be part of that kind of problem," said Leifman, who speaks with a grandfatherly presence and warm voice. "I didn't fulfill the promise I'd made to his parents. I put him at risk, I put the community at risk. I probably put my job at risk."
The episode left Leifman shaken, and searching for a way to help prevent similar cases.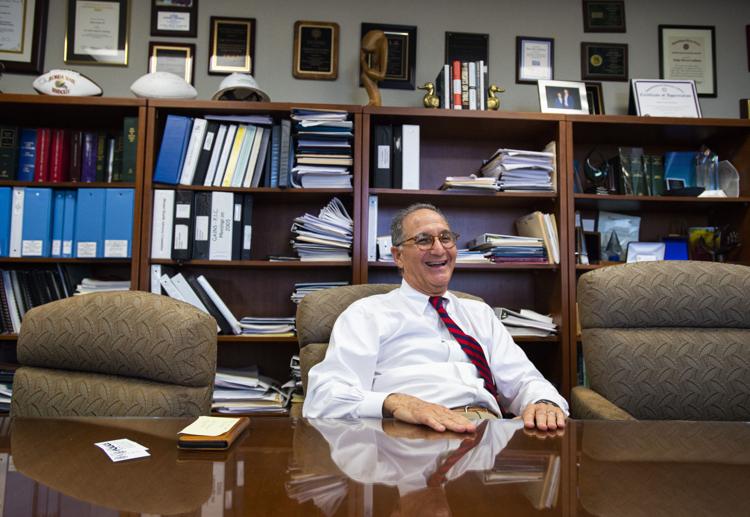 In 2000, he rallied the area's mental health and criminal justice leaders to begin addressing the issue. Jackson Health System — whose flagship hospital stands less than mile from the courthouse — coordinated CIT sessions for free. A local health foundation gave $50,000 to hire the program's first staff member, and Leifman worked with prosecutors and public defenders to better identify mentally ill defendants.
Three years later, the federal Substance Abuse and Mental Health Services Administration awarded Leifman with a three-year $1 million grant to hire more staff at the courthouse to better track ill inmates and expand police training.
When the grant ran out, Miami-Dade County leaders picked up the tab alongside other funders and expanded the program's budget so that it could hire peers and intake assessment specialists to better ferry defendants through the system.
The reason was simple, Leifman says.
"It's almost criminal not to do what we've done," said Leifman. "Because if you're in a position to see what's going on, and don't do something about it, then you become part of the problem."
These days, the walls of his judge's chambers are covered by awards, plaques and certificates of appreciation from organizations across the country. The National Alliance on Mental Illness, the American Psychiatric Association and the Cuban American Bar Association — name the organization, and he's received an award from it.
No one in Leifman's family ever had a diagnosed mental illness. His only previous exposure to the state's mental health care system came when he was 17, when as an intern for a state lawmaker he was forced to visit a state hospital on an errand.
What he saw was "horrifying." On one floor, a man lay restrained on a table in four-point restraints crying for help — his autism mistaken for psychosis.
In the basement, he recalled witnessing seven men lying naked on the floor in their own feces while a hospital worker hosed them off, "washing them down like animals in the zoo."
"We were really in many ways just torturing people with these illnesses," Leifman said. "And the simplest conclusion is that if we treated people with primary health issues the way we treated people with mental illnesses in this country, there would be civil lawsuits and indictments for gross negligence."
But that doesn't have to stay that way, Leifman said.
That's especially true considering that many mentally ill people currently cycling through courtrooms and jails are only there due to their illnesses, he said. And they can't change the system themselves.
"They're not bad — they're sick," Leifman said. "And when you see them get their humanity back, it's the most amazing thing."
Rather than jail, more treatment
Volpe digs into his left pocket and pulls out a lighter and a green pack of cigarettes, the numbers "305" emblazoned on the front — Miami's area code.
Volpe doesn't smoke. He hasn't had a drink in seven years. Or done any other types of drugs in 12 years.
But he still carries this pack of Miami-branded cigarettes for one reason: To build trust.
"I don't do it for everybody — it's not like when you get out of jail, you get a cigarette," Volpe explains. "But it's like some people, you have to have coffee, food and cigarettes ready if you want them to stay with you."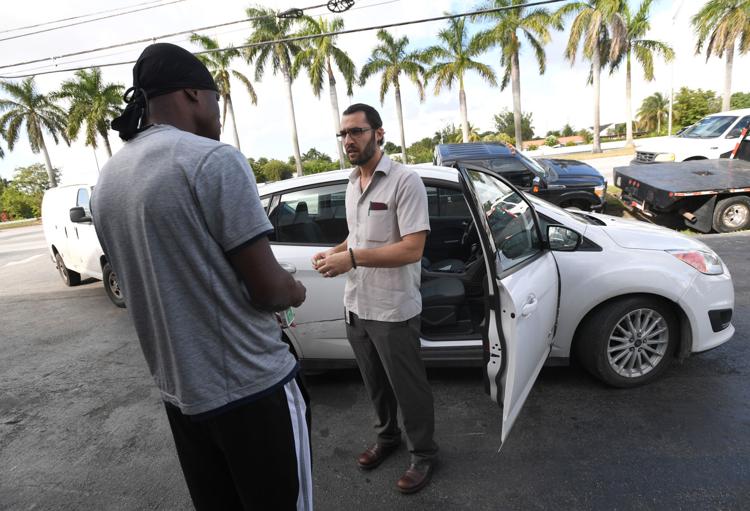 More than 12 years after his traumatic jail stay, Volpe's job is to help other mentally ill defendants spend as little time as possible behind bars — and, on good days, avoid jail altogether.
He's among a cadre of courthouse workers acting as a glue, as a bonding agent between myriad agencies, competing interests and budgetary priorities to ensure mentally ill people spend as little time in jail as possible. Specifically, his job as a peer specialist is to act as a case manager of sorts for defendants and help make sure they get the help they need.
On a recent sunny December afternoon, he tried doing just that.
One of his clients — a muscular Liberian man with a linebacker's body, but a child's mind — just missed a court hearing because his Lyft driver got a flat tire. The absence left him at risk of being sent back to jail, and Volpe's job was to keep that from happening.
Volpe stopped the car at the Stop & Go tire shop where the Lyft driver ended up, and hopped out of the car into the humid, 80-degree heat. Volpe was only a few steps from the Liberian man stranded there when he pulled out those cigarettes, offering a smoke.
"I'm not in no trouble?" the man asked.
"We're going to get it all straightened out," Volpe responded.
Volpe knows from experience. Going through the program 12 years ago helped him sober up. He's now married and has an 8-year-old son.
As a peer specialist, he's helped more than 1,000 people avoid jail, and he's helped trained more than 3,000 local police officers on how to approach mentally ill suspects.
He doesn't like to talk about his own specific mental diagnosis, noting that stigma still reigns heavy over mental illnesses. But he faithfully takes his medications, and uses his own experiences to help others in need.
Much like the Liberian man now sitting in the back seat of Volpe's county owned car.
The next day, the man stood before Judge Joseph Mansfield — driven there not by another Lyft driver, but by Volpe himself.
Moments earlier, a court liaison called the CEO of a local behavioral health clinic — they have each other's cell phone numbers and talk regularly — and straightened out the man's prescription needs.
As a result, he secured admission to a new residential treatment program just before his hearing began.
"Bad things happen to people who live on the streets," Mansfield told the man. "And you seem like a pleasant person, and I don't want that to happen to you."
The judge looked at his paperwork, then back at the man. Concern spread over his face.
Living someplace new can be stressful, the judge said. And with the holidays approaching, there are so many ways to succumb to the anxiety of the season.
"I think the best thing you have going for you is a good positive attitude," Mansfield said. "You just need to keep that positive attitude.
"I wish you good luck," the judge added. "Take care of yourself, OK?"
So today, no one was sent to jail — only to more counseling and care.
The disposition of the case didn't last. A week later, the man was taken back into custody after running afoul of the program at his new home.
It shows that the program "is about accountability — it's not just a get out of jail free card," Volpe said.
But most important, he said, is giving people a chance. Before, they had none.
Many mentally ill become entangled with law enforcement, he said, because they've never had "the opportunity for the right treatment prior to that."