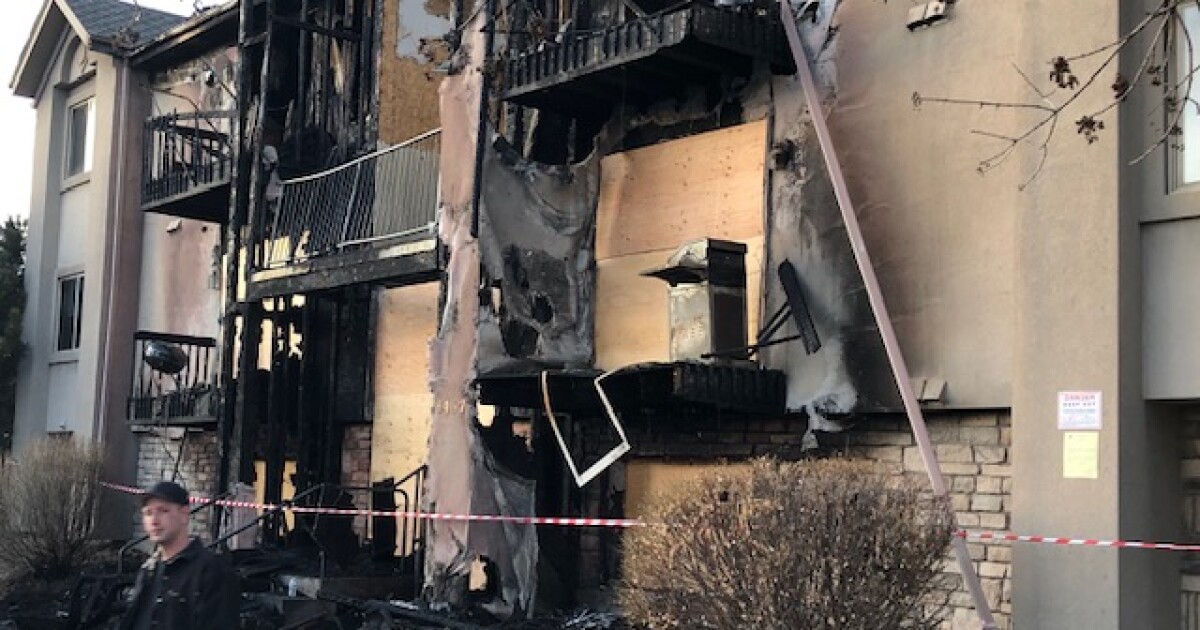 JEFFERSON COUNTY, Colo. – Investigators believe an early morning blaze at a condominium building in unincorporated Jefferson County, was set intentionally.
They say a suspect, 29-year old Alex James Duran, has been arrested, and is being held for investigation of arson and attempted murder.
The cause of the blaze is still under investigation.
Firefighters responded at 1:07 a.m. Saturday to a two-alarm fire at Greystoke Condos, on the 8400 block of South Reed Street.
"The initial call was for smoke investigation," said Connor Wist, of South Metro Fire Rescue.
It ended up being much more than that.
"The building was fully engulfed in flames and some residents were reportedly jumping from windows to escape the fire," Wist said.
Ms. Connor added that radiant heat from the fire scorched several cars nearby and began melting bumpers on vehicles on the other side of the parking lot.
Neighbor Kit Long told Denver7 he woke up when his toddler daughter started getting fussy.
"I heard screaming," he said, "and thought it was an argument, so I sat back down and then I noticed an orange glow out the window."
Long said he ran outside and saw three people on a balcony, the mom asking for help.
"The building was engulfed in flames," he said. "All I could think about was what if that were my daughter trapped up there."
Long said he ran toward the balcony as other people were running from the building.
"They trusted me," he said. "and jumped into my arms."
The fire destroyed a large portion of a stairwell and badly damaged the building.
Nine people were evaluated for smoke inhalation and two were taken to a hospital. One was a firefighter with a minor injury. Residents from six apartments were displaced.
Another neighbor, Derek Slegl, told Denver7 he wondered if something might happen.
"Unit 102 has had a very, very odd orangish-yellow light coming through the windows, all the windows, literally 24 hours a day, for over two weeks." he said.
Slegl added he hadn't seen the owner during that time, until the blaze broke out.
He said the owner ran from the scene as authorities arrived.
"They chased him down," he said.
A third floor resident told Denver7 he called 911 after seeing flames.
"They said it was okay to open a bedroom window," he said, "so I lowered my son down to waiting deputies, then started climbing down myself."
When asked his reaction to losing his home four days before Christmas, he said, "We're alive, that's the best holiday present I could have got."
Wist said 9 people were treated for minor injuries or smoke inhalation, and two people were transported. One of them a firefighter.
She said they'll be okay.
Duran is slated to appear in court at 10 a.m. Monday.