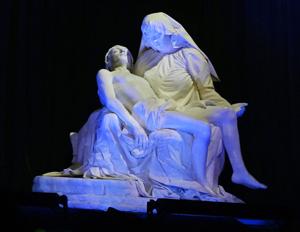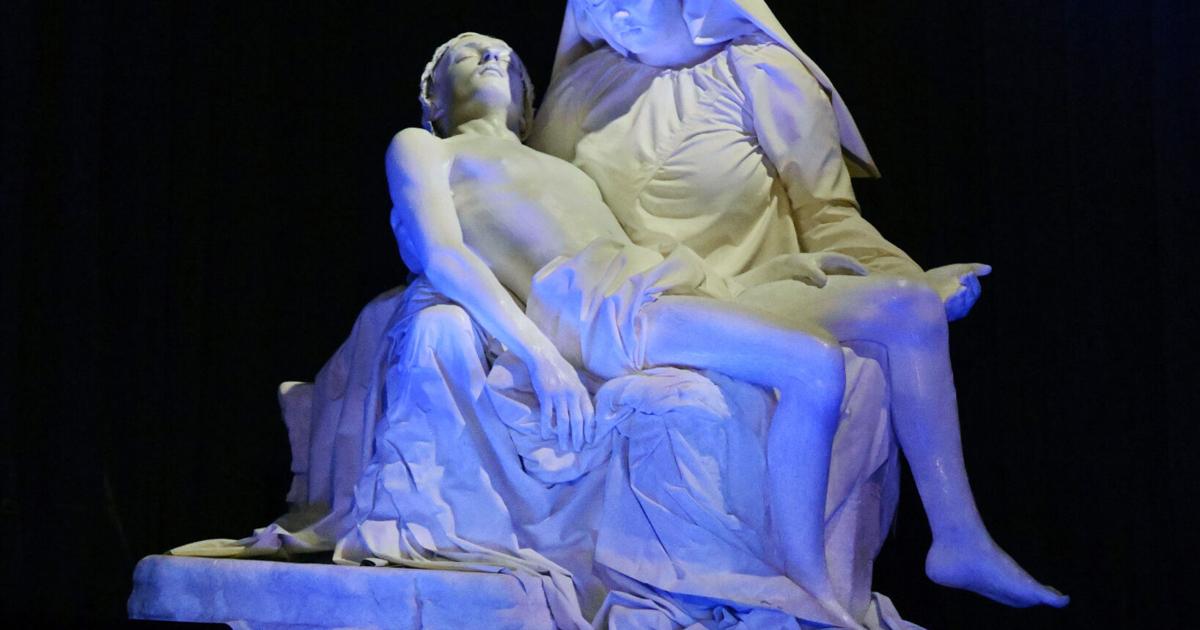 After a three-year hiatus, the Gallery of Living Art at the First Lutheran Church in downtown Colorado Springs returned this weekend, and the hearty community behind the annual event is more excited than ever to deliver the gift of performance to the community.
A cast of 60 performers has been working over the past few months to tell the story of Christ's Passion and Resurrection through life-sized reproductions of 12 sacred works of art, accompanied by narrative scripture and music from the church's choir.
In the spring of 2020, the cast wrapped up dress rehearsals just before the world was shut down by COVID-19.
"When COVID hit in 2020, the stage was up, and because we couldn't gather enough people to take it down safely, over the first two months of the pandemic, different family groups came in, and did scenes to match the gospel. So, when we were doing online worship, we could bring the gallery to the people at home in a safe way," said the Rev. Carrie Baylis, associate pastor at First Lutheran Church. "It really helped us define what our online worship experiences throughout that time would look like."
Three years later, Baylis said that she, along with her congregation is excited to revive the annual event for their congregation and the surrounding community.
"We've looked at it as a gift to the community. We do this offering to honor the life of Jesus amid a chaotic world, so to bring that back for our congregation has kind of been a recentering of our faith," Baylis said. "It's such a long tradition, we don't know what this Lenten season would look like without it."
Baylis said they're expecting roughly 1,000 attendees throughout the weekend, a number that is consistent in performances of the past.
"There wasn't really anything we could do in place of it since it is such a community-driven event," Baylis said.
This year, the Gallery of Living Art involves over 160 members of First Lutheran's congregation made up of cast members, musicians, the choir, and technical crew. For many involved, it's a family affair.
"When we started out, my youngest daughter was 4 years old, and now she's doing costumes, and her daughter's participating," said Cindy Bower, the original creative director for the Gallery of Living Art, dating back to its start in 1995. "It's a spiritual event that just hits your heart. It radiates to everyone in the congregation and everyone that sees it. It's a special feeling, and it's our message of Easter."
For Katie Ackeramn, Bower's daughter, it's the intergenerational "vibe" that keeps her coming back year after year.
"I grew up doing GOLA, and now my daughter's participating. This is a second family to us. We haven't all been together for three years, so it's like you're finally back with your family again." Ackerman said.
Members of the first Lutheran Congregation and community members filed into the pews of the First Lutheran Church's Sanctuary, making for a packed event Saturday afternoon.
As the lights dimmed, and the choir began to sing, a sense of peace, tranquility, and community filled the space. Baylis opened the performance in prayer.
An event seen as a staple in the Colorado Springs community has been resurrected, and within that, a family is reunited.