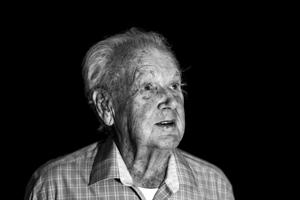 Three days before Ted Langowski was scheduled to report to the Army in 1943, he caught spinal meningitis.
It was about 3 p.m. on a Thursday in April, when he was working in the coal mine with his father in Colorado when he caught the chills, recalled Langowski, now 96. He was carted out of the mine and rushed home to see a doctor, still covered in coal dust.
"I remember real plain. I went to the sink to get a drink of water and I was going blind," he said. After the doctor left the room, he had a seizure and fell unconscious.
He was rushed into a hospital and fell into a coma for four days. He stayed in the hospital for four weeks.
"My father told the sheriff that I was at a hospital because this happened three days before I was supposed to report for induction," he said. "So the sheriff called the hospital to make sure that I was in the hospital, that I wasn't trying to beat the draft."
When Langowski returned home, he was thin and frail, having lost more than 20 pounds from his illness.
Five months later, when he regained his strength, he went back to the mine with his father and was trained in first aid and mine rescue work. Not long after, he received another notice from the draft board that he was wanted for the Army.
In 1944, he reported to Fort Logan, southwest of Denver, for two weeks and then was transferred to Camp Roberts in California.
On a short visit to Los Angeles with his aunt, mother and father, Langowski remembered visiting a temple in Chinatown.
"'Do your wishes come true if you go to the temple and wish right?,'" he recalled asking the man in the temple. "He said, 'If you are sincere in your wish, your wish will come true.'
"So I went in and I prayed. And what I wished was that I would be transferred out of the infantry," he said.
When he returned to the barracks, he found the men he had trained with were gone and headed to Europe. Langowski's wish had come true: he was assigned to a hospital as a medic.
Three weeks later, he was sent to work in a ward for contagious disease such as measles, mumps, chickenpox and meningitis. It wasn't long before he was asked to treat a patient with the same disease that had him bedridden for weeks, and, without hesitation, he refused an order to treat them.
"'He can die as far as I'm concerned because I'm not going close to him,'" he said he told the nurse as she handed him a needle and a vial of penicillin.
He was sent to talk to a captain for refusing an order, but, instead of being reprimanded, he was transferred to the psychiatric ward.
When a soldier came in who refused to speak with any of the doctors, Langowski was called on. He credits his personable nature, but to this day he still doesn't truly know why, when he walked into the room, the man began to talk.
He helped reconnect the injured solider to his mother, who hadn't heard from her son in 2½ years since he left to fight in North Africa.
After another transfer, Langowski became a clerk typist in Ogden, Utah. There, he was promoted to sergeant until he was discharged in April 1946.
He received an associate's degree in engineering, which he would use along with his work ethic gained from his service to become a general superintendent for GE Johnson.
When he returned home, though, he rarely spoke about the war to his family or friends.
"I think what was done, was done. It was all over with. I felt that, they didn't care," he said. "They didn't care what I did. You know, you went in, you did your job. It's all over with. You got a job to do tomorrow, go to work."
But now, more than seven decades later, he sees the value in sharing his story, if someone asks.
"I feel that what I had happen, other people oughta know about it. … I'm not bragging, no way at all, I just want to tell things as they are."
To hear more of Ted Langowski's story and other accounts from World War II veterans in the Pikes Peak region, visit gazette.com/greatest.