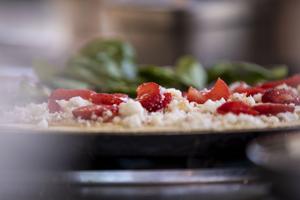 BRECKENRIDGE • If you see a line here on Main Street, clusters of families and hungry skiers off the slopes, it's probably because of crepes.
"Now it's our policy that cashiers have to go out every so often to tell people to socially distance," said Alex LaMarca, the resident king of crepes, one busy day during the COVID-19 pandemic. "Half the people will thank you; the other half will complain. We have to tell them, 'Being 6 feet apart is not gonna make the crepes come out any slower or any faster.'"
LaMarca is owner of Crepes a la Cart, named for the cart-like appearance of the yellow, vintage trailer along Breckenridge's main drag. It stands out among the row of upscale eateries, breaking from the apres glamour.
And longer than they would at some of those fine dining establishments, customers will wait for their crepe. Some are sweet, some savory, all big and filling the belly for breakfast, lunch or dinner.
From the trailer window, "the line can get all the way down the block," LaMarca said. "Upwards of an hour or two hours. That's why the second location really came into effect."
The second location is Crepe Kitchen. Locals know to sneak over to that alley. It's housed in the brick building, in view from the cart.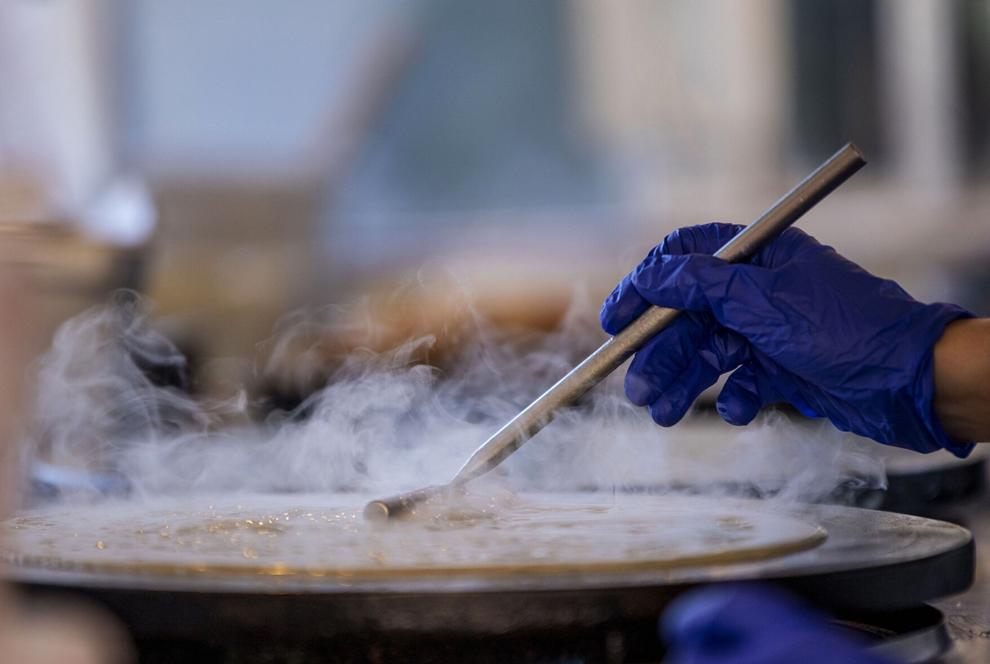 LaMarca opened Crepe Kitchen in 2016, years after his crepe crusade began. He's now into his 40s, but he still often appears like that ski-bumming 20-something at the business's beginnings: a bit disheveled under the ballcap, loose-fitting jeans and T-shirt.
In 1999, LaMarca was taking a break from classes at the University of Colorado to live and work in Breck.
"At that point in time, my mom was like, 'If you're taking time off, you might as well do something with your life,'" he recalled. "Working at the candy shop wasn't quite good enough for her."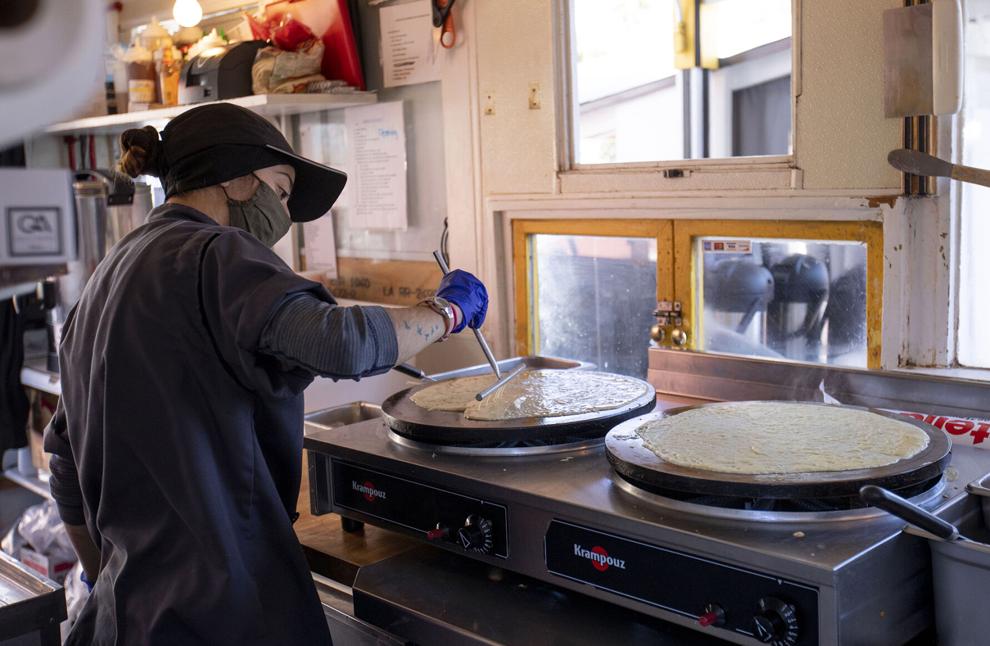 She had an entrepreneurial spirit. She and her husband, an Italian immigrant, owned and operated a successful leather shoe shop on New York City's Madison Avenue while LaMarca was growing up.
The man died when his boy was young.
"It definitely changed things," said LaMarca, who out of high school decided to swap the city for the mountains. "I was definitely always looking for inspiration and role models and stuff like that. I definitely had to depend on myself quite a bit more. … I think that's probably part of the drive I've had to prove it to myself, to my family."
So he did with crepes — perfect for this tourist town, he thought, and perfect for the quirky little trailer right on Main Street. His mom managed the bookkeeping at first, while he developed those skills and more.
"I did a lot of research," he said. "I ate a lot of crepes."
He learned from the best, including in France. He learned American creperies incorrectly used butter substitutes like vegetable oil to save a buck. His would have the real stuff. And they'd be served fresh, hot and slightly crispy.
"Right off the grill makes all the difference," LaMarca said.
Clearly, customers appreciate it. Between the cart and the kitchen, 600 crepes fly every day on average, LaMarca said. That's closer to 1,000 on holiday weekends. And a third location has been in the works. The shop in Silverthorne is sure to bustle with Interstate 70 cravers — as if LaMarca wasn't busy enough.
"I'm just not happy if I'm not being successful," he said.
On the menu
Most popular on the sweet side? "Anything with Nutella," LaMarca said. The standard starts at $8.50, with customers often adding bananas or strawberries.
The strawberry shortcake ($10) is another favorite, the fresh fruit rolled up with angel food cake and Chantilly cream. Kids love the s'mores creation ($9.50), while adults go for the one with brie and apple, complete with toasted almonds and honey ($11.50).
Other breakfast crepes ($12-$16) include the B.E.S.T, a medley of bacon, egg, spinach and tomatoes, and the American Classic, with egg, cheddar and choice of protein. A garden variety is for the vegetarians.
The monte cristo is most popular on the savory side. Among other crepe takes of such classic sandwiches ($12-$16): a chicken florentine, cordon bleu, Philly cheesesteak and smoked salmon club.