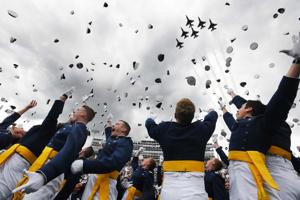 When the class of 2020 graduates from the Air Force Academy on April 18, cadets will get to toss their hats amid the roar of F-16 fighter jets.
The academy, which moved up the graduation by six weeks amid coronavirus, announced Friday that the Air Force Thunderbirds will fly over the graduation ceremony, which is still being planned.
The Thunderbirds have flown over the graduation for generations and only missed one of the ceremonies in the past decade amid budget constraints.
The fly-over is timed so that cadets toss their caps as the jets fly in.
How that will work with social distancing that's designed to slow the spread of coronavirus has yet to be announced.
Last month, the academy sent juniors, sophomores, and freshmen home. The seniors remained on campus in solitary isolation in the dormitories.
After a pair of suicides, the school this week announced it will send the seniors off to the Air Force and Space Force early.
It's the first time an American military academy has graduated a class ahead of schedule since World War II.