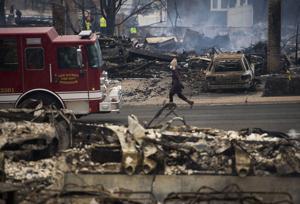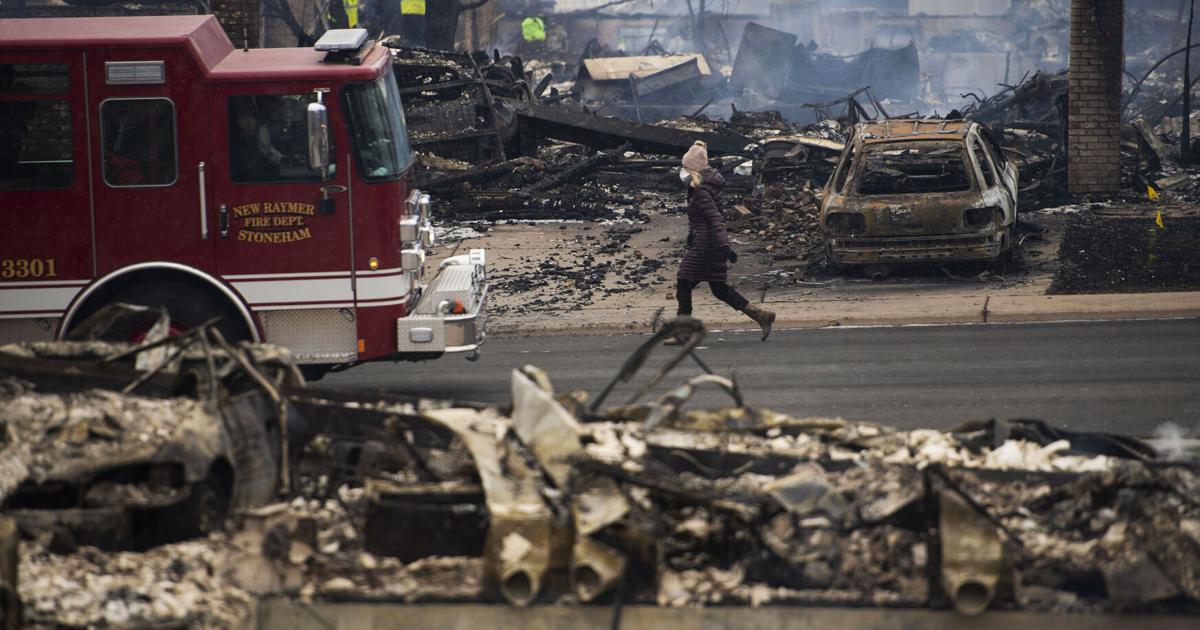 It's 11:30 a.m. on Thursday, and Brenda Leighton is shopping for fireproof cabinets and safes. She'd long debated installing them in her home in Superior. She does not know that roughly 30 minutes ago, a grass fire had ignited and would soon consume her home of 18 years.
"When I went outside, I was freaking out," she said. "It was really bluebird sun on one side, but facing north and towards the Louisville area, it was just billowing smoke, hundreds of feet high.
"And then it just got dark."
Leighton would learn her home had been obliterated at a press conference early Thursday evening, as had hundreds of others in two metro Denver suburban communities. The Marshall fire was small in size but monstrous in its speed and devastation. Hurricane-force winds propelled flames fueled by a dry prairie, primed by a dry early winter. The fire ignited five days after Christmas morning and drove tens of thousands of people from their homes in a matter of hours.
By Saturday morning, snow blanketed the area. Nearly 1,000 homes were confirmed lost a in near-final tally. Three people were missing, all feared dead. The confirmed devastation means the Marshall Fire is the most destructive in Colorado history.
First came the wind. At 7 a.m. Thursday, a high-wind warning goes into effect in Boulder County. Gusts pick up speed as morning passes. Around 8:30 a.m., people in the county begin to lose power.
Just after 10:30 a.m., area fire crews respond to reports of downed powerlines and blown transformers, which had reportedly sparked two grass fires. One was in the 5000 block of North Broadway, the other at North Foothills Highway and Middle Fork Road. Within 15 minutes, the North Broadway fire was 100% contained within an acre. But the Middle Fork fire continued to burn, and Boulder County would soon close portions of U.S. Highway 36.
Another grass fire is reported around 11 a.m., this time at South Foothills Highway and Marshall Road, south of Boulder. The Marshall fire has ignited. Crews respond.
While Leighton shops for fireproof amenities in Superior, Amy and Tom Casey return to their Louisville condo at 11:30 a.m. They'd just finished a workout and planned to take the rest of the day off. Thirty minutes later, thick black smoke is blooming in their yard.
"We couldn't see our clubhouse, which is less than 100 feet away from our complex, and we couldn't see the street, which is less than a football field away," Tom Casey said. "Then I saw some ash jump and two brush fires started outside our condo."
Armed with seven fire extinguishers, Tom and several neighbors rush outside and begin to fight the flames themselves. But they leave within minutes, packing those without cars in alongside them, and drive toward to an evacuation center in Lafayette.
As 100 mph gusts fanned the flames across dry pastures, social media lit up. "The Horse Evacuation Boulder Fort Collins Fire" Facebook group tried to coordinate efforts.
"I need trailer ASAP," one person wrote. "Need help for three more horses NOW!"
"I NEED HELP!" another posted. "Fire close to the barn. Need to evacuate 30 horses now!"
A bit after noon, Leighton's sister, a Louisville resident, calls her, warning her about the approaching smoke. Leighton is out the door within 20 minutes, with a handful of possessions, and onto a road with little visibility.
"I was honking the entire way out," she said, "hoping that people would hear and alert other cars because we couldn't see each other."
Just after 12:15 p.m., the Boulder County Office of Emergency Management urges residents to evacuate if they see fires. In Superior, Kevin Kim watches from his as office as the fire creeps toward the city he's lived in for five years. He heads home, grabs his dogs and some papers, and evacuates.
The first evacuation centers, at the South Boulder Recreation Center and Longmont Senior Centers, open at 12:43 p.m. The recreation center quickly loses power, which wouldn't be restored for hours.
Boulder authorities close Colorado Highway 93 and County Road 170 because of the rushing Marshall fire, which by 1 p.m. had spread to the northwest area of Superior. Evacuation orders are issued first for residents west of McCaslin Boulevard and north of Discovery Parkway. A few minutes later, the entire town is ordered to evacuate, and the fire jumps to the east side of McCaslin.
In Louisville, Chris and Erin Lindsay, along with their small dog Moxie, are preparing to evacuate at 1 p.m. Chris texted his parents, who live in California, for advice on what they needed to take with them.
"They told us to grab the seven Ps: people, pets, plastic — meaning cards and cash — paper, prescriptions, pictures and a personal computer," he said.
The Lindsays are out the door and driving toward Lafayette by 1:30 p.m.
The Boulder County Fairgrounds open as an evacuation center for large animals. East of Boulder, the Spanish Hills South neighborhood catches fire. Meghan Rickel races to her neighborhood, where homes on either side of hers erupt. She saves a dozen horses, including two of her own, Caesar and Breezy. They had been staring through the kitchen window, wondering when someone was going to come get them. She had ridden Caesar during her rodeo career.
"We had to navigate through the fire to get to them," Rickel said. "As we drove away, I saw that the fire was only 45 feet from our house."
By 2 p.m., another evacuation site has opened at the YMCA of Northern Colorado in Lafayette. At 2:17, nearly the entirety of Louisville is ordered to evacuate. A wind gust of 108 mph is recorded in Boulder eight minutes later. The worst winds of the day will last until 3.
Kim, the Superior resident who watched the fire from his office window, watches images of his house on fire. He hasn't received any official confirmation and prepares himself for the worst.
At about the same time, Carol Levine, her husband, two sons and two Goldendoodles arrive at the Southern Boulder Recreation Center. It's their first fire evacuation but not their first disaster: The Levines were in New York City on 9/11 and had been in the path of Hurricane Harvey.
"I'm in shock," Carol Levine said. "I'm in tears, I'm scared and I feel terrible."
At 10 minutes to 3 p.m., parts of Broomfield are placed on pre-evacuation notice. The Marshall Fire ignited roughly four hours ago.
Gov. Jared Polis declares a state of emergency at 3:20, allowing the state to access emergency funds and deploy the Colorado National Guard, the State Emergency Operations Center, and the Colorado Division of Fire Prevention. President Joe Biden would approve a federal disaster declaration Saturday morning, unlocking more money for residents whose homes were charred or torched entirely.
As the towns empty, traffic slows the evacuation. Coming from Louisville, the Lindsays arrive at the YMCA in Lafayette. The drive typically takes them 15 minutes, Chris says. It took nearly an hour and a half this time.
Around 4 p.m., many patients are evacuated from Avista Adventist Hospital, which is near McCaslin Boulevard. Some staff and medical-surgical patients shelter in place. Roughly an hour later, the entire facility is emptied.
Boulder County Sheriff Joe Pelle, flanked by Polis, tells media at 5 p.m. the fire has grown to roughly 1,600 acres and has likely destroyed 580 homes, along with the Element hotel, a Target store in Superior and other businesses. Pelle said early indications pointed to downed power lines igniting the blaze.
It is during this press conference that Leighton learns her home has been destroyed.
By 5:15 p.m., with the fire raging in Louisville and Superior, mandatory evacuation orders are issued for everyone south of U.S. Highway 36 to 112th Avenue and west of Wadsworth, including the Interlocken area of Broomfield. The YMCA, the Northern Boulder Recreation Center and the Rocky Mountain Christian Church are all established as overnight shelters.
"It's what we do," said Jeff Clay, the chief operation officer for the YMCA. "We did it back in the Boulder fires and in 2013 for the floods in Boulder. It's just what we do and it's our mission to serve the community and make sure that we're open to the people that need us."
At 7 p.m., roughly 12 hours after the high-wind warning went into effect, the gusts begin to die down in Boulder County. Mark Smith, assistant football coach for the University of Colorado-Boulder, tweets that his home has been destroyed.
Just before 11 p.m., a boil advisory is issued for Louisville.
By 6 a.m. on New Year's Eve, the Marshall fire had grown to 6,200 acres, more than 10 times the size of the University of Colorado-Boulder's nearby campus. Three hundred evacuees, out of an estimated 35,000 people who fled the area, spent the night in shelters. At least 500 homes have been impacted, a number that is expected to increase.
Wind gusts slow. Evacuation orders for Broomfield are lifted. The sun rises, revealing a devastated Superior as people gather at an overlook on the southern side of the town.
At 8:45 a.m., Colleen Tingle and her family arrive at the overlook, hoping to see if their home of nearly a decade is still standing. The day before, Tingle had been told homes near hers were destroyed. She hadn't slept. Standing above the town, they couldn't see if their home was still there.
"It's a 50-50 chance the house is gone," Tingle said. "We can't get close, and we're left with only our thoughts, and it's making me a nervous wreck. I just want to get in there."
Brittany Fallon of Westminster and a friend arrive at the overlook just before 9 a.m. The home of Fallon's friend, who declined to give her name, had burned down.
Kim is here, too. Despite videos showing flames near his home, it's still there, unscathed.
"The building next to mine is completely gone, but my place is standing right there," he said, pointing at his house in the distance. "Some of our friends sent us pictures and videos that looked like our house was on fire, but it must've been the one in front of ours. I'm really shocked."
Pelle, the sheriff, and Polis hold another press conference at 10 a.m. The Marshall Fire ignited fewer than 24 hours ago. There are at least 2,000 homes in the burn area, at least 500 of which are lost. Pelle said it was "pretty miraculous" that no casualties had been reported.
At 1:18 p.m., the Boulder Office of Emergency Management issues a statement contradicting early reports that the blaze was ignited by downed power lines. The office said Xcel Energy had investigated the area and found downed communication lines, but not power lines.
U.S. Highway 36 is reopened by 2:37 p.m. Friday. At 3, the Boulder County Sheriff's Office announces partial reopenings of some evacuated areas in Superior.
Fifty-six members of the Colorado National Guard are activated to assist with traffic management, and a boil advisory is issued for Superior, the San Souci Mobile Home Park, the East Boulder County Water District and the Eldorado Artesian Spring water users.
Late Friday night, Pelle confirms to 9News that two people are still missing. A spokeswoman said Saturday morning that hundreds of calls were initially received about potentially missing people, and that all of them had been resolved but two.
Hutch Armstrong told 9News that his grandmother, Nadine Turnbull, was one of the missing. She was reported missing after Armstrong's cousin said he couldn't get her out of their home in Old Town Superior.
"They tried to go out the front door with the neighbor," Armstrong said. "It was engulfed. Check the back door; it was engulfed."
Armstrong said his cousin tried to go back for Turnbull, but firefighters pulled her away.
"She says two times she was right behind me — right behind me."
At 2 p.m. Saturday, Pelle told reporters that three people — two in Superior, one in the Marshall area — were still missing and were now feared dead. Their homes had been destroyed, he said, and the snow and debris made it too dangerous for rescue workers. He said cadaver dogs would be brought in.
It felt miraculous, he said, that only three people were missing, and not hundreds.
"I'm grateful for that," he said, "but I'm also extremely sorry for those families. I spoke to a granddaughter this morning, personally. … They're trying to find grandma, and we're trying to find grandma for her. But the conditions don't make that possible to do quickly."
In a count that's "close to final," Pelle said 991 homes were confirmed destroyed in the fire. Five hundred and fifty-three were destroyed in Louisville, with another 45 damaged. Three hundred and thirty-two more were lost in Superior, with 60 damaged. In unincorporated Boulder County, 106 homes were destroyed, and 22 were damaged.
"Also, please be prepared to see your community change in ways that you did not expect," Louisville Police Chief David Hayes said.
Pelle said law enforcement and investigators had found no evidence of downed power lines sparking the blaze. Dozens of tips have come in, he continued, and one led to authorities executing a search warrant at a property in the county. He declined to provide any more details.
Shortly after, the county released a list of structures destroyed and damaged. They included businesses — a massage parlor, a smoking lounge, a Subway. But the list is mostly of homes, a seemingly endless tally of gutted neighborhoods. The shared addresses — numbers 886 to 899 on Larkspur Court, 919 to 934 on St. Andrews Lane — are so complete that it feels like a list of all houses in the area. After nearly every address is printed a singular designation: destroyed.
As she left her home in a cloud of smoke Thursday, Brenda Leighton was emotional. She'd purchased the house 18 years ago. She's still processing everything — where she will go now, what she will do.
"I'm just trying to be objective and not — because I have to keep moving forward, right?" she said. "I have a job. I work from home. It's only me so I'll have to go to work probably on Tuesday because I'm probably on my own. There's nobody else."
The Gazette's Carol McKinley contributed to this report.