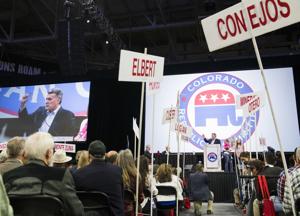 The Republican Party has had a losing streak in Colorado for the past few decades. Democrats have held the governorship here for 38 of the last 46 years.
The Democratic candidate for president has won Colorado's electoral votes for the past three presidential elections. In 2018 the Republicans lost all four major statewide elected offices.
Many voter polls indicate that President Donald Trump and many of his policies are less popular in Colorado than in most states. There is an emerging view that Colorado voting patterns, which had been characterized as "purplish" (a mix of Democratic Blue and Republican red) over the past generation, can now be more accurately described as leaning "bluish."
Three demographic trends pose a challenge for the current right-leaning Colorado Republican Party:
First is that Colorado has an unusually high percentage of voters (40%) who have a college or university bachelor's degree. Colorado is second only to Massachusetts in this regard. We can be certain these well-educated citizens vote in higher percentages than less-educated voters. More important, college and university educated voters are more concerned with issues such as climate change and, regardless of their economic views, more likely to be socially moderate if not liberal on issues such as gay rights and abortion.
Pollsters repeatedly point out the large number of well-educated suburban female voters who are conservative or moderate on fiscal matters but are more progressive on social and environmental issues.
Second is that Colorado is experiencing steady growth in Hispanic heritage voters. They now total 21.5% of the state's population. Colorado's African-American citizens comprise another 4%, and citizens of Asian heritage may soon be 2%. Yet this "minority" population combined will be approaching 30% of Colorado voters during the coming decade.
Minority voters do not necessarily vote in blocs. Yet majorities of them are very concerned with immigration, affordable health care, and broader educational opportunities than are conservative Trump-supporting Republicans.
Third is that Colorado has always been an urban state, thanks to its early history of gold and silver mining in mining towns. But Colorado is becoming even more urban today as population continues to grow in the Denver metropolitan area and on the Front Range. Rural areas remain static or only grow slowly. Both nationwide and in Colorado this urban-rural divide is often increasingly a Democratic/Republican divide. One anomaly in Colorado voting geography, however, is our handful of ski resort counties — Pitkin (Aspen), Eagle (Vail), Summit (Breckenridge, Keystone), San Miguel (Telluride), etc. These are all considered rural counties but are very bluish in their voting.
So as the Denver metro area and the ski counties go electorally, so goes Colorado.
Republicans thus face a major challenge in Colorado. State demographics are working against the Republicans. The state is adding well-educated voters, Hispanic voters, and urban voters just as all three groups are moving toward the Democratic Party.
Most Republicans, technically only about 30% of the registered voters in Colorado, will remain affiliated with the GOP for a variety of reasons. Some dislike the Clintons. Some fear the socialist-leaning "coastal" Democratic Party types that talk in favor of big-spending measures that they fear will hurt the economy and add to the national debt. And most Republicans remain proudly free market capitalists and favor increased military spending.
Yet we know many Republicans who insist that being pro-capitalism should not be equated with isolationism and insensitivity to climate change science and issues of fairness and equality in economic matters. There is a middle ground in American and Colorado politics. On issues of health care affordability and education and responsible alliances with Canada and Europe there is a broad consensus of support.
Plans for reenergizing the Republicans in Colorado will be incomplete without a major attempt to appeal to Hispanic voters. Successful Republicans will have to have sensible plans to accept a pathway to citizenship for "Dreamers" (undocumented immigrants brought into the nation as children) and other long-term taxpaying immigrants. Sen. John McCain, a respected moderate Republican, worked on such plans.
Republicans should consider reframing the President Eisenhower policy strategies of the 1950s when Ike ran and governed as a moderate. He fully embraced foreign aid (the Marshall Plan) and moderate tinkering to improve New Deal programs. His pledge was to manage government more wisely and efficiently than the Democrats could — and to make progress in incremental steps rather than in expensive sweeping reforms.
Colorado has had its share of successful Eisenhower Republicans.
Governors John Love in the 1960s and Bill Owens in the early 2000s and former Sen. Hank Brown as well as former state Attorney General (and current Colorado Springs Mayor) John Suthers strike us as more Eisenhower than Trump.
Staging a party comeback in the Eisenhower moderate mode will not be easy. Powerful ideological forces pull the Republican Party in the direction of being anti-government, anti-globalization, pro-abortion, pro-gun rights, and anti-gay and lesbian rights. Think Ken Buck, Douglas Bruce, and Gordon Klingenchmitt. But, sadly for the GOP, these leaders hold the very issue positions that are driving highly educated voters, Hispanic voters, and urban voters out of the party. Failing to moderate on these issues will make future electoral losses in Colorado inevitable for the GOP. To win will require a Colorado Republican Party that is more moderate on social and affordable health care issues.
The New Year of 2020 will be dominated by Trumpian politics in the Republican Party. But looking ahead to this coming decade, we think Eisenhower style moderation fits the demographic changes — more educated voters, more Hispanic voters, more urban voters — that Republicans must adjust to in Colorado.
Tom Cronin and Bob Loevy write regularly on politics and Colorado.