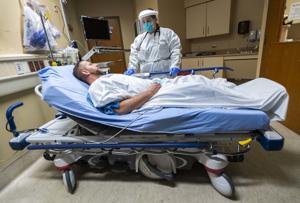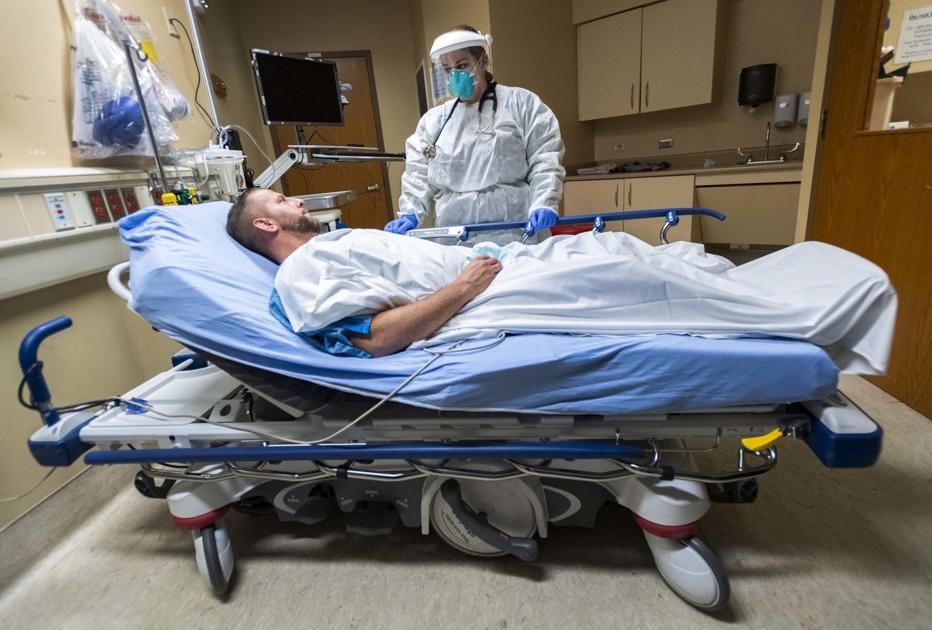 The continued war over Weld County commissioners' defiance of state public health orders took a new turn Tuesday when Longmont Mayor Brian Bagley announced he has begun working on an ordinance that would bar the city's two hospitals — UCHealth Long's Peak and Longmont United — from providing medical services to Weld County residents.
As first reported by the Longmont Times-Call, the ordinance would make it illegal for the hospitals to "provide medical services to any resident of a county or municipality wherein their elected officials have refused to comply with the governor's emergency orders, so long as there is a resident of a county or municipality that does comply with the governor's emergency orders needing access to Longmont hospitals."
In an email sent to the Longmont City Council, the city manager, city attorney and city clerk, Bagley said Weld County hospitals have "nearly reached maximum hospital capacity and yet still continue to ignore the governor's emergency orders."
As of Monday, Weld County's two hospitals — North Colorado Medical Center and UCHealth Greeley, both in Greeley — were down to their last three intensive care unit beds. While the Weld County public health website claims it has access to 43 ICU beds, 40 of those beds are in hospitals in neighboring counties, including Boulder, Larimer, Adams and even Denver.
Bagley said Longmont hospitals could face limited capacity "as a result of Weld County's refusal" to comply with the state orders.
Weld County was moved to "red" level last week, meaning indoor dining at restaurants would have to cease, along with other capacity restrictions at gyms and similar businesses.
Gov. Jared Polis has so far dodged questions from reporters on the options he has to compel Weld County to comply with state public health orders, including in a news conference Tuesday when he was asked three times about what he can do about rogue counties.
Weld County, and its commissioners, have been defiant of public health orders since early on in the pandemic. In July, a concert/bullfighting event was moved to Weld County after Elbert County's public health director would not allow a permit because a prior event had resulted in a COVID-19 outbreak. Weld County has no such restrictions on event size, and an estimated 4,000 to 5,000 people, mostly young and Latino, attended. Weld County sheriff's deputies stood by and watched as the event went on, and Sheriff Steve Ream said his officers had no authority to enforce public health orders. Attorney General Phil Weiser later obtained a cease-and-desist order against the promoter for future events.
Weld County commissioners fired back Tuesday afternoon, claiming that their actions have been misunderstood.
In a statement, the commissioners said the Longmont mayor is taking "a page out of Gov. Polis' playbook by going after working families and compromising the mental well-being of the people who live in his community. The answer to this pandemic is not solely to close down small businesses the week of Thanksgiving; it is not to continually punish working-class families or the individuals who bag your groceries, wait on you in restaurants, deliver food to your home while you watch Netflix and chill; and it is certainly not to illegally deny health care to residents. But that is what this simple mayor wants to do."
"Weld County's statement about promoting personal responsibility and not enforcing mandates has been woefully misunderstood by those living in fear and wishing to be governed by intimidation. Weld County is not an 'anything goes' county, it is a 'make the best decisions for yourself and your business' county, because we trust our residents to do what is best for themselves, their families, their businesses and their community. If the mandates put in place months ago worked, why are the numbers going up all along the Front Range? Mayor Bagley is looking for someone/something to blame. Hear this: Weld County is not the problem."
According to the most recent CDPHE outbreak data, there are 30 active outbreaks in Weld County, with 415 positive or presumed positive cases among facilities such as nursing homes and schools, and seven deaths. An additional 42 outbreaks in Weld County are listed as resolved, which resulted in 915 cases of COVID-19 and 66 deaths.
According to CDPHE data, Weld County, population 324,492, has had 1,281 new cases of COVID-19 in the past two weeks, with a positivity rate of 16.4%.
Boulder County, population 326,196, and where Longmont is located, has reported 874 new cases in the past two weeks and has a positivity rate of 7.6%.
Larimer County, population 356,899, has reported 906 new cases and has a positivity rate of 12.3%, according to CDPHE data.
While well-intentioned, Bagley's idea could put Longmont hospitals at odds with federal law, according to Julie Lonborg, vice president of the Colorado Hospital Association.
The federal Emergency Medical Treatment and Labor Act "promises patients that when they go to hospitals, they are guaranteed a medical screening exam and treatment," Lonborg said.
"We appreciate the message the mayor is sending to neighboring community, this could bump up against that federal law," she said. "Our hospital workers get up and go to work to care for patients and that's what they're going to do. They will not risk a federal law violation. More importantly, it further divides our community when we need to be working together to stop the spread of the virus.
"Our health care system depends on it."
Through a spokesman, Polis said "you're either on the side of the virus or on the side of Coloradans. Deadly COVID cases are spiraling out of control statewide and we must do better. There are only three ICU beds left open in the county. To undermine — with no real authority — the state's efforts to save lives ultimately amounts to dangerous freeloading and jeopardizes lives, small businesses and jobs."