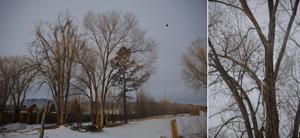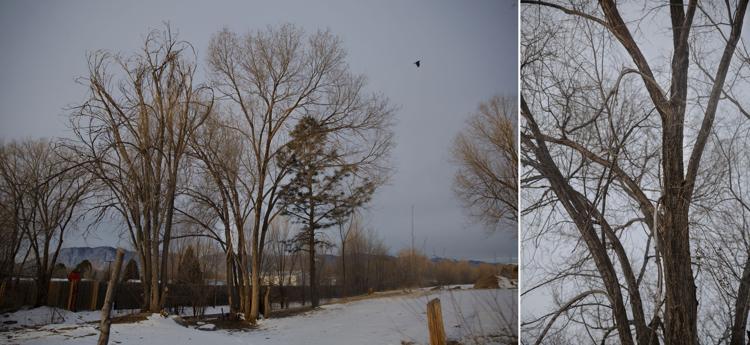 Editor's note: "Where the homeless die" was produced in cooperation with the El Paso County Coroner's Office and examines the date, place and manner of death of those who died while homeless. This survey of an 18-month period is believed to be the most thorough accounting ever of the death toll of homelessness in the county.
A month after Halloween, it loomed high in a tree like a wind-blown yard decoration, catching the eyes of two teenagers playing along the banks of Sand Creek.
What else could it be? Why would anyone haul a mannequin up there?
But inching closer, craning their necks skyward, they faced a dread realization. Tangled in the tree branches was a woman, wearing a black tank top and patterned yoga pants extending down past her knees to a couple of swollen, blackened ankles.
A tattered black and pink sock covered one foot. The other hung bare.
In the dried leaves beneath her lay a syringe.
The scene was almost incomprehensible, but death among the homeless across El Paso County is commonplace, occurring every six or seven days. Collectively, the deaths provide snapshots of lives cut short by suicide, drug overdose, exposure to the elements, unexplained violence and chronic, untreated health ailments.
Click on the link to go to an interactive map that you can zoom in and click through to get a glimpse of the homeless people who died between …
Sixty-one people died while homeless at or near the time of their deaths in 2018, and 26 more died during the first half of 2019, according to the most recent data from the El Paso County Coroner's Office.
They were found dying or dead in fields.
In a fast-food restaurant.
In street or highway intersections or on roadways.
And, in the case of Robin Brown, desolate as a scarecrow high in a tree.
Taken together, those 87 deaths amount to the most thorough accounting ever of the death toll of homelessness here at the foot of Pikes Peak.
"These are the areas where we collectively have failed," El Paso County Coroner Leon Kelly said. "What we can do, though, is we can take those scenarios — the ones where everything went wrong — and use that lens to focus on those who are still out there on the streets.
"What can we learn from those people that can help us improve the lives of the folks who are still homeless?"
In nearly every instance — from accidents, natural causes or by the hands of another person — they died as they lived: anonymously. To most of us, they were simply nameless, faceless.
Brown, for example, had lived in Colorado for more than 10 years, Kelly said.
Her mother heard from her monthly, and when Brown called, it was usually from a different number.
Her mother thought she was living in an apartment, Kelly said. She was known to have a history of seeking refuge inside at least one Colorado Springs homeless shelter.
She was 47 when those teenagers happened upon her body.
High on methamphetamine, Brown appeared to have shimmied her way up the tree. This was no majestic oak, with branches like stair steps leading to the top. She must have been frenzied to get up there.
Struggling skyward, she scratched her shins and wore away holes in her one remaining sock, right down to the callouses of her feet.
That's where she died, straddling a split in the tree's trunk, her head bowed to one side and her blonde hair waving in the bone-chilling breeze.
Like so many others, she died alone.
No one knows the exact death toll of homelessness, here or in any other American city.
Dozens of the dead were only discovered when other people — dog walkers, motel maids, security guards — stumbled across their bodies in various states, some frozen or decomposing. One man on the list had been reduced to skeletal remains, his flesh picked at by passing animals.
Fewer than three of five people identified as homeless by the Coroner's Office checked in to an emergency shelter, according to the Pikes Peak Continuum of Care, a coalition of nonprofits and agencies focused on homelessness.
Slightly less than half stayed a night at the Salvation Army's R.J. Montgomery shelter.
And just more than a third sought refuge overnight at the Springs Rescue Mission's shelter — the city's largest and fastest-growing place to stay indoors.
"I would say that the numbers that we're talking about are a drastic under-representation of people who are dying every year in the greater Pikes Peak region as a result of a bout … or long-term homelessness," said Kristy Milligan, CEO of Westside CARES.
Kelly, the coroner, acknowledged that tracking the region's death toll from homelessness remains a work in progress.
In some cases, relatives of the deceased told the Coroner's Office that their loved ones were living homeless. In others, the Coroner's Office relied on the Colorado Springs Police Department's Homeless Outreach Team or hospital workers who had previously treated them and noted them as transients.
Sometimes, they didn't have a permanent address, and no known family to handle their remains, sending them for burial in a common grave. Their meager belongings were transferred to the El Paso County Public Administrator, whose job it is to sell them or destroy them when those possessions go unclaimed.
As with any effort to document homelessness, Kelly's list is incomplete.
Absent was Terry West, a homeless man who died June 27 in the El Paso County jail of a bleeding stomach ulcer. Caseworkers at the Springs Rescue Mission and Westside CARES also identified multiple other people who escaped notice by the Coroner's Office and whose bodies were not brought in for autopsies.
One man on the coroner's list, Paul Gabrielson, moved into an apartment two or three days before his death in December 2018, after having spent years on the streets across downtown and the city's west side. He overdosed on heroin.
Even defining homelessness can be difficult.
Separate agencies within the federal government characterize it differently. The Department of Housing and Urban Development counts the homeless as people living in shelters, camps or vehicles. The Department of Education includes those living in motels or temporarily with friends "couch surfing."
For example, using HUD's criteria, volunteers counted 1,551 homeless people in El Paso County in January 2019, according to the most recently released data.
But by the U.S. Department of Education's definition, more than 2,140 children were considered homeless in the county during the 2017-18 school year.
Kelly used the latter, more inclusive definition of homelessness — painting a broader picture of what it can mean to live and die homeless in Colorado Springs.
"It reminds you that 'homeless' — in quotation marks — are just regular people whose lives have taken a very, very bad turn for numerous reasons," Kelly said. "As most of us go about our days downtown, or go to restaurants or go from one meeting to another, we see them everywhere. And they're the easiest group to pretend like they're not there.
"You have to tell those stories to remind yourself that these are real people."
'The worst kind of death'
Sifting through the dozens of names reveals a mosaic of personalities and experiences, often tied together by isolation, poverty and the stigma that accompanies life without a permanent home.
Homeless people live nearer to death than the rest of society, often by decades.
The oldest person on the list, Bonnie Todd, was 77. The youngest, Sophia Fundora, died a couple of months past her first birthday.
Most were white men in their late 40s and early 50s.
And their deaths came year-round, no matter the weather.
Heart disease killed at least 14 homeless people, and it contributed to the deaths of several others during that time. Eating healthy is difficult. Few have the energy for exercise. Storing and protecting medications from theft and the elements can be difficult, if not impossible.
At least one-third of the deaths were from drug overdoses, nearly every single time from methamphetamine. Sometimes, people also used heroin, fentanyl or cocaine.
Ten died crossing the street, usually illegally.
Yet fewer people than might be expected died from homicide or from hypothermia. Six people were fatally shot, stabbed or beaten to death. Four people froze to death, sometimes after passing out while drinking or using drugs.
In almost every case, they died alone.
The obvious answer to this body count is to provide housing, said Steve Berg, vice president for programs and policy at the National Alliance to End Homelessness.
"Dying while you're living outside — there are good deaths and there are bad deaths, and that's the worst kind of death," Berg said. "And like everything else about homelessness, the solution is fairly simple and straightforward. We just have to do it."
Some nonprofit and city officials pointed to added shelter space and the construction of multiple new apartment complexes catering to homeless people — one completed, another on the way — as signs that the city is working to address the issue.
"I hope that we never get to a place in our community where we accept even one person dying outside," said Andrew Phelps, the city's homelessness prevention and response coordinator. "But again, I think that the numerous reasons for people dying outside in our community — be it overdoses, suicide, exposure — really underscores how complicated homelessness is in our community."
Several of those trends mirrored the situation in Denver, which also tallies its death toll from homelessness.
At least 172 homeless people died there in 2019, and 233 people died the year before. Unlike El Paso County, Denver's count — compiled by the Denver-based Colorado Coalition for the Homeless — doesn't always count people living in motels or while couch-surfing.
"What it says to me is this crisis is not just in the Denver metro area," said Cathy Alderman, the Denver nonprofit's spokeswoman, referring to the El Paso County death toll. "Probably, if we were able to track this number statewide, I think we would all have our eyebrows raised a little higher."
If there is an overarching theme in the drumbeat of homeless deaths, it's the seeming inevitability.
"The number of times my investigators contact that family and their response is, 'I was waiting for this phone call. I knew it was coming — at some point or another, it was coming,' " Kelly said.
She was the mother of a man named Aaron Gray, 25. And she feared her son was going to die.
"Every day before he died, I just worried," Trujillo said. "It was a constant worry. Like you know this is a real possibility, you know, that they're going to die. Either from being outside and something happening to them or from the drugs themselves."
Homeless for most of his brief adult life, Gray struggled with addiction.
He was a bright boy, his mother said, playing T-ball and skateboarding. But he started to drift in high school. And when he was 18, he moved from Murfreesboro, Tenn., to Colorado to be closer to his father and the other side of the family.
Five or six years ago, after the death of a beloved uncle, the family discovered Gray was using heroin. He began bouncing around houses, living homeless for intervals before finding a new place to crash.
Trujillo moved to Colorado Springs to try to help Gray kick his habit — offering to let him stay at her place. But he wasn't allowed to bring drugs into the house — a sticking point.
Still, she'd go to the store and buy him supplies to survive outside, wanting to do what she could to help him survive just a little longer. And she'd get texts from him in the middle of the night: "I'm sleeping by a dumpster right now, and I can't even sleep right now because I'm scared."
"It's a very helpless feeling, when you know your family member has this addiction and you can't do anything," Trujillo said. "He would say he's going to rehab and he wants to get his life together, and he'd change his mind. Or other times, he'd say, 'It's OK, it's not an issue.'
"There's nothing you can do unless that person wants to help themselves."
Lately, it seemed as if he did.
He'd just gotten a job at Taco Bell. And he was going to fly to Florida and leave the scene in Colorado Springs — those bad influences, those demons tempting him with another hit of "the clear," as meth is called on the streets.
"He told me a week and a half or two weeks before he died, he said, 'No, mom, I hate it. I hate this, I hate living like this.' "
He died a few days before his flight.
His last breath came on a mattress in the back of his friend's SUV — his hand cradling an empty syringe.
For all the gaps in the data, for all the problems tabulating the bodies, Kelly hopes understanding each person's story leads to solutions.
"My job is to identify problems and get that to the people who are smarter than me to help figure out how it happens," Kelly said. "We don't have a magic wand to fix it. We don't have unlimited funds to deal with it.
"We have to be smart about how we approach it, and this data helps drive that."