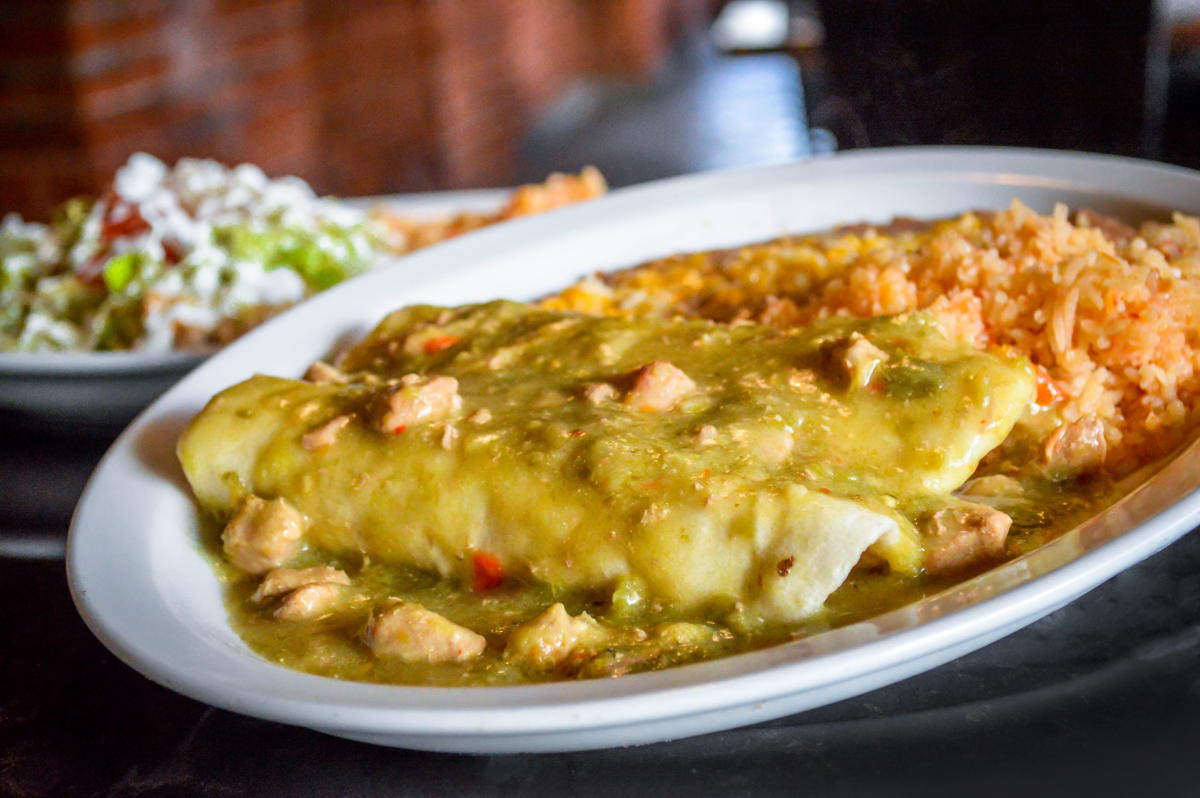 Coloradans are typically a pretty laid-back bunch. But if you want to spark a spirited debate, ask one where to find the city's best green chile.
For those of us weaned on green chile, it's a hotly contested question.
First off, there's the spelling: chile or chili? Can the two be used interchangeably, or is there a difference? Popular consensus maintains that chile with an "e" refers to a sauce made from chile peppers, while chili with an "i" points to the meaty brick red stew typically cooked with beef, jalapeños, onions and spices. That said, you'll see it spelled both ways — sometimes even on the same menu.
Next up: New Mexico or Colorado green chile? This perpetually fires up a fervent dispute. New Mexico green chile favors roasted Hatch green chilies, a smoky chile harvested in the Hatch Valley in New Mexico. Coloradans are partial to Pueblo chiles, which are typically hotter and bolder in flavor. New Mexico green chile incorporates little more than chopped Hatch chiles, water, garlic, salt and a bit of flour or masa for thickening; potatoes sometimes make an appearance, too. Colorado green chile is most often spotted with pork and occasionally stewed with tomatoes and tomatillos.
Predictably, there's a deep divide along state lines as to which green chile reigns supreme.
Since this is The Mile High City, we're obviously partial to Colorado-style green chile. But, honestly, we're happy to inhale the transportive elixir no matter how it's served.
10 PLACES TO TRY GREEN CHILE IN DENVER
Long before taco trucks, taquerias and swanky taco temples, there was La Loma, a hallelujah of Colorado-style green chile, gigantic margaritas, nachos and fajitas. Since its inception in the 1970s, the restaurant has occupied three different locations, including its current residence in the heart of downtown Denver. But the green chile, a longstanding family recipe that's earthy, thick and slightly sweet, has remained (thankfully) unchanged. Smother it on burritos, flautas or the delicious mini chile rellenos, hot, crisp-crusted and pouched with gooey cheese.
"For truly amazing flavors, El Taco de Mexico is a must," wrote "Bizarre Foods" host Andrew Zimmern, who visited the iconic Art District on Santa Fe taco joint during a stopover in The Mile High City nearly a decade ago. The revered restaurant recently received a 2020 America's Classic Award from the James Beard Foundation. Locals, chefs and in-the-know out-of-towners line up morning, noon and night for the voluptuous chile relleno burrito smothered with a mind-blowingly good chile verde aromatic with garlic, tomatillos, spices and pork fat. Make no mistake: It's a dive with a yellow Formica counter and tattered booths, but it's also the best place in town to subscribe to Denver's unofficial green chile club.
With multiple locations scattered across the city, you're never too far from a Santiago's. And that's a good thing, because this local Mexican chain is a fan favorite, especially when it comes to its Colorado-style green chile. Available in mild, hot and half and half (medium), Santiago's savory sauce is punched with green chiles and jalapeno peppers, tomatoes and pork. The green chile-blanketed breakfast burritos have generated a cult following (the lines are proof of their popularity), but the tamales, chile rellenos and enchiladas all benefit from a thump of the joint's time-honored green sauce.
Channeling the Baja region of California, North County, a jovial spot in Lowry, turns out memorable south-of-the-border staples, but its green chile, a simmered stew of roasted Hatch green chiles, garlic, tender pork and masa, which acts as a thickener, is absolutely terrific. Smother it on fries, nachos, the mammoth California burrito or swish a flour tortilla through a large bowl of the chile-laced verde.
The union of tacos, tortas and pupusas absorb the menu at Uno Mas Taqueria Y Cantina, a duo of festive taquerias with outposts in Platt Park and Alamo Placita. Owner Patrick Mangold-White subscribes to a garden-to-plate/farm-to-table philosophy, unearthing seasonal produce from his own gardens, greenhouse and farmland and sourcing his chicken, pork and beef from Colorado farmers. The pork belly tacos, rubbed with coffee and ancho chiles, will dare you to order another, while the green chile, spotted with pork, roasted Serrano peppers, tart tomatillos, garlic and tomatoes, composes a tasty bowl that's equally delicious cascading over a chicken burrito. A litany of craft beers and a collection of more than 70 tequilas provides requisite lubrication.
The Breakfast Queen is an unlikely triumph, in part because of its location on a stretch of South Broadway. It occupies the space of the former Englewood Theater—the city's first moving picture cinema—still channels the diners of yesteryear, a time warp that resonates with everyone from hungover hipsters to suits and bartenders with bold names. They come for plump pancakes and massive breakfast skillets, housemade chile rellenos, huge salads and sandwiches fit for sumo wrestlers. And they come for the excellent green chile, a semi-thick concoction of pork, green chiles, fire-roasted jalapenos, cumin, garlic and tomatoes.
In the 30 or so years it's been open, Tacos Jalisco has positioned itself as one of the most essential restaurants in Berkeley, a casual hangout for local families, a place where couples can sip cerveza or margaritas and share a sizzling molcajete heaped with various grilled meats, chiles and molten Mexican cheese, a joint that's renowned for its collection of housemade salsas, which seesaw from mild to incendiary. It's also one of the northside restaurants most likely to be in your green chile rotation. Punctuated with tender chunks of pork, spiced with cumin and vibrantly flavored with vegetal green chiles from New Mexico, it's a semi-thick, crave-worthy preparation that slowly flares, its burn strengthening as it tiptoes into your belly.
El TEJADO
El Tejado, a low-pressure joint with a hazy view of the cars whizzing down South Broadway and a menu stamped with jumbo-size margaritas and dishes representative of the United States of Mexican food, is emblematic of Denver's mad crush on green chile. Punctuated with pork, forcefully flavored with spices and seething with chiles (especially the hot version), it's the kind of intoxicating green chile that you want to inhale. And it's splashed on just about everything, including the two-fisted, tortilla-wrapped Mexican burger.
HOJA
Bright white walls strewn with cactus paddles and shelves propped with potted foliage and cookbooks intersect with a modern vibe at this daytime cookery in Platt Park that focuses on vegetable-leaning plates, most of which have a Mexican spin. The exhibition kitchen turns out quesadillas enveloping jackfruit chorizo and shaved vegetables, pozole studded with pork and a duo of delicious egg-stuffed burritos cloaked in a bracing sauce laced with tomatoes, garlic, cumin, oregano and poblano, guajillo and Hatch green chiles.
MARQUEZ FOOD
If you're wandering around downtown Denver and hit a human traffic jam at the corner of 17th and Blake Streets, it's likely because of Marquez Food, a taco and burrito cart that's become Downtown's culinary symbol of Mexican street food. The cash-only operation churns out softened tacos garnished with cilantro, onion, lime wedges and a splash of green salsa, as well as breakfast burritos swelled with eggs, chorizo, ham and potatoes among other things. At some point during the ordering process, you start to realize that you can't forgo the green chile, a fearsome sauce pungent with charred and blistered peppers, garlic, onions and scraps of pork. Find an outdoor table or sit on the curb and don't succumb to guilt if you want seconds. You're in good company.